USS Yorktown and Fort Sumter
USS Yorktown and Fort Sumter

When you visit Charleston you must visit the USS Yorktown at Patriots Point and Fort Sumter. I'm kind of a nerd, but I really think you will enjoy visiting these fun historic sites as much as I do.

Fort Sumter is really fun to visit and is only accessible by taking a 30 minute boat ride through the Charleston Harbor. Once you arrive at the fort, you will learn about the major events which led to the outbreak of America's most bloody war. At Fort Sumter National Park, historians will provide detailed information about Fort Sumter and its pivotal role in the War between the States. There is a museum with fascinating exhibits and a small gift shop for your enjoyment. After one hour at the Charleston Fort, you will cruise back to port, enjoying panoramic views of the Atlantic Ocean and Charleston's bustling harbor. The Fort is quite large and requires a significant amount of walking and climbing stairs so make sure you wear a comfortable pair of shoes. This is also something you should do on a day that they are not calling for rain and you will need to allow about 2 hours.

Fort Moultrie is accessible by driving to Sullivans Island. It is not as big as Fort Sumter but it's still a cool place to visit. The fort has a visitor center that shows a short film and features a small museum detailing Moultrie's history. For a small fee, you can then tour the fort itself. The tour is well worth the fee, as five different sections of Moultrie are preserved to look as they did in five different historical eras. Well worth your time and money and truly enjoyable.

The USS Yorktown at Patriots Point is one of the largest museums of its kind in the world and one of my favorite places to visit. The USS Yorktown was the tenth air craft carrier to serve in the United States Navy. Just about the entire ship is open for you to tour. You will get to see where these brave men, who fought to protect our country, lived, slept, ate and played. You can walk up to the top and see how large this magnificent ship really is and then you can go down and sit in the captain's chair. There are lots of pictures and exhibits that will give you a true glimpse into what life was like on the ship. There are also several other small planes and a submarine for you to tour. You should expect to spend about three hours to tour everything and you should also plan to do a lot of walking and climbing steep stairs, but it is truly worth the workout. You will have a great time and get to see something really unique.




USS Yorktown and Fort Sumter



Patriots Point and the USS Yorktown
40 Patriots Point
Mt. Pleasant, SC 29464
843) 884-2727

Open Daily except Christmas Day
9 am - 6:30 pm
Adults (12 and older) $18.00, Children (6 to 11) $11.00, Children under 6 FREE with adult ticket
Seniors and Active Duty Military w/ID $15.00 & Active Duty
Military in Uniform FREE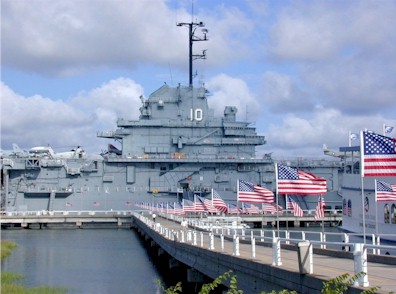 The past two decades have seen Patriots Point transformed from the Nation's preeminent Naval and Maritime Museum into one of the region's most memorable travel destinations. It is the home of the USS Yorktown (CV-10), World War II's "The Fighting Lady," the USS Laffey, known as "The ship that would not die," the USS Clamagore, the last remaining Guppy class submarine in existence, the official Museum of the Congressional Medal of Honor Society, and a myriad of historic exhibits you will not want to miss, including the nation's only full-sized replica of a U.S. Naval Vietnam Support Base Camp exhibit.

Patriots Point is more than a museum. Here you can stay at the family-friendly resort on the Charleston Harbor,enjoy South Carolina's largest marina, fine dining and amenities you expect at a world-class resort. If you prefer a more private setting, The Cottages on Charleston Harbor offer a cozy, harbor-front view. Historic Charleston is just a short water taxi ride across the Cooper River. Patriots Point has the makings for an unforgettable vacation. At Patriots Point, you can play 18 holes of championship golf while enjoying panoramic views of the Charleston Harbor, Fort Sumter and the passage of massive cargo ships gliding into port. We are home to Mount Pleasant's Waterfront Memorial Park, with the longest fishing pier in South Carolina and an exciting new Visitors Center. Take advantage of our direct water access with a Fort Sumter Tour on Spiritline Cruises or one of dozens of in-shore and off-shore fishing charters. Depending on the type of trip desired, Patriots Point may be a stand-alone destination or the perfect spot to stay while you explore the entire region.






---
USS Yorktown and Fort Sumter

Fort Sumter National Monument
1214 Middle Street
Sullivans Island, SC 29482
Phone: 843-883-3123
Days and Hours of Operation : Visitor Center: Daily 8:30am-5pm. Closed Thanksgiving, Christmas and New Years. Fees: Admission to the fort is free if brought over on the ferry. The ferry fees are: Adults: $16.00; Seniors: $14.50; Children (6-11): $10.00; Infants (5 and Under): Free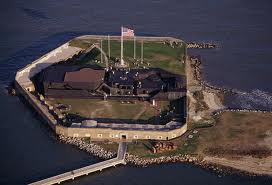 Fort Sumter National Monument is located in Charleston Harbor and can be reached only by boat. The fort is open 10 a.m. to 5:30 p.m. daily between April 1 and Labor Day. At other times of the year the hours vary and can be ascertained by calling 843-883-3123.

Tour boats operated by a National Park Service concessionaire leave from the Fort Sumter Tour Boat Facility at Liberty Square in downtown Charleston. Liberty Square is located on the Cooper River at the eastern end of Calhoun Street and includes the South Carolina Aquarium. For boat schedules, call 843-883-3123.

Where The American Civil War Began

Decades of growing strife between North and South erupted in civil war on April 12, 1861, when Confederate artillery opened fire on this Federal fort in Charleston Harbor. Fort Sumter surrendered 34 hours later. Union forces would try for nearly four years to take it back.

At the Fort Sumter Visitor Education Center (340 Concord Street, Charleston), Liberty Square offers a connection by the Cooper River where visitors may sit, rest, read and watch the harbor traffic in a very pleasant setting.

Fort Sumter is designated historic, so recreational activities are limited to passive pursuits such as scenic viewing and bird watching. Ranger talks are offered to each group of visitors who arrive by ferry. Wayside exhibits interpret the historic resources found throughout the site and the vistas visible from the observation level.






---
USS Yorktown and Fort Sumter

Fort Moultrie
1214 Middle Street
Sullivans Island, SC 29482
Phone: 843-883-3123
Days and Hours of Operation : Daily, 9am-5pm. Closed New Years, Thanksgiving and Christmas.
Fees: $5 per family, $3 ages 16-61; $1 age 62+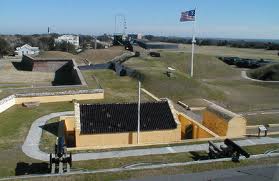 Fort Moultrie is a unit of Fort Sumter National Monument. The site is located on Sullivan's Island and is accessible by car. Learn about 171 years of American seacoast defenses.

Today Fort Moultrie has been restored to portray the major periods of its history. A visitor to the fort moves steadily backwards in time from the World War II Harbor Entrance Control Post to the site of the Palmetto-log fort of 1776.

Fort Moultrie is the only unit of the National Park System where the entire 171-year history of American seacoast defense (1776-1947) can be traced.






---
Which Fort/Military Site is your favorite?
Do you have a favorite Charleston Military Site? Share your stories, recommendations and photos. Others would love to hear about your experiences.

Return from USS Yorktown to Charleston Vacation Guide Homepage