Custom Search
Charleston Restaurants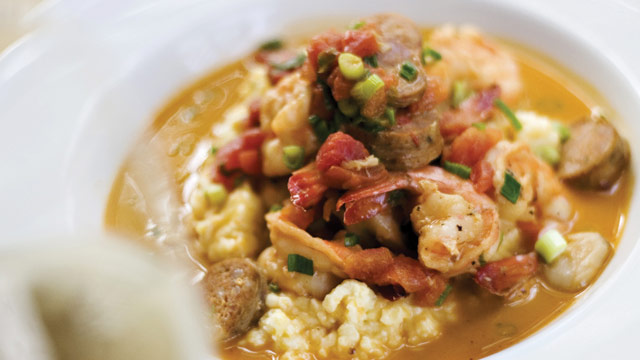 Charleston Restaurants - One of the best American Cities for foodies
People from all over are flocking to Charleston Restaurants and raving about the awesome Lowcountry cuisine. An influx of young chefs from all over the world, access to local fresh seafood, and superior local produce have all helped Charleston become one of the top food destinations in the world. Whether you are craving shrimp and grits, freshly caught seafood, or a succulent steak, you won't have trouble finding a place to eat but you may have trouble deciding where to eat. 
Charleston was an early adopter of the farm to table philosophy and many of the restaurants have partnered with local farms to offer only fresh local produce. Restaurant owners are helping the local southern farmers by setting up a network of restaurants, farms and farmers markets.  Husk is a very good example of this. A huge chalkboard dominates Husk's entry hall, displaying the evening's ingredients and their sources. The menu changes daily depending on what type of local ingredients are available. The Chef, Sean Brock, and his team are themselves producers, growing heirloom varieties of vegetables for the restaurant on a 1.5-acre patch on Thornhill Farm in McClellanville. Charleston chefs are also only using fresh caught seafood as opposed to farmed raised seafood and they are buying pigs from local farmers that are raised in pastures and allowed to forage for their food. The chefs then incorporate a whole animal butchery process where they are learning how to incorporate every part of the animal from snout to tail into the menu, so nothing is wasted. The chefs in this city are trying to stay true to the environment while creating fun, fresh, exciting meals.
When you are dining in Charleston, learning the history of the building is almost as enjoyable as the food itself. One of my favorite places to eat in Charleston is Poogan's Porch. This Charleston restaurant is considered to be one of the most haunted places in the city and has even been featured on the Discovery Channel.  The ghost of Zoe St. Amand, who once lived in the house, has bee seen well over 200 times. Diners will frequently report feeling like someone has brushed up against them even though nobody's there. On the extreme side of things, there have been reports of place settings rotating on tables and customers feeling a sensation that someone uninvited has joined them for dinner. Some have even seen Zoe herself. Throughout the years, diners have sent in photos of apparitions, and because the restaurant is so old, many of those came in the days before Photoshop. Employees aren't immune either reportedly hearing pots and pans banging and faucets turning on. The history of this Charleston restaurant is really cool and the food is awesome.

If you are visiting Charleston in the peak season, April – September, it is a good idea to plan ahead when you are dining out. Downtown Charleston restaurants get very busy and the waits can be very long. Check the restaurant's website or go to the website open table to see if you can book a reservation. If not, I would consider eating an early dinner to beat the crowds. Below are some of the best Charleston Restaurants that both the locals and tourists enjoy. Not all of the restaurants in Charleston are listed but these are the ones that are worth trying.
The restaurants are grouped by price range - Expensive, Moderately Priced and Inexpensive.
Expensive Charleston Restaurants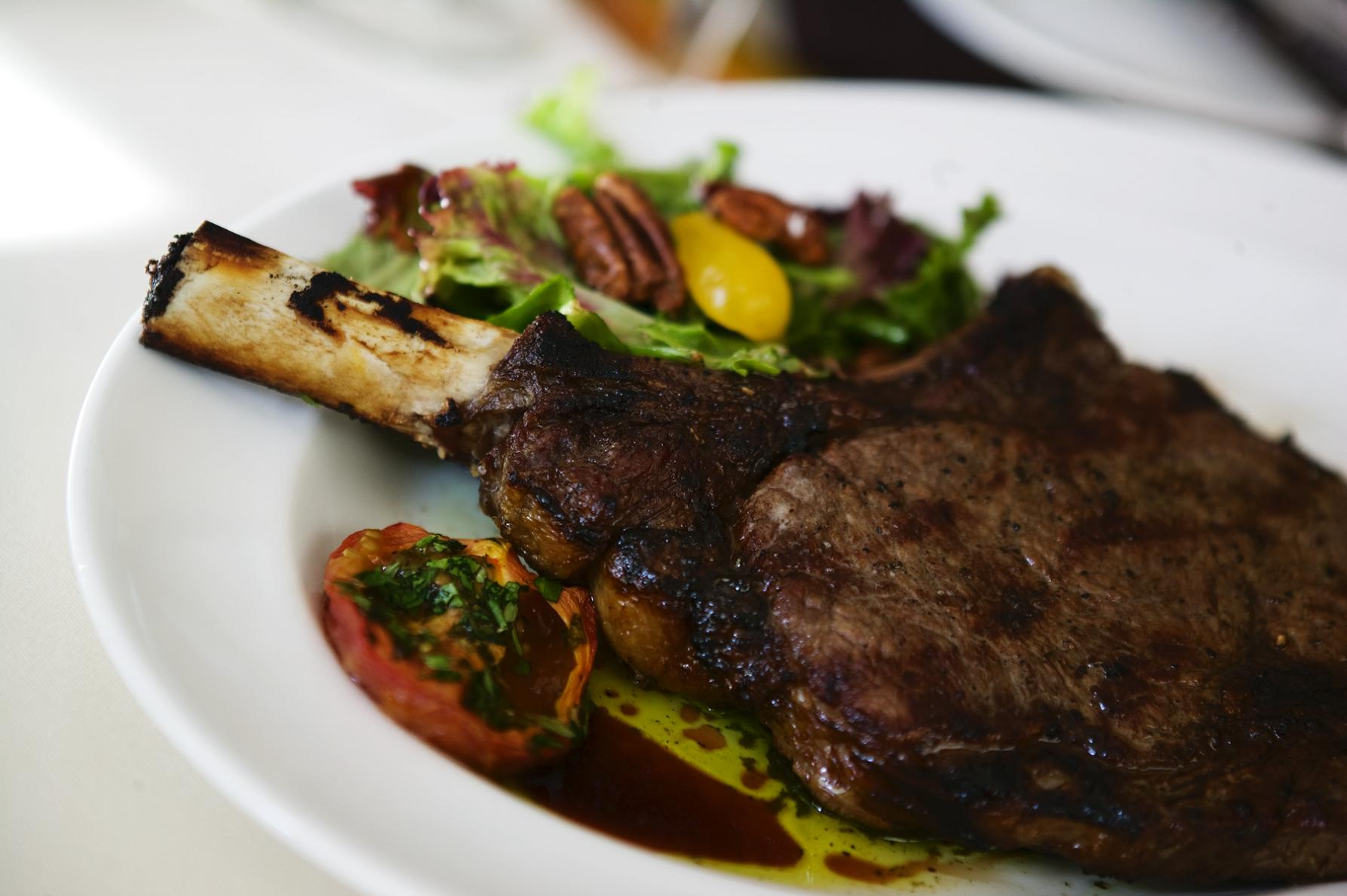 Halls Chophouse
Halls is a family owned upscale steakhouse located in the heart of Upper King Street. All the steaks come from Allen Brothers of Chicago which offers the highest quality grade of beef you can buy. The cuts of meat are aged in a climate controlled room with an ultra violet light. They are then rotated on a daily basis until the aging process is complete. This process creates a "bark" around the cut of meat that seals in the juices. The steaks are then cooked on a 1600 degree broiler, charring the meat and locking in the flavor. @ 434 King St
---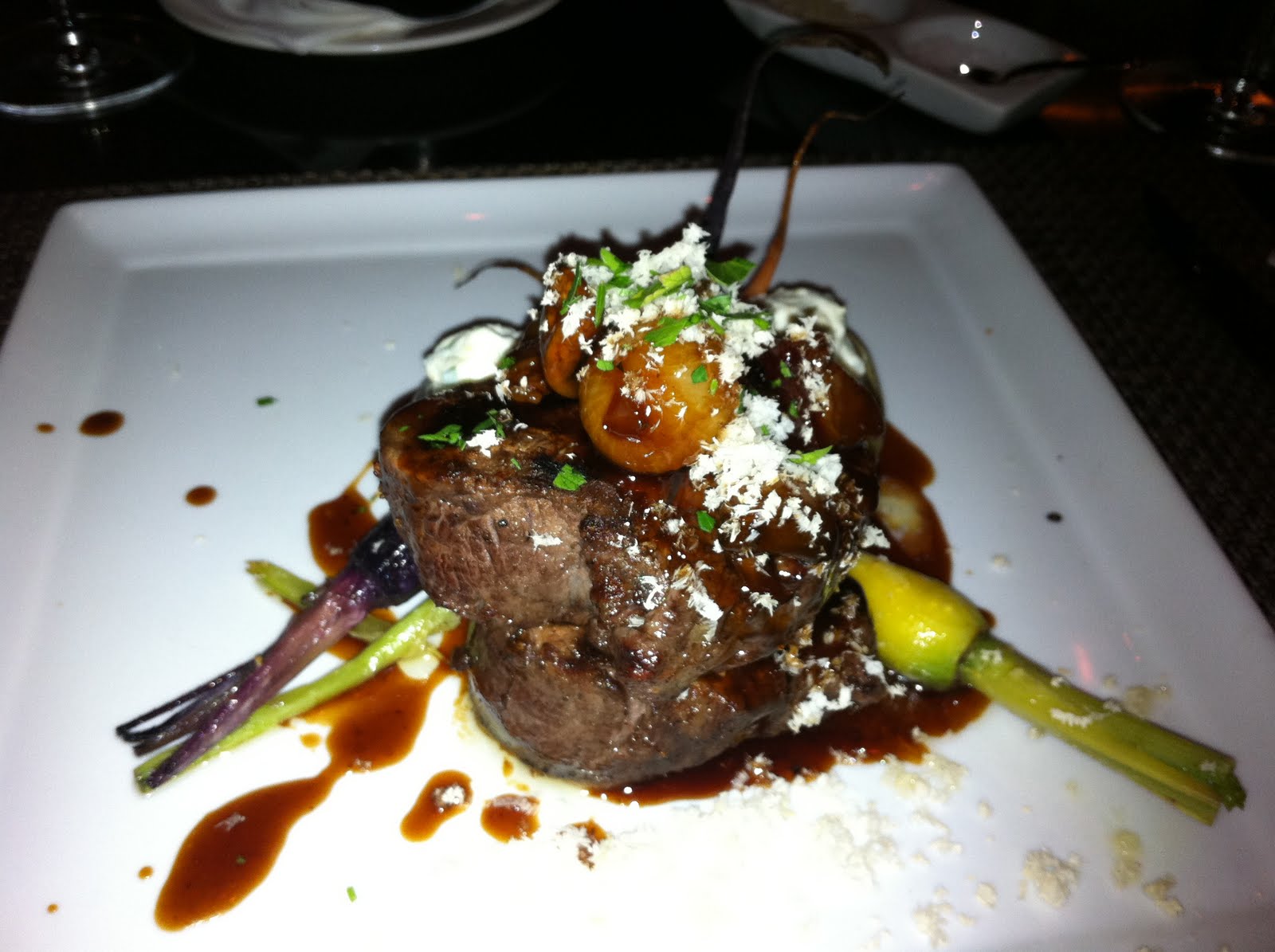 Charleston Grill
The Charleston Grill, located in the Charleston Place Hotel, is one of the most distinguished and sophisticated Charleston restaurants. The dining room is highlighted by marble floors, mahogany walls and features nightly live jazz music. The chef serves up true southern cuisine grouping appetizers and entrées by mood. The menu which changes seasonally can be paired with over 1,300 wines from the cellar.  After dinner, treat yourself to decadent desserts expertly created by the Executive Pastry Chef. @ 224 King St 
---
Peninsula Grill
The Peninsula Grill, located in the Planters Inn, has a sophisticated, relaxed atmosphere. The executive chef creates four-star cuisine including "sinfully grilled" Angus steaks, pan roasted scallops, roasted rack of lamb, and live Main lobster. You also have to try the Ultimate Coconut Cake hailed by many in the food and media world including Martha Stewart and Bobby Flay. For all guests, business casual is the appropriate attire. For Gentlemen, a jacket is requested, not required. For Women, either a dress or slacks is suggested. @ 112 N Market St 
---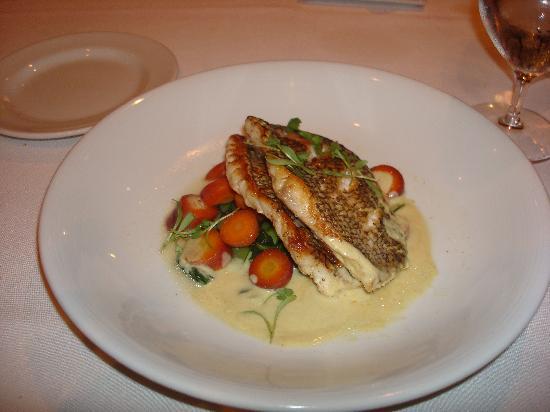 McCrady's
Before Husk propelled executive chef Sean Brock into the spotlight, there was McCrady's. Located in Charleston's first tavern built in 1771, the restaurant is listed on the National Register of Historic Places and Landmarks. The menu highlights local ingredients and allows patrons to pick dishes and create their own tasting menu. The menu is complemented by exceptional wine pairings and the staff is expertly trained. McCrady's is one of the most popular Charleston restaurants and reservations are essential. @ 2 Unity Alley
---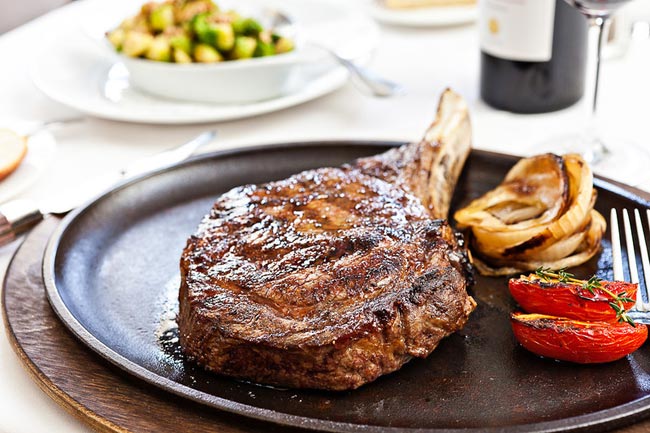 Oak Steakhouse
Oak Steakhouse is an upscale Steakhouse located in a restored, three story, 150 year old building that was formerly occupied by a bank. The Steakhouse utilizes the farm to table concept sourcing ingredients from local farmers and fisherman for their menu whenever possible. They have a superb selection of mouthwatering signature cuts of Prime Certified Angus Beef and fresh caught local seafood. They offer an extensive wine list and the wait staff offer professional and attentive service. @ 17 Broad St
---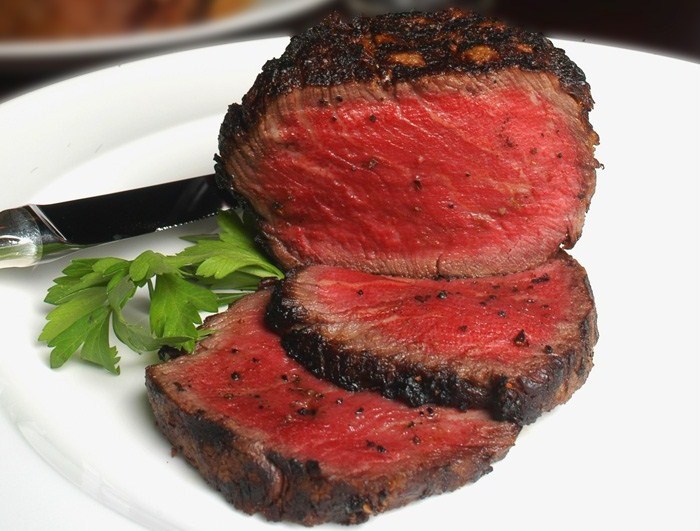 Grill 225
Grill 225 is Charleston's Premier Steakhouse located in the luxurious Market Pavilion Hotel. They serve 100% USDA Prime Beef wet-aged 42-50 days.  You will also enjoy local sustainable seafood as well as exclusive premium domestic and international offerings. Savor stunning creations from the pastry chef and get impeccable service from professional, attentive servers. The private booth seating, rich hardwoods and large windows add to the luxurious ambiance. @ 225 E. Bay St.
---
Charleston Restaurants - Moderately Priced
---
Husk
Husk is one of the newer Charleston restaurants from award winning chef Sean Brock. This restaurant serves up fresh Southern Cuisine in a relaxed casual environment. The restaurant is located in a beautifully restored circa-1893 Queen Anne House and a large black board in the entry way lists the ingredients of the day and their sources. Only ingredients indigenous to the South are allowed in the kitchen and the menu changes throughout the day depending on what local farmers and vendors are supplying. @ 76 Queen St
---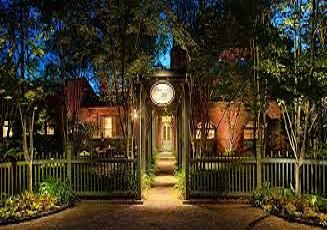 Circa 1886
Circa 1886 is a hidden gem located in the carriage house of the Wentworth Mansion. The executive chef serves up modern, healthier versions of Lowcountry dishes, using less butter and cream and more whole grains. The menus change seasonally to take advantage of fresh produce and the restaurant boasts an extensive wine list to complement the extraordinary cuisine.  The professional, attentive, experienced wait staff is waiting to help guide you through the menu and the pastry chef is ready to serve up incredible desserts. @149 Wentworth St
---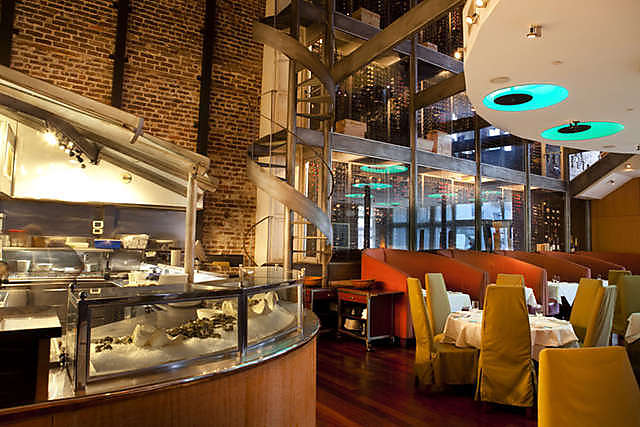 Cypress
Cypress is located in a two-story, renovated 1834 brick building on East Bay Street. They source ingredients from local farmers and fishermen and have a glass encased multi story wine cellar featuring over 4,500 bottles of wine. They serve high-end Southern cuisine with meticulous, top-notch service. The menu also includes selections from the award-winning in-house charcuterie program, the Artisan Meat Share, which produces over 80 types of meats.@167 E Bay St
---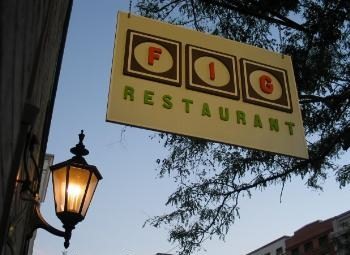 Fig
Fig, which stands for Food Is Good, is one part retro diner, one part neighborhood café, and one part upscale bistro. The restaurant has received lots of accolades and awards, including the James Beard award for Best Chef. They serve up Lowcountry cuisine with an Italian twist and the menu changes regularly depending on what local ingredients are available. The atmosphere is laid-back and an unexpected quirkiness encourages guests to settle in, get comfortable, and have a great time. @ 232 Meeting Street 
---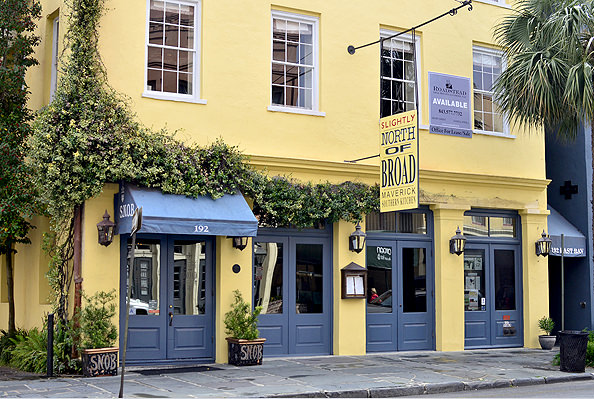 Slightly North of Broad
Slightly North of Broad is an eclectic low country Bistro located in an 18th century warehouse. The chef utilizes ingredients from local farmers and fishermen to create irresistible Southern food. This Charleston restaurant is a winner of a number of culinary awards, has an exposed kitchen and a casual atmosphere.  The staff is expertly trained and they offer a large selection of wine. SNOB also offers a very inexpensive lunch menu. @ 192 E. Bay St 
---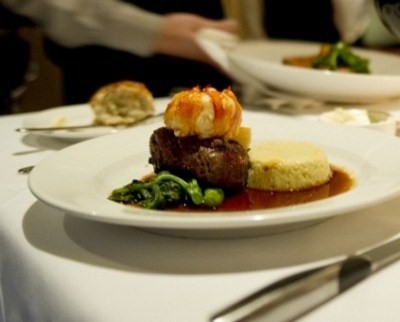 High Cotton
High Cotton is one of the long time favorites in downtown Charleston. The meats, game, seafood and produce are the freshest local ingredients, expertly crafted into the most delicious Lowcountry dishes. The servers are knowledgeable, the dining rooms are stylish with heart pine floors and the portions of Southern cuisine are generous. The Charleston restaurant has an extraordinary wine and cocktail selection and you can enjoy live jazz nightly and during Sunday brunch. @ 199 E Bay St
---
Carolinas Southern Bistro
Located in a building that dates back to Revolutionary times, Carolina's is less than 100 feet from the Cooper River in historic downtown Charleston, SC.  Carolina's offers a contemporary approach to Lowcountry cuisine in a sophisticated elegant atmosphere.  The restaurant has three distinct dining areas - the Perdita's Room for a more intimate dining experience, the Sidewalk Room with its tall arched windows, and the bustling Bar Room. @ 10 Exchange St
---
Anson
This hip restaurant in a brick-sided ice warehouse features New Orleans-style iron balconies and nearly a dozen windows with views of passing horse-drawn carriages. The restaurant boasts elegant interior décor and features and extensive wine list. A well–trained staff describes dishes that are inspired by traditions of the coastal Southeast. Anson's has a fabulous menu featuring - Shrimp and Grits, Lowcountry Seafood and Chops, using ingredients available daily from Charleston's fishing fleet and local farms.@ 12 Anson St
Continue to the next page for more moderately priced restaurants and a list of inexpensive Charleston Restaurants.

---
Home > Charleston Restaurants
---
Copyright © 2009-2017 visit-historic-charleston.com