---
Best Restaurants in Charleston SC
---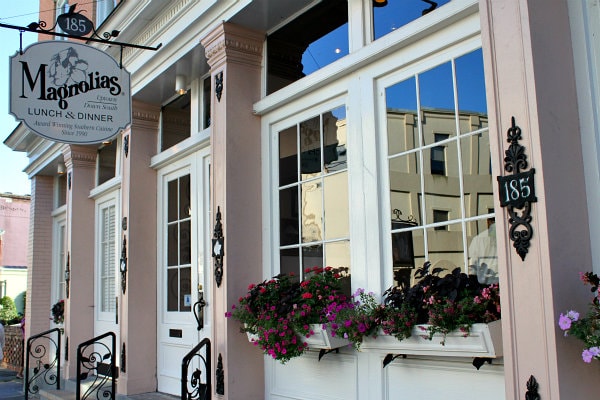 ---
A guide to the best restaurants in Charleston SC. Learn where to find the most succulent steak, the best pulled pork and the freshest lobster roll. 

---
People from all over are flocking to Charleston and raving about the impressive Lowcountry cuisine. An influx of young chefs from all over the world, access to local fresh seafood, and superior local produce have all helped Charleston become one of the top food destinations in the world. Whether you desire shrimp and grits, freshly caught seafood, or a succulent steak, you won't have trouble finding a place to eat, but you may have trouble deciding where to eat. 
---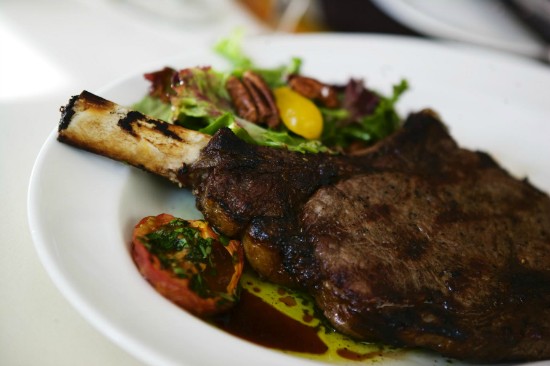 Halls Chophouse

Halls is a family owned upscale steakhouse located in the heart of Upper King Street. All the steaks come from Allen Brothers of Chicago which offers the highest quality grade of beef you can buy. The cuts of meat are aged in a climate controlled room with an ultra violet light. They are then rotated on a daily basis until the aging process is complete. This process creates a "bark" around the cut of meat that seals in the juices. The steaks are then cooked on a 1600 degree broiler, charring the meat and locking in the flavor. @ 434 King St

---
---
---
R Kitchen
R Kitchen is a unique restaurant where Ross Webb and his small team of assistant chefs whip up incredible meals. The atmosphere is very intimate with guests seated around the kitchen where you will interact with the chef while they are preparing your meal. Since the restaurant is small, you need to make reservations well in advance. The restaurant has three nightly seatings at 6:00 pm, 7:30 pm and 9:00 pm and they offer a $25, 5-course meal that emphasizes local, seasonal ingredients. @ 212 Rutledge Ave

---
---
---
167 Raw
167 Raw is part seafood market and part restaurant. They offer an assortment of fresh oysters, clams, fish and shrimp for purchase to go or you can stick around and try the legendary lobster roll or scallop Po Boy. The restaurant's chalkboard menu, which changes daily, lists the seafood specials and the daily selection of oysters and where they are from. Seating is limited, so arrive early or plan on waiting for a table. @ 289 East Bay St

---
---
---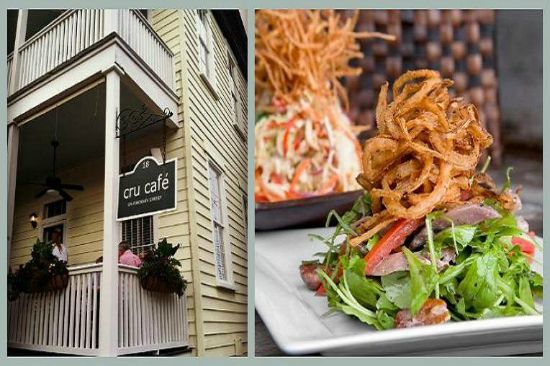 Cru Cafe
Cru Cafe, located in a classic 18th century Charleston single-style home with a wraparound porch, offers traditional American comfort food. Their seating arrangement is comfortable, and you can opt to sit indoors, on the patio, or on the terrace where you can enjoy the breeze while eating. Guests of the restaurant can enjoy daily specials, a wine list tailored to the varied menu and rich, mouthwatering desserts. @ 18 Pinckney St
---
---
---
Five Loaves Cafe
Five Loaves Cafe is a corner cafe serving lunch and dinner. They work with local farms to serve fresh vegetables, antibiotic free chicken and turkey, and hormone free, pasture-raised beef. Patrons will find homemade soups, hearty sandwiches, and large salads for lunch and an expanded menu including large pasta dishes for dinner. @ 43 Cannon St

---
---
---
Slightly North of Broad
Slightly North of Broad is an eclectic low country Bistro located in an 18th century warehouse. The chef utilizes ingredients from local farmers and fishermen to create irresistible Southern food. This highly awarded restaurant has an exposed kitchen and a casual atmosphere.  The staff is expertly trained and the restaurant offers an extensive selection of wine. SNOB also offers a very inexpensive lunch menu. @ 192 E. Bay St 
---
---
---
FIG
Fig, which stands for Food Is Good, is one part retro diner, one part neighborhood café, and one part upscale bistro. The restaurant has received lots of accolades and awards, including the James Beard award for Best Chef. They serve up Lowcountry cuisine with an Italian twist, and the menu changes regularly depending on what local ingredients are available. The atmosphere is laid-back, and an unexpected quirkiness encourages guests to settle in, get comfortable, and have a great time. @ 232 Meeting Street 
---
---
---
Magnolias
Magnolia's started a culinary renaissance when it opened in 1990 and remains a forerunner in upscale Southern cuisine. The Charleston restaurant, located at the site of the city's original Customs House (circa 1739), blends traditional ingredients and cooking techniques with modern flair and artful presentation. For a more wallet-friendly option, stop by for lunch when they offer plenty of Southern-styled soups, salads, and sandwiches. @185 E Bay St  

---
---
---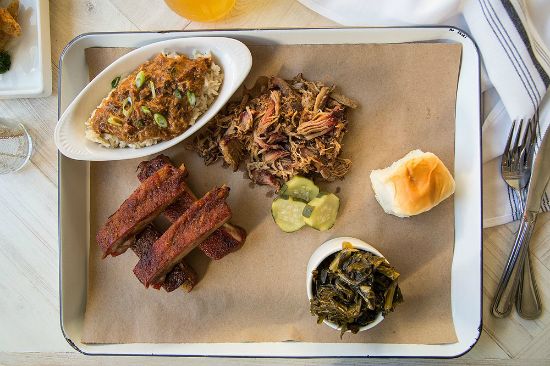 Poogan's Smokehouse
Poogan's Smokehouse, which gets the name from its sister restaurant Poogan's Porch, is serving up Pulled pork, St. Louis ribs, pork belly, smoked sausage, short ribs, and fried chicken. Pair this with delicious sides including white cheddar grits, bacon roasted brussels sprouts, and charred broccoli. This bi-level upscale barbecue restaurant has exposed brick walls and wood tables, creating a sophisticated, casual environment.  @ 188 E Bay St

---
---
---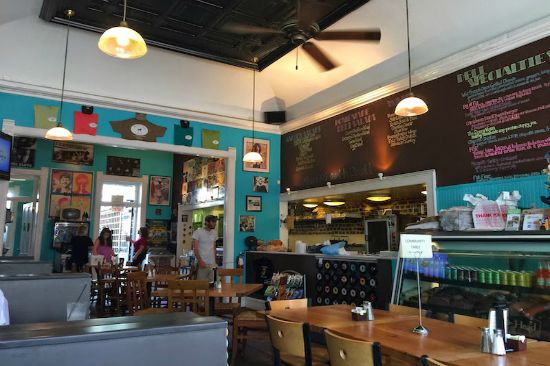 Brown Dog Deli
Brown Dog Deli offers an assortment of deli sandwiches, wraps, salads, and burgers along with an entire menu of vegan and vegetarian options including a Black Bean Burger and a Portobello Philly. Some of the must-try items on the menu include the Reuben Dog, and the Duck Club made with apple-smoked duck breast. Dine inside this cozy hip deli or enjoy the relaxed outdoor seating area. @40 Broad St. 

---
---
Map of the Best Restaurants in Charleston SC
---
---
Other Great Charleston Restaurants
---
---
Home > Best Restaurants in Charleston SC
---
Copyright © 2009-2018 visit-historic-charleston.com