---
Best Restaurants in Charleston SC
---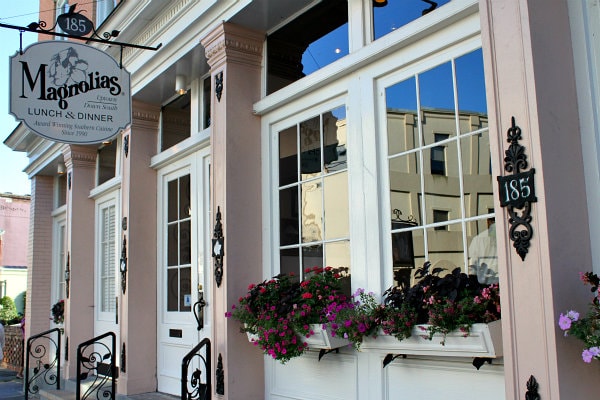 ---
A guide to the best restaurants in Charleston SC. Discover  the most succulent steak, the best she-crab soup or the freshest lobster roll. 

---
People from all over are flocking to Charleston and raving about the mouth-watering Lowcountry cuisine. An influx of young chefs from all over the world, access to local fresh seafood, and superior local produce have all helped Charleston become one of the top food destinations in the world. Whether you desire shrimp and grits, freshly caught seafood, or a succulent steak, you won't have trouble finding a place to eat, but you may have trouble deciding where to eat. 
---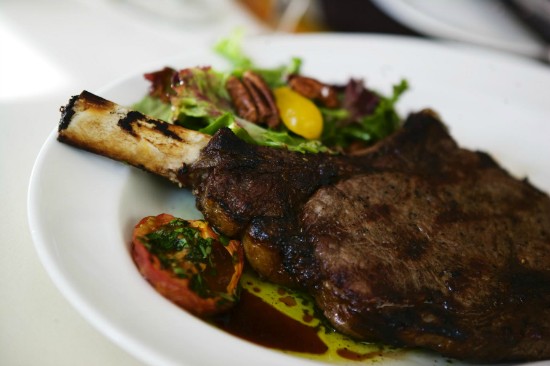 Halls Chophouse



Halls is a family owned upscale steakhouse located in the heart of Upper King Street. All the steaks come from Allen Brothers of Chicago which offers the highest quality grade of beef you can buy. The cuts of meat are aged in a climate controlled room with an ultra violet light. They are then rotated on a daily basis until the aging process is complete. This process creates a "bark" around the cut of meat that seals in the juices. The steaks are then cooked on a 1600 degree broiler, charring the meat and locking in the flavor. @ 434 King St

---
---
---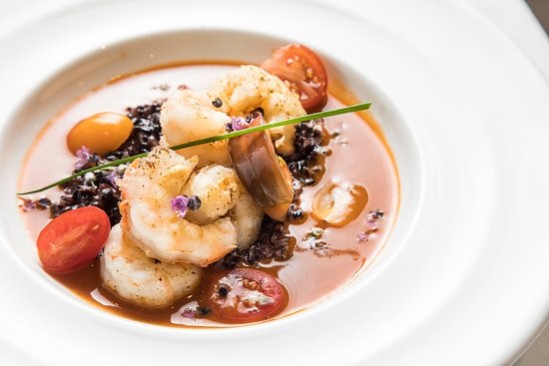 Revival
The Revival, located in the French Quarter at the intersection of East Bay and Vendue Range, is housed inside the chic Vendue Hotel. The hotel and restaurant were originally a string of warehouses that serviced the seaport trade in the 1700s. The mission of the restaurant is to focus on recipes and ingredients from South Carolina's past. The restaurant works with local farmers to "revive" certain ingredients including Nostrale rice and Jimmy Red grits. One of the favorites on the menu is the She Crab Soup based on the original recipe of William Deas, an African-American chef who worked in Charleston in the early 1900's. @ 162 East Bay. St.

---
---
---
167 Raw
167 Raw is part seafood market and part restaurant. They offer an assortment of fresh oysters, clams, fish and shrimp for purchase to go or you can stick around and try the legendary lobster roll or scallop Po Boy. The restaurant's chalkboard menu, which changes daily, lists the seafood specials and the daily selection of oysters and where they are from. Seating is limited, so arrive early or plan on waiting for a table. @ 289 East Bay St

---
---
---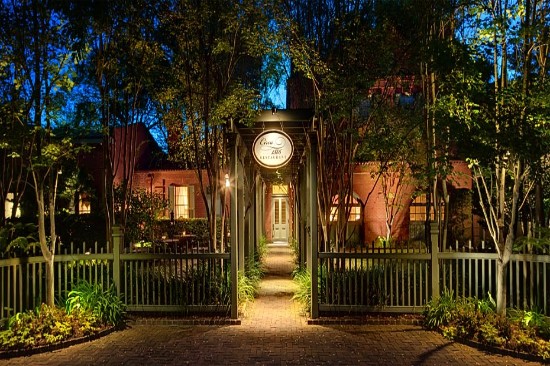 Circa 1886
Circa 1886 is a hidden gem located in the carriage house of the Wentworth Mansion. The executive chef serves up modern, healthier versions of Lowcountry dishes, using less butter and cream and more whole grains. The menu changes seasonally to take advantage of fresh produce and the restaurant boasts an extensive wine list to complement the extraordinary cuisine.  The professional, attentive, experienced wait staff is waiting to help guide you through the menu and the pastry chef is ready to serve up incredible desserts. @149 Wentworth St

---
---
---
---
---
---
R Kitchen
R Kitchen is a unique restaurant where Ross Webb and his small team of assistant chefs whip up incredible meals. The atmosphere is very intimate, with guests seated around the kitchen, interacting with the chef while they are preparing the meal. The restaurant seats up to 16 guests in the kitchen or 20 on the covered patio, so you need to make reservations well in advance. The restaurant has two nightly seatings at 6:00 pm and 8:00 pm, offering a 5-course meal that emphasizes local, seasonal ingredients. @ 212 Rutledge Ave
---
---
---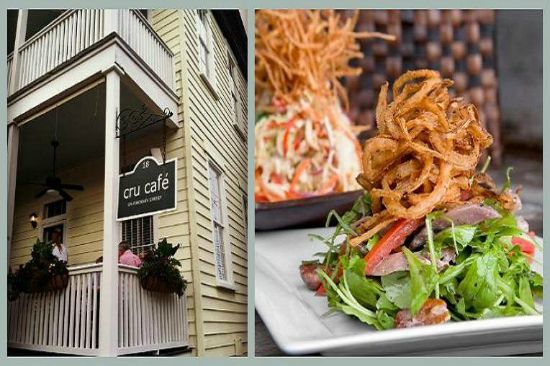 Cru Cafe
Cru Cafe, located in a classic 18th century Charleston single-style home with a wraparound porch, offers traditional American comfort food. The seating arrangement is comfortable, and you can opt to sit indoors, on the patio, or on the terrace where you can enjoy the breeze. The restaurant has daily specials, a wine list tailored to the varied menu, and mouthwatering desserts. @ 18 Pinckney St
---
---
---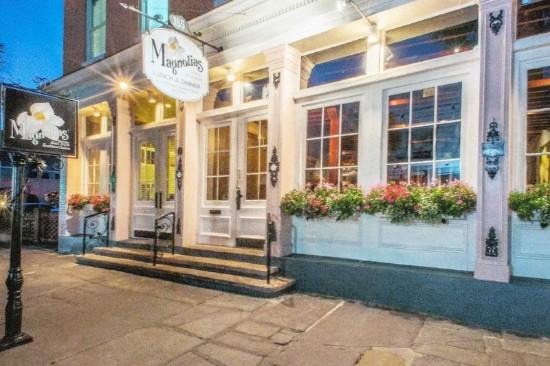 Magnolias
Magnolia's started a culinary renaissance when it opened in 1990 and remains a forerunner in upscale Southern cuisine. The Charleston restaurant, located at the site of the city's original Customs House (circa 1739), blends traditional ingredients and cooking techniques with modern flair and artful presentation. For a more wallet-friendly option, stop by for lunch when they offer plenty of Southern-style soups, salads, and sandwiches. @ 185 E Bay St  

---
---
---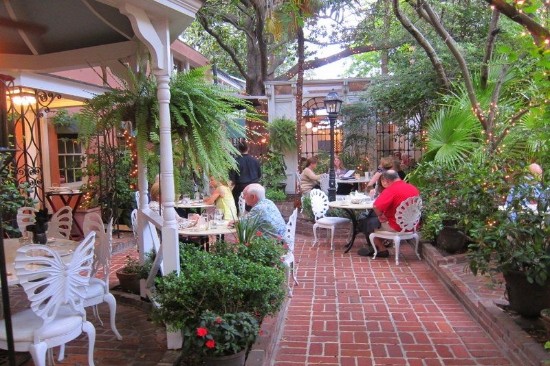 82 Queen
82 Queen traces its history back to 1688 when an immigrant built his home, guesthouse and slave quarters. Today these buildings house the restaurant's 11 dining rooms and outside courtyard. The restaurant, which opened in 1982, is one of Charleston's oldest restaurants. Locals and tourists continue to flock to 82 Queen for Lowcountry staples including fried green tomatoes, she crab soup, barbecue shrimp and grits, and jambalaya. The restaurant is a three-time winner of the 'Best City Restaurant' award from Southern Living magazine and five-time recipient of the Award of Excellence from Wine Spectator magazine. @ 82 Queen St. 
---
---
---
---
---
---
FIG
FIG, which stands for Food Is Good, serves seasonally-inspired cuisine with a commitment to using local and sustainable foods. The restaurant has been consistently voted "Best Restaurant in Charleston" by Charleston City Paper and is a favorite for locals and tourists. The elegant yet laid back atmosphere encourages guests to settle in, get comfortable, and have a great time. FIG has an extensive wine program that features producers you wouldn't necessarily expect to find in a southern restaurant. This is one of the busier restaurants in Charleston, so unless you want to wait for an hour just for a seat at the bar, you are encouraged to make reservations. @ 232 Meeting St.

---
---
---
Fleet Landing
Fleet Landing, housed in a 1940's retired naval building, features classic and contemporary southern seafood. Enjoy an incredible outdoor dining experience with stunning views of Charleston Harbor. The menu features fried seafood platters, fresh catch items pan-fried or seared in your choice of house-made marinades, and southern favorites including shrimp and grits and lump crab cakes. The restaurant has a fully stocked bar and serves lunch and dinner and weekend brunch. The restaurant gets very busy during the summer months and on weekends, so reservations are highly recommended. @ 186 Concord St. 

---
---
---
---
Map of the Best Restaurants in Charleston SC
---
---
Other Great Charleston Restaurants
---
---
---
---
Copyright © 2009-2021 visit-historic-charleston.com