---
Charleston Restaurants 
Fine Dining
---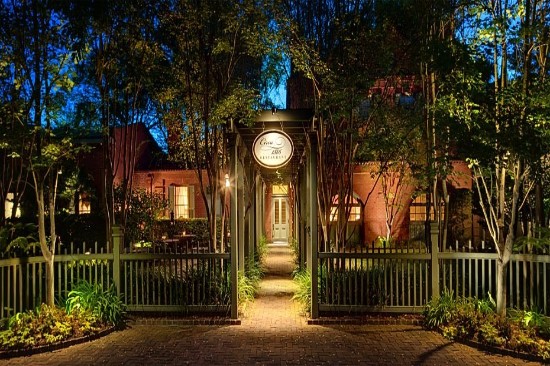 ---
Make a reservation and see why Charleston restaurants are ranked among the best in the country. 

---
If you are visiting Charleston in the peak season, April to September, it is a good idea to plan ahead when you are dining out. Downtown Charleston restaurants get very busy around dinner time and the waits can be quite long. Consider checking the restaurant's website or go to Open Table to see if you can book a reservation. If not, consider an early dinner to beat the crowds. Below are some of the best fine dining restaurants in Charleston.

---
Charleston Restaurants 
Fine Dining
---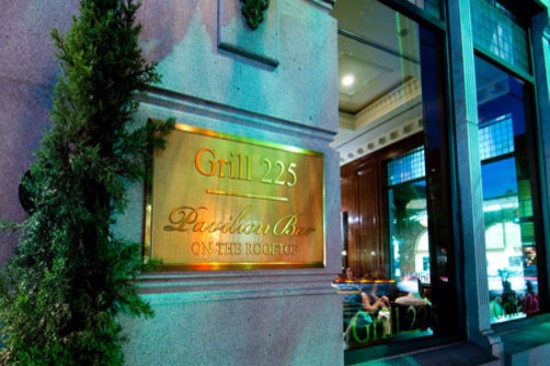 Grill 225
Grill 225 is Charleston's Premier Steakhouse located in the luxurious Market Pavilion Hotel. Serving 100% USDA Prime Beef wet-aged 42-50 days.  Guests will also enjoy local sustainable seafood as well as exclusive premium domestic and international offerings. Savor stunning creations from the pastry chef and get impeccable service from professional, attentive servers. The private booth seating, rich hardwoods and large windows add to the luxurious ambiance. @ 225 E. Bay St.
---
---
---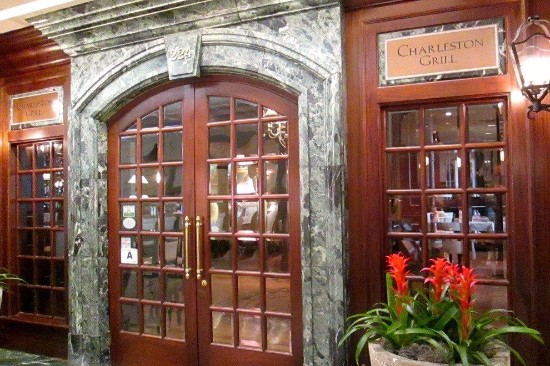 Charleston Grill

The Charleston Grill, located in the Charleston Place Hotel, is one of the most distinguished and sophisticated Charleston restaurants. The dining room is highlighted by marble floors, mahogany walls and nightly live jazz music. The chef serves up true southern cuisine grouping appetizers and entrées by mood. The menu which changes seasonally can be paired with over 1,300 wines from the cellar. After dinner, treat yourself to a decadent dessert expertly created by the Executive Pastry Chef. @ 224 King St 
---
---
---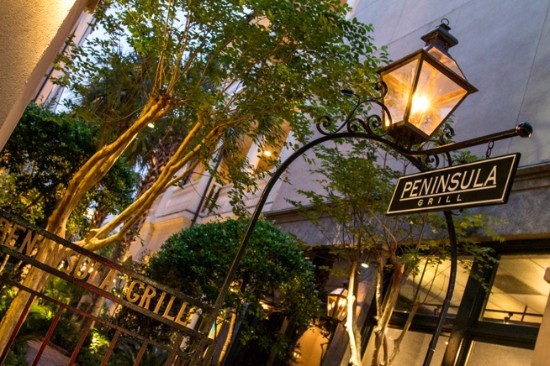 Peninsula Grill



The Peninsula Grill, located in the Planters Inn, has a sophisticated, relaxed atmosphere. The executive chef creates four-star cuisine including "sinfully grilled" Angus steaks, pan roasted scallops, roasted rack of lamb, and live Main lobster. You also have to try the Ultimate Coconut Cake hailed by many in the food and media world including Martha Stewart and Bobby Flay. For all guests, business casual is the appropriate attire. For Gentlemen, a jacket is requested, not required. For Women, either a dress or slacks is suggested. @ 112 N Market St 
---
---
---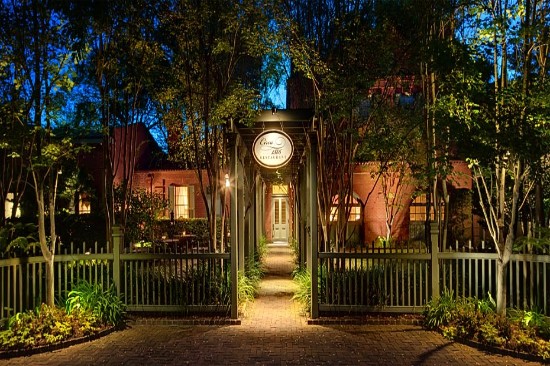 Circa 1886
Circa 1886 is a hidden gem located in the carriage house of the Wentworth Mansion. The executive chef serves up modern, healthier versions of Lowcountry dishes, using less butter and cream and more whole grains. The menus change seasonally to take advantage of fresh produce and the restaurant boasts an extensive wine list to complement the extraordinary cuisine.  The professional, attentive, experienced wait staff is waiting to help guide you through the menu and the pastry chef is ready to serve up incredible desserts. @149 Wentworth St
---
---
---
Palmetto Cafe
The Palmetto Cafe, a sophisticated restaurant located in the Charleston Place Hotel, serves breakfast, lunch and weekend brunch. The restaurant draws inspiration from Charleston's famed courtyard gardens. Guests can dine under the glass ceiling indoors or outside in the tranquil courtyard. The menu features dishes inspired by the bounty of the area's oceans, fields and ranges with an international twist. The Palmetto Cafe is open for breakfast from 6:30am to 10:30am and lunch from 11:30am to 3:00pm. Brunch is served Saturday 9:00am to 12:00pm and Sunday from 9:00am to 1:30pm.
---
---
---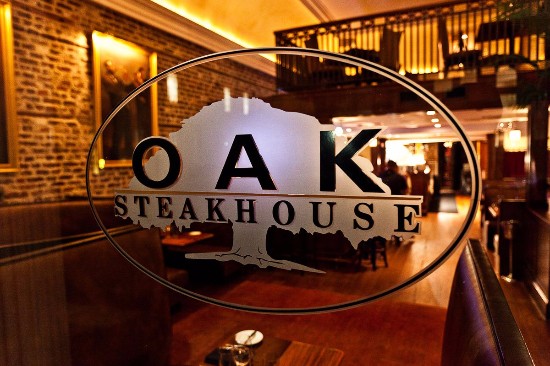 Oak Steakhouse



Oak Steakhouse is an upscale Steakhouse located in a restored, three story, 150 year old building that was formerly occupied by a bank. The Steakhouse utilizes the farm to table concept sourcing ingredients from local farmers and fisherman whenever possible. They have a superb selection of mouthwatering signature cuts of Prime Certified Angus Beef and fresh caught local seafood. They offer an extensive wine list and the wait staff offer professional and attentive service. @ 17 Broad St
---
---
---
Fulton Five



Fulton Five, tucked away off of bustling King Street, offers authentic Italian cuisine in a cozy, romantic environment. The restaurant's Northern Italian menu features handmade pasta like gambretti tagliatelle, butternut squash ravioli, and cheese tortellini. Fulton Five has been named most romantic restaurant in Charleston 17 years in a row. Dinner guests will find white linen-covered tables topped with candles, and classical music playing softly in the background. The restaurant boasts one of the best wine lists in the city and their desserts will not disappoint. Advanced reservations are highly recommended. 
---
---
---
Chez Nous



Chez Nous, a quaint and cozy restaurant in the historic residential neighborhood of Cannonborough-Elliotborough, serves up dishes from southern France, northern Spain, and northern Italy. The restaurant is tucked away down a side alley in a restored antebellum house with cathedral ceilings. The "ever-changing" daily menu features a handful of delectable dishes made with seasonal produce and only the highest quality cuts of meat. The restaurant does not accept reservations and the menu is the same for lunch and dinner.  
---
---
---
Husk



Husk, one of Charleston's most critically acclaimed restaurants, is housed in a beautiful Victorian mansion on a Queen Street just a few blocks from the waterfront. The restaurant has a strict farm-to-table philosophy and the menu frequently changes with what the region's producers provide daily. Wood-fire cooking is a hallmark of the restaurant, with two smokers, a pit-and-spit barbecue and a wood burning stove. Guests can enjoy classic cocktails in the adjacent two-story bar, which overlooks the building's street-front verandas.The restaurant serves lunch, dinner and Sunday brunch. Walk-ins often get a table at lunch, but dinner reservations are highly recommended.

---
---
---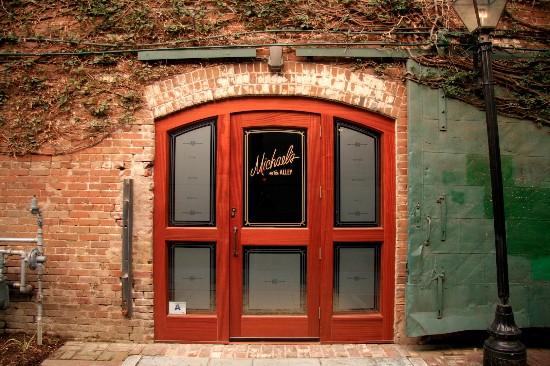 Michael's on the Alley



Michael's on the Alley, tucked away off historic King St., offers the ultimate dining experience. Michael's serves up the highest quality steaks, fresh seafood, prime rib, and enticing desserts with a side of Charleston's famous hospitality. The restaurant features USDA Prime Angus and Choice steaks that are wet and dry aged. 
---
---
---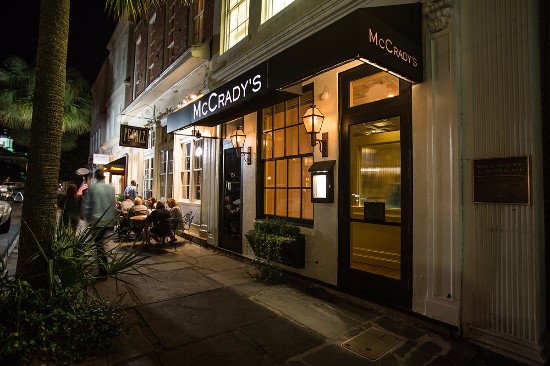 McCrady's 



Before Husk propelled executive chef Sean Brock into the spotlight, there was McCrady's. Located in Charleston's first tavern built in 1771, the restaurant is listed on the National Register of Historic Places and Landmarks. The menu highlights local ingredients and allows patrons to pick dishes and create their own tasting menu. McCrady's is one of the most popular Charleston restaurants and reservations are essential. @ 2 Unity Alley
---
---
---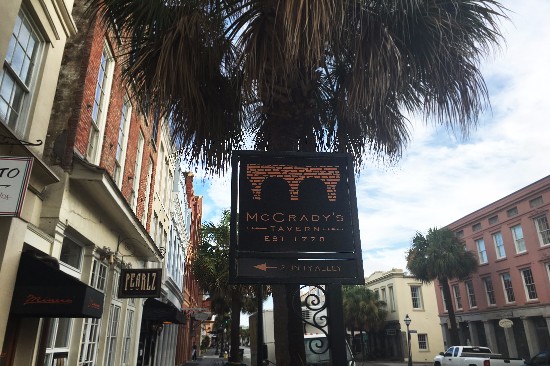 McCrady's Tavern



McCrady's Tavern, established in 1778, is listed on the National Register of Historic Places and Landmarks.  McCrady's Tavern serves reimagined American Classics created by Chef Sean Brock including oysters, lobsters, chicken, steaks, and chops. The tavern is a lively, everyday gathering place with exposed-brick walls and high ceilings.
---
---
---
Map of the Best Restaurants in Charleston SC
---
---
Additional Charleston Restaurants
---
---
Home > Best Restaurants in Charleston SC > Charleston Restaurants
---
Copyright © 2009-2019 visit-historic-charleston.com