Jul 01, 2018
Where to View the Fireworks in Charleston SC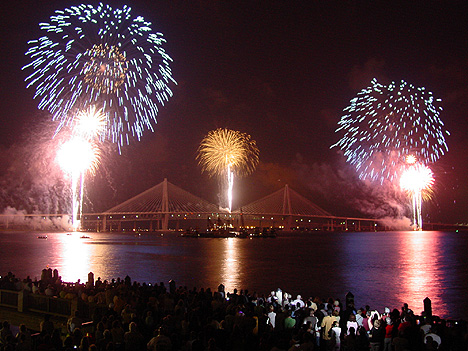 Patriots Point - One of the best spots to watch fireworks is from The Land Side Bash at Patriots Point. The event starts at 4 pm with kids activities, live music, and food and drinks for sale. The event is free with a $10 parking pass. The fireworks show will start around 9pm. This is one of the most popular events in the Lowcountry so plan to arrive early before all the parking is full.

Riley Waterfront Park - Riley Waterfront Park is another great place to view the fireworks from Patriots Point for free. The park is directly across the river from Patriot's Point so you will have an awesome view of the fireworks. The park does get crowded so arrive early to get a good spot.

Folly Beach - The annual 4th of July fireworks display is a holiday tradition on Folly Beach. At 9:30pm, enjoy a spectacular firework display from 3rd block west on Folly Beach. Parking is free but just remember all 4 tires must be off the road and you must park with the flow of traffic.

Sullivan's Island - The free celebration starts at 6pm at J Marshall Stith Park on Sullivan's Island. Pack a picnic, bring a blanket, and enjoy a live band play classic rock and beach music. The fireworks will begin around 9pm. Arrive early to get a good spot and be advised that pets and alcohol are not allowed in the park.

Isle of Palms - Head over to Front Beach at the Isle of Palms for one of the best fireworks show in the area. Fireworks start after dark, off-street parking is free, and alcohol is prohibited.

Mt Pleasant Pier - The front section of the Mt Pleasant pier will be open to visitors for free fireworks viewing. Space is limited so plan to arrive early to get a good spot.