Custom Search
---
Things to do in Charleston SC
---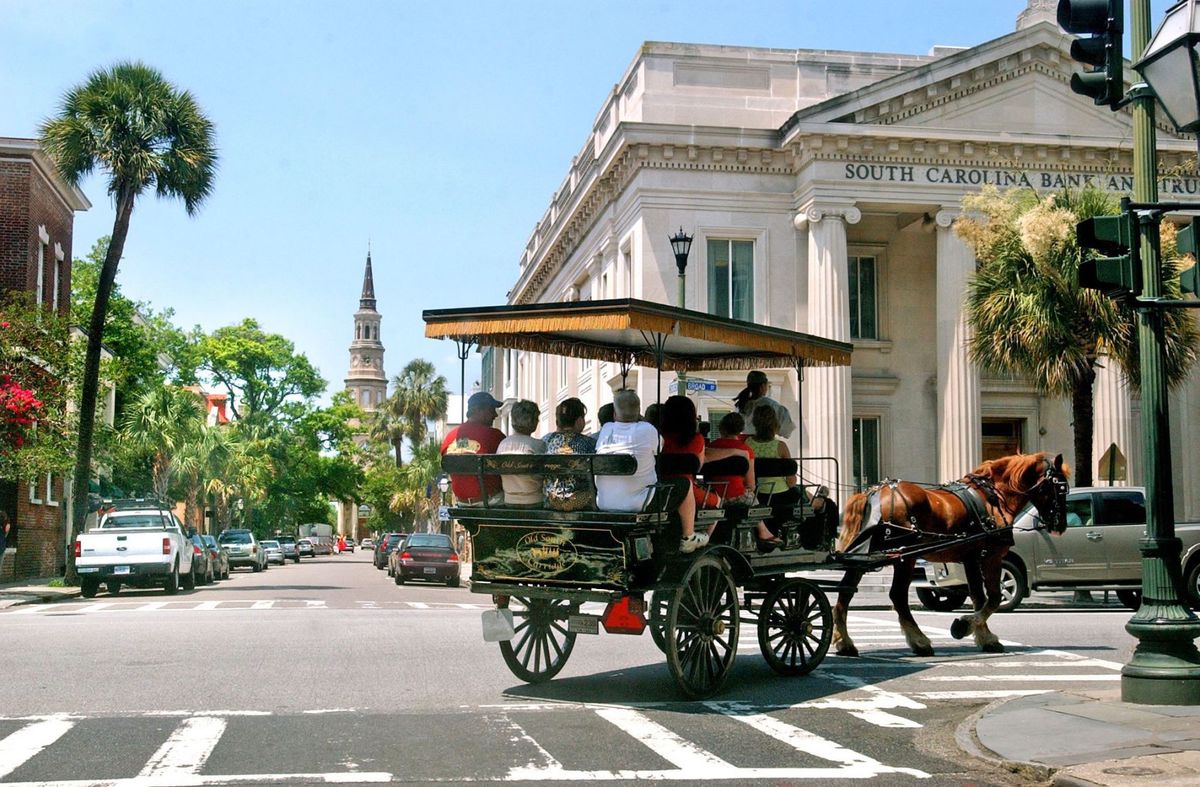 ---
A guide to fun and interesting things to do in Charleston SC. Stand on the site where the first shots of the Civil War were fired, tour antebellum mansions, take a horse-drawn carriage ride, and climb aboard a WWII aircraft carrier. 

---
Charleston is home to charming cobblestone streets, guided walking and horse-drawn carriage tours, beautiful parks and gardens, antebellum mansions, museums, and countless other things to see and do making it a great vacation destination. Best of all, the mild climate means you can enjoy most of the sights year-round. 
---
Charleston Attractions
---
Charleston Attractions - Whether you are interested in aquatic animals, naval museums, or historic sites, there are plenty of fun things to do in Charleston SC. You can tour the Charleston Aquarium and see over 5,000 aquatic animals, take a 30-minute boat ride to Fort Sumter, visit Patriots Point and tour the U.S.S. Yorktown, or shop for souvenirs and crafts at the Old City Market. 

---
Charleston  Museums
---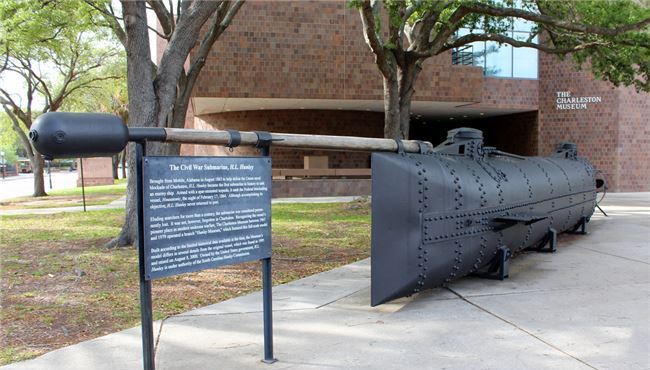 Charleston Museums - Charleston has numerous museums including The Gibbes Museum of Art which houses over 10,000 works of art, The Charleston Museum which has hundreds of items ranging from ancient fossils to Civil War artifacts, and The Old Slave Mart Museum where visitors can learn about the history of the slave trade in Charleston. 

---
Historic Homes 
---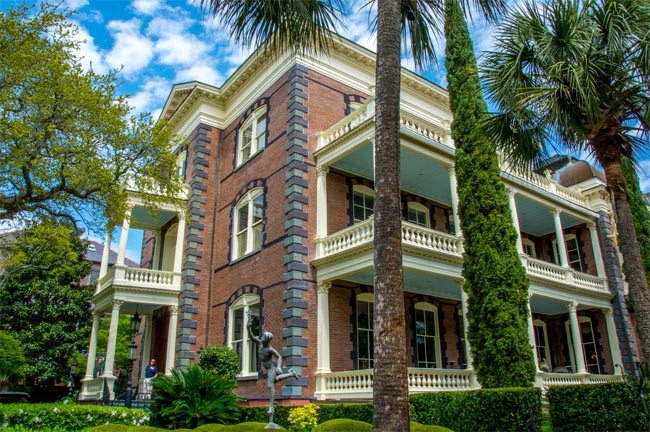 Historic Homes - Take a trip back in time and visit some of the historic homes that are open to the public. Learn about the politicians, merchants,  and planters that lived in these grand homes and the slaves that helped to maintain them. Some of the houses have stood still for over 200 years while others have been restored and decorated with period furnishings. 

---
Charleston Plantations
---
Charleston Plantations - Southern plantations have a unique spot in American history providing visitors a glimpse into the South's dark past of using slave labor. Charleston is home to several plantations where visitors can walk through the lush gardens, tour original slave cabins, or visit one of the oldest African American cemeteries still in use.

---
Charleston Beaches 
---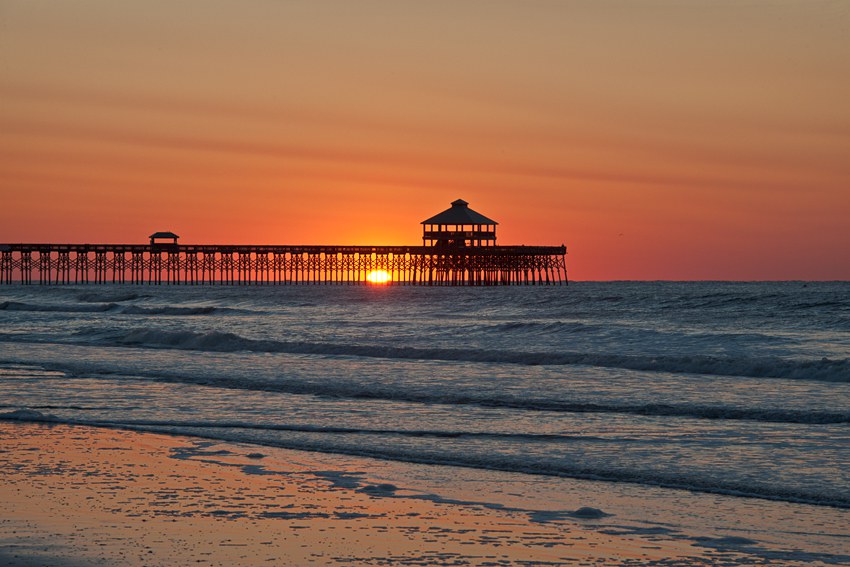 Charleston Beaches - The best things to do in Charleston SC in the summer are visit the beaches. Charleston has 3 nearby beaches: Folly Beach, Sullivan's Island and Isle of Palms. All three beaches are a 20-30 minute drive from downtown Charleston and all three are very different. Folly beach is laid back and has a good mix of restaurants and cafes, Sullivan's Island is the most natural beach and is less crowded than the other beaches and Isle of Palms is the most commercialized beach and often the most popular with families. 

---
Charleston Parks
---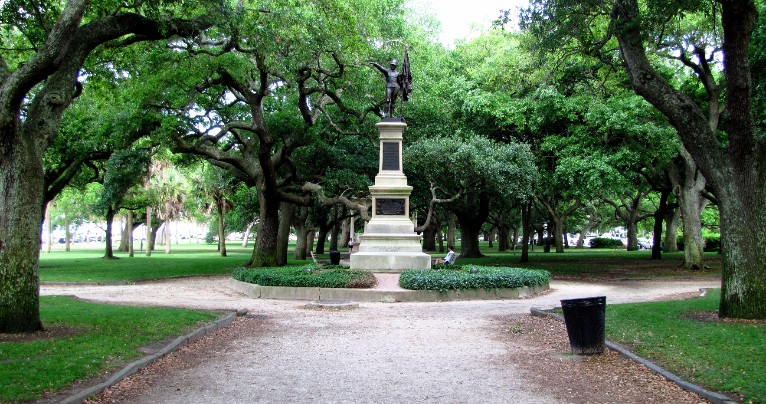 Charleston Parks - Charleston also has some of the most beautiful parks in the state. White Point gardens offers awesome views of Fort Sumter and large antebellum mansions, Waterfront Park offers beautiful views of the Charleston Harbor, and Angel Oak Park has a massive 400 year old live oak. 

---
Charleston Tours
---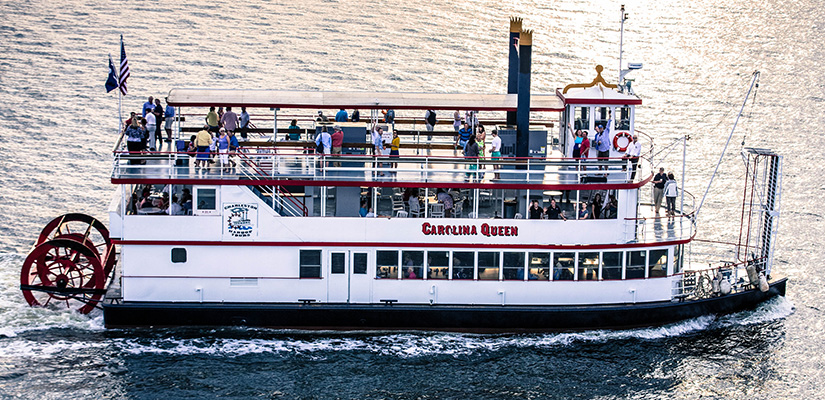 Charleston Tours - If you are new to Charleston and even if you are not, a fun way to learn about this historic southern city is to take a guided tour. You can take a one hour carriage tour, a 90 minute Charleston Harbor boat tour or a 90 minute mini bus tour. You can also take one of the many guided walking tours which include ghost walks, history tours, pirate tours, art tours, pub tours, architectural tours and culinary tours. If this is your first time visiting, you may want to take a tour on your first day because it will help introduce you to the city and you will get a chance to familiarize yourself with other things to do in Charleston SC. 

---
Charleston Shopping
---
Shopping - Charleston has a lot of shopping options including locally owned boutiques, antique shops, upscale chain stores, shopping malls, an open air shopping center and a Tanger outlet mall. You will also find a large number of art galleries, and after a day of exploring and shopping, you can treat yourself to a massage and a facial.

Below I have compiled a list of my favorite fun things to do in Charleston SC. These are sites and activities that I highly recommend seeing and doing while in Charleston. 

White Point Point Gardens and the Battery

 is located at the tip of the Charleston peninsula and offers magnificent views of the water, antebellum mansions and Fort Sumter. The park has massive moss covered live oaks along with cannons, monuments, statues and benches.
The 

Old City Market

 is located at the corner of Meeting St. and Market St. in the heart of historic Downtown Charleston.  The market stretches for several blocks and you will find a large variety of items, including handmade Charleston souvenirs and local artwork.
Waterfront Park

 is a serene place to visit that offers great views of the Cooper River, Patriots Point and the Arthur Ravenel Bridge. This park is centrally located near shops and restaurants and is a great place to take a stroll and visit after dining out in the evening. The park fountains and the Arthur Ravenel Bridge are lit up at night and look truly spectacular.
Boone Hall Plantation

 is located about 20 minutes from downtown Charleston in Mt. Pleasant. This plantation is one of America's oldest working, living plantations and features eight original slave cabins that you can tour. This plantation has been used in movies and tv including the miniseries North and South and the movie The Notebook.
The 

Edmonston-Alston House

 was one of the first houses built on the Charleston Battery in 1825. This is a truly beautiful home and you can tour the first two floors. This house has a lot of history and has had quite a few historic visitors including General Beauregard and General Robert E Lee. This is one of the few house museums that contain original family furnishing and not period reproductions.
---
Spring
---
Wine and Food Festival

The annual Charleston Wine + Food Festival is a celebration of Charleston's culinary excellence and renowned culture, which benefits scholarship programs for the culinary and hospitality workplace. Discover the distinctive flavors of the Lowcountry and uniquely Charleston experiences while interacting with and learning from the country's best chefs, authors and beverage professionals. With over 80 events over the course of the Festival weekend, there is truly something for every person and every taste!
---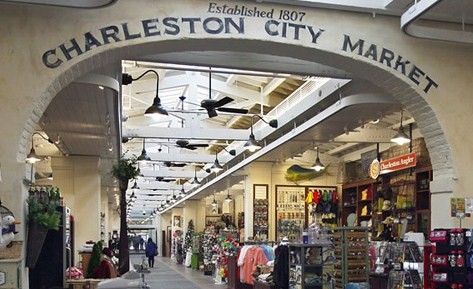 Evenings in the Market

Come shop at one of the most visited Charleston attractions - The City Market. The weekly event, designed to showcase local artists, food vendors and designers, is from 6:30-10:30 pm every Friday, Saturday, Sunday and third Thursday from March through December.
---
Taste of the Market

Join City Market Hospitality Association and Charleston Culinary Tours every third Thursday for Taste of the Market at Palmetto Carriage Company Lot on Anson Street. On the third Thursday of each month, from 6:00pm-8:00pm, enjoy samples from market area restaurants, chef demonstrations and live music.
---
Annual Festival of Houses and Gardens

Experience the intimate charm and elegance found only beyond Charleston's private garden gates and historic thresholds during Historic Charleston Foundation's month-long annual Spring Festival of Houses & Gardens. Set amid the historic ambience of the city's Old & Historic District, this series of award-winning tours showcases Charleston's distinctive architecture, history, gardens and culture. These tours provide a rare opportunity for guests to go inside the private houses and gardens of some of America's most beautiful historic residences, dating to the 18th century. 
---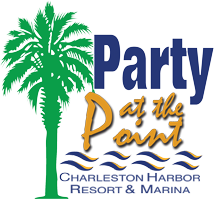 Party at the Point

It's time for Charleston's longest-running outdoor concert series features rockin' music, beautiful views, great food, festive drinks and the best crowd in Charleston. The event is open to the public and hosted by Charleston Harbor Resort & Marina. The weekly event takes place every Friday afternoon from 6:30pm until 9:30pm at the beautiful Charleston Harbor Resort and Marina on Patriot's Point. 
---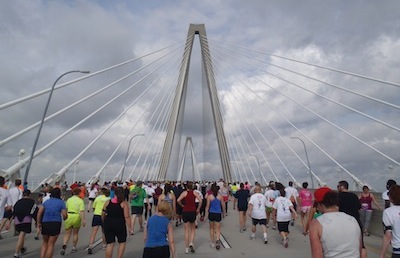 Cooper River Bridge Run

The Cooper River Bridge Run is the best organized and the best conducted 10-K race in the world. It includes world-class competition in a unique setting with unparalleled participant satisfaction. It broadens community cooperation and participation in healthy events throughout the year. The Cooper River Bridge Run serves as a model of health motivation for other communities throughout the world.
---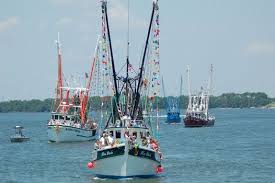 Mt Pleasant Blessing the Fleet & Seafood Festival

Mt. Pleasant hosts its Annual Blessing of the Fleet. A safe and prosperous shrimping season is the sentiment of this community-supported benediction that dishes up fresh seafood and showcases local crafts. Live music, local crafts, kids activities, a boat parade, a ceremonial blessing of the shrimp/fishing fleet, and lots of seafood will be present.
---
Shaggin on the Cooper

This popular live beach music and shag dance event series returns to the Mount Pleasant Pier. Celebrate the arrival of warmer weather with some dancing. Local bands perform live at the end of the Mount Pleasant Pier throughout the season, and the dance floor is open for all ages. Space is limited, so advance purchase is recommended.
---
Summer
---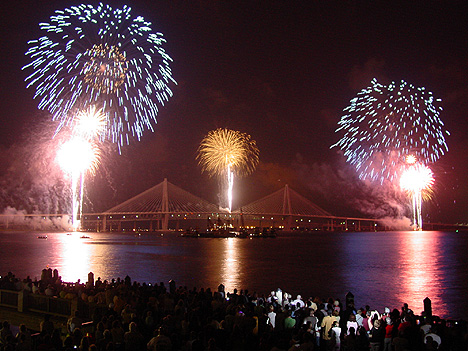 Patriots Point 4th of July Blast

Enjoy a professional fireworks display and shore side party with a beach music band. Tickets on the flight deck will be sold in a limited quantity. Guests on the Flight Deck will enjoy special access to the USS Yorktown starting at 6 p.m., with catered food and beverage available for purchase, as well as live musical performances and activities for kids throughout the evening. Once the sun sets in the Charleston Harbor, the Flight Deck of the Yorktown will offer a front row seat to the fireworks display, which will feature firework shells shot from a barge in the Cooper River.
---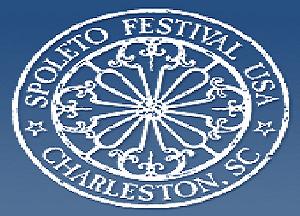 Spoleto Festival

For 17 days and nights each spring, Spoleto Festival USA fills Charleston, South Carolina's historic theaters, churches and outdoor spaces with performances by renowned artists as well as emerging performers in opera, theater, dance, and chamber, symphonic, choral and jazz music. The Spoleto Festival USA is internationally recognized as America's premier performing arts festival and one of the top yearly things to do in Charleston SC.
---
Sweetgrass Cultural Arts Festival

The highly anticipated Sweetgrass Festival will celebrate the rich Gullah Geechee cultural heritage and provides the most extensive showcase of sweetgrass baskets in the Lowcountry area. The event features an assortment of unique handmade arts & crafts, paintings, live performances, and documentary films. Festival-goers will enjoy a day filled with entertainment that includes gospel songs and praise dance, storytelling and Gullah Geechee skits, basket-making demonstrations and the Adande African Drummers and Dancers. Visitors will be treated to a variety of authentic Gullah cuisine, classic barbeque, fish, chicken and beverages for sale.
---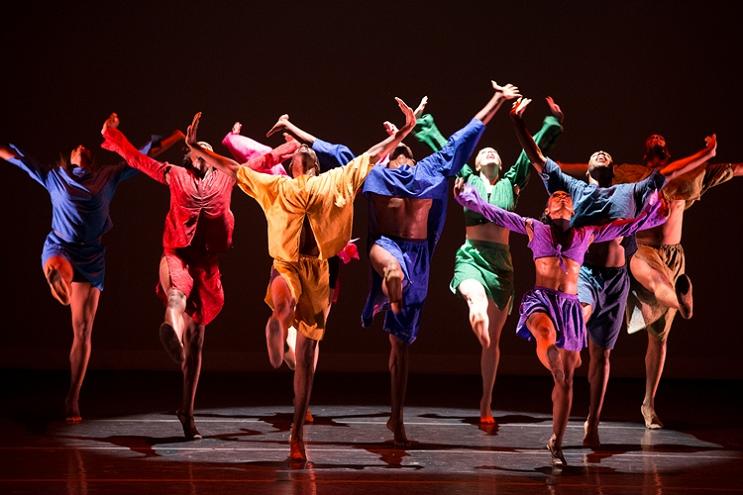 MOJA Arts Festival

The streets sway with the captivating rhythm of African music, while the smell of Caribbean cuisine permeates the air during this 10-day celebration of Gullah culture named for the Swahili word meaning "one".
---
Fall
---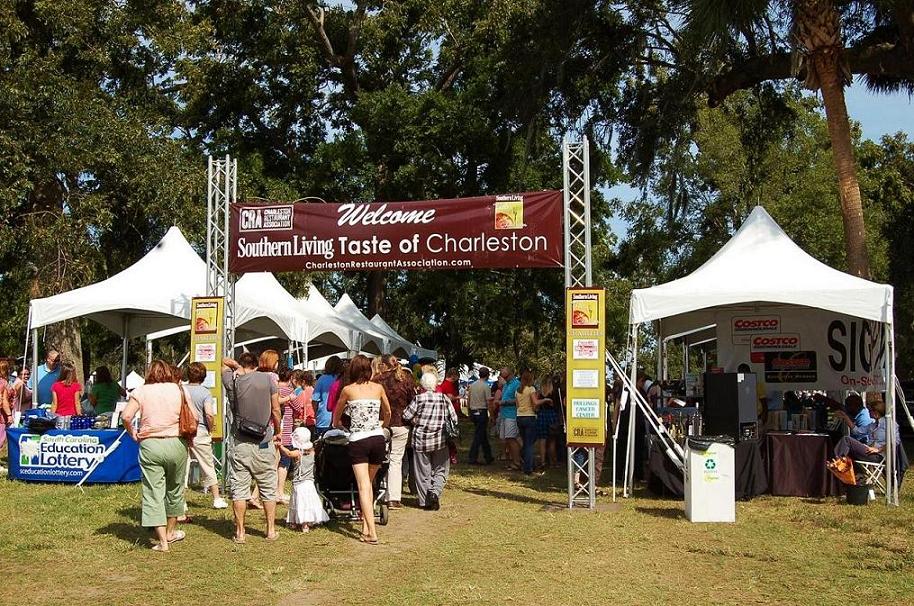 Taste of Charleston

This three-day culinary celebration of Lowcountry cuisine is hosted by the Greater Charleston Restaurant Association partnered with Southern Living Magazine. For more than 20 years, this charity fund-raising event has been named one of the "Top 20 events in the Southeast" by Southeastern Tourism Society. More than 10,000 guests attend the event at Historic Boone Hall Plantation.  50 of the Lowcountry's favorite casual and fine dining restaurants serving sample size portions plus beer and wine.  
---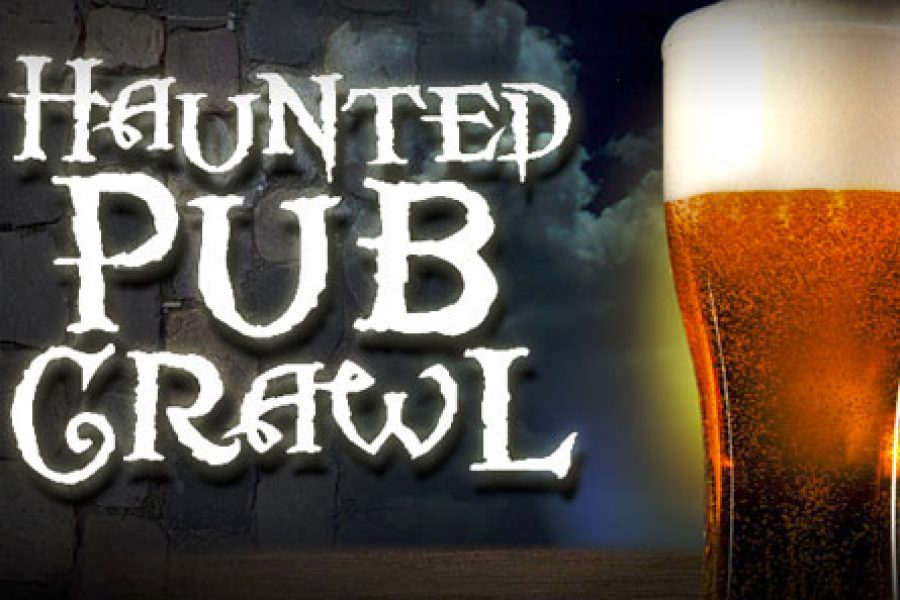 Haunted Pub Crawl

Spooky stories, odd tales, legends and unique personalities filled the hallowed streets and alleyways of the Holy City. Come hear about haints and haunts, duelist and dreamers on the Haunted Pub Tour. Come along, to learn about swamp witches and ghosts and troublesome poltergeist as you visit some great Charleston pubs and bars.
---
Plantation Days at Middleton Place
Middleton Place invites visitors to see what life on a Low Country plantation was like in the 18th and 19th centuries. The National Historic Landmark will welcome visitors to immerse themselves in Plantation Days, an annual event reflecting the activities of a Charleston plantation during the harvest season. Each day, the Middleton Place Stableyards will be abuzz with demonstrations on cooking, textiles, blacksmithing, coopering, and hands-on activities such as pottery, cotton and rice processing, and candle making.
---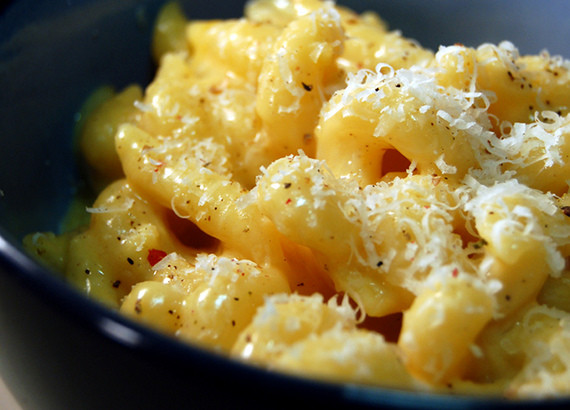 Annual Charleston Mac Off
One of the largest macaroni and cheese festivals in the country! Restaurants take this competition seriously to earn bragging rights with the best concoctions of the year. This is one of the top things to do in Charleston SC for foodies.
---
Charleston International Film Festival

The festival provides a premier showcase for all aspects of filmmaking: the art, the filmmaker, talented directors and actors, and the film-lover in all of us. Our goal is to educate the community & festival attendees through the art and science of film, promoting cross-cultural awareness, the exchange of ideas, and social understanding.
---
Winter
---
Middleton Place Holiday Market
The holiday season officially kicks off at Middleton Place with the annual Holiday Market in the Museum Shop and Garden Market & Nursery starting on Black Friday from 10 a.m. to 4 p.m. The Museum Shop will be filled with great history and holiday-themed products, and the Garden Market & Nursery will be stocked with artisan craftwork and seasonal plants. Both locations will be bustling with vendors from near and far.
---
Annual Charleston Christmas Parade
The holiday tradition is better than ever as bands, floats, marchers and performers parade through downtown Charleston. The Parade starts at 2:00 PM from Broad and Barre Street. The Parade heads down Broad Street till a left on King Street. It follows King Street till Marion Square and ends at Calhoun and Meeting Street.
---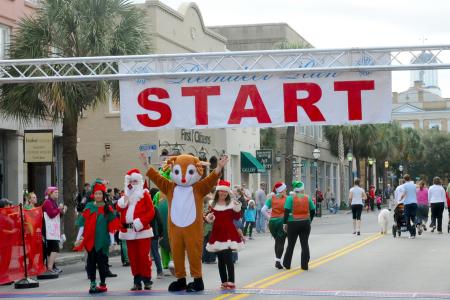 Annual Charleston Reindeer Run
The Reindeer Run, presented by Half-Moon Outfitters, is a family-oriented, pet-friendly 5k run/walk through the lower peninsula of downtown Charleston, SC. The event has grown significantly over the years; from only a few hundred participants to record attendance of over 3,500 runners in 2012.
---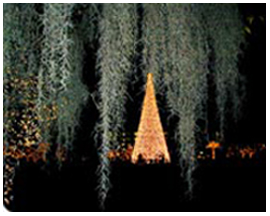 Annual Charleston Tree Lighting
It's Christmas time here in Charleston once again!  Grab the kids, family members, and friends for this annual Charleston Christmas event!  Marion Square Park is the location for the annual Christmas Tree Lighting Ceremony. The mayor, along with Santa Clause, will join together in lighting this gargantuan 60 foot Christmas tree. 
---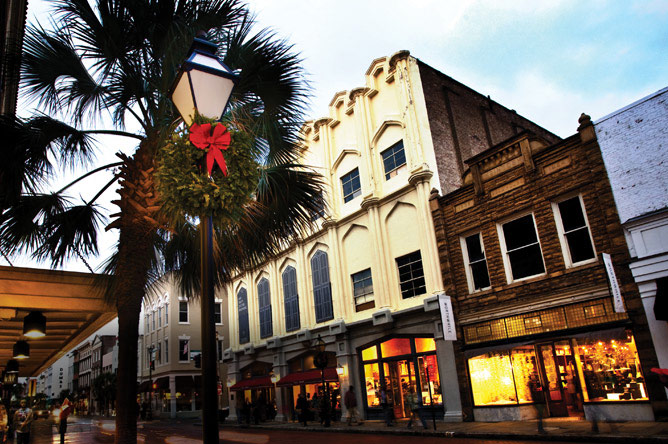 Christmas in Charleston

The sway of the carriage transports you back several centuries. The professional guide points to the poinsettias flanking the front door of the antebellum mansion and notes the iconic holiday flower was first imported to America in 1829 by a Charlestonian named Dr. Poinsett. The blanket provided by your hotel concierge is cozy; the thermos of hot chocolate a thoughtful touch. Sit back, relax and enjoy the holiday festivities in one of America's most historic cities.
---
Charleston Festival of Lights
Featuring over 700 displays and two million lights, the Holiday Festival of Lights is a cherished holiday tradition for many families and one of the top things to do in Charleston SC for the holidays. James Island County Park comes alive with illumination, and is a great place to capture the magic of the holiday season.
---
Happy New Year Charleston

This community celebration offers a non-alcoholic and family-oriented alternative program to celebrate the New Year in Charleston. This city wide, admission-free program has something wonderful for everyone: comedy, African dancing, many forms of music including classical, gospel and jazz, children's activities and so much more. Marion Square, King & Calhoun Streets. December 31st from 4:00pm to 10:30pm.
---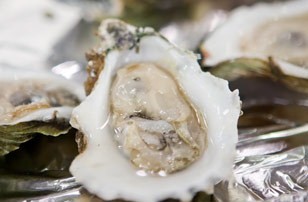 Lowcountry Oyster Festival

The Lowcountry Oyster Festival is the world's largest oyster festival and has been named one of the "top 20 events in the southeast" by Southeastern Tourism Society. Highlights include the legendary "Oyster Shucking" and "Oyster Eating" Contests, live music on the main stage, wine, a selection of domestic and imported beers, a Children's Area and a "Food Court" showcasing a variety of local favorite restaurants to satisfy everyone's taste.
---
Home > Things to do in Charleston SC
---
Copyright © 2009-2018 visit-historic-charleston.com