---
Charleston SC Restaurants 
Cheap Eats
---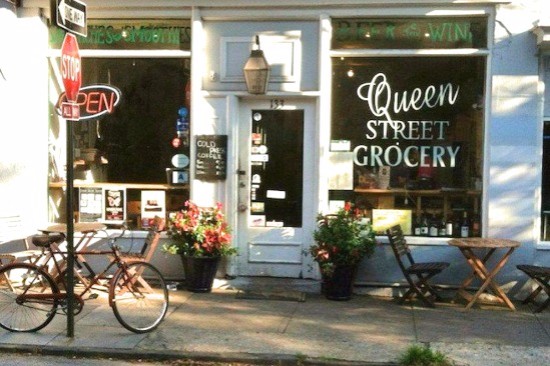 ---
A guide to the best Charleston SC Restaurants. Find the best "cheap eats" in Charleston. 
---
Charleston has received a lot of criticism that it's hard to find a reasonably priced meal on the peninsula, but there are actually quite a few restaurants serving up delicious food for a reasonable price. Below are a few of the hottest affordable restaurants in Charleston. 

---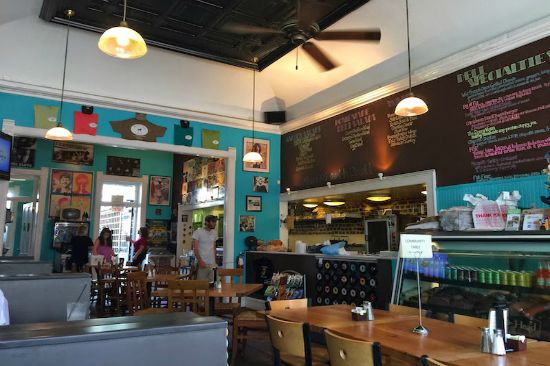 Brown Dog Deli
Brown Dog Deli offers an assortment of deli sandwiches, wraps, salads, and burgers along with an entire menu of vegan and vegetarian options including a Black Bean Burger and a Portobello Philly. Some of the must-try items on the menu include the Reuben Dog, and the Duck Club made with apple-smoked duck breast. Dine inside this cozy hip deli or enjoy the relaxed outdoor seating area. @ 40 Broad St. 
---
---
---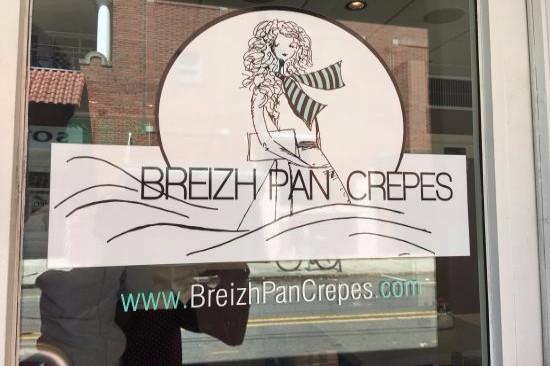 Breizh Pan Crepes
Breizh Pan Crepes serves traditional specialties from the western region of France including delicious savory and sweet crêpes, a variety of desserts, and special omelets. Stop by for breakfast or lunch or just come in for their delicious Le Phare crepe, a sweet crepe filled with strawberries, homemade chocolate, bananas, and Chantilly cream. @ 39 George St
---
---
---
Millers All Day
Millers All Day on King Street is serving up everyone's favorite meal of the day - Brunch. The restaurant serves up breakfast plates, quiche, frittatas, biscuits, and shrimp and grits. The full service bar also serves up sweet Mimosa's, spicy Blood Mary's, or your favorite cocktail. The most talked about dish at Miller's are the pink Unicorn Grits. The grits get their pink color from a rogue gene that causes a red kernel to randomly appear on yellow ears of corn. @ 120 King St
---
---
---
---
---
---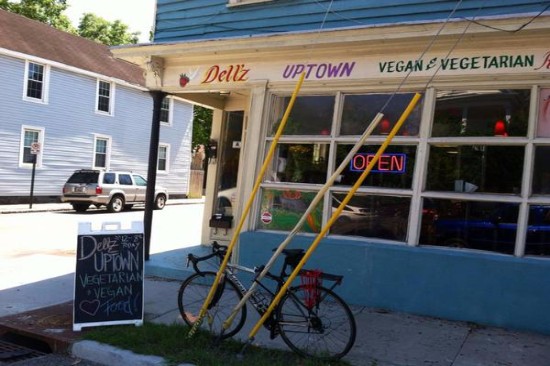 Dell'z Deli
Dell'z Deli is a lively and eclectic deli serving an extensive vegetarian selection of salads, wraps, and pitas. Vegetarians can enjoy the Snobby Joe wrap with marinated meatless crumbles, mixed greens, diced tomatoes, cucumbers, sprouts, avocado, mango salsa, and goddess dressing. The deli also has meat friendly wraps including the Sassy Chicken, LA Chic Ha Beef, and the Turkey Goddess.  @ 511 Rutledge Ave
---
---
---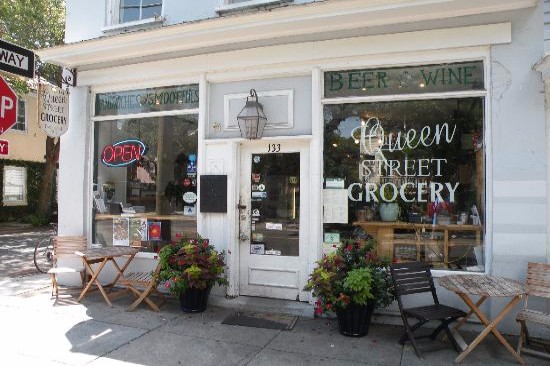 Queen Street Grocery
Queen Street Grocery, which opened in 1922, serves up omelets, breakfast sandwiches, crepes, salads, hot pressed Sammies, and smoothies. You will also find a large assortment of craft beers and unique wines. Stop by and dine in their sidewalk dining area or pick up your picnic supplies and head to the park. @ 133 Queen St
---
---
---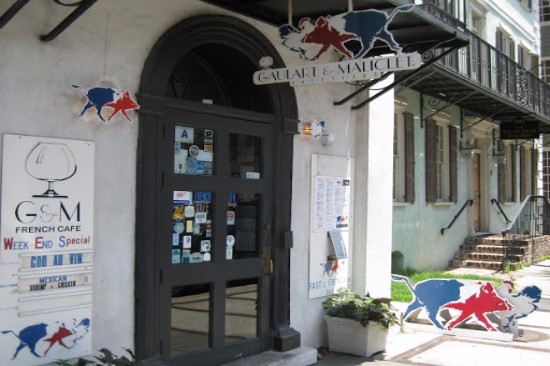 Gaulart & Maliclet
Gaulart & Maliclet is a charming cozy bistro, located on the iconic Broad Street, serving breakfast, lunch, and dinner. Choose from plain or filled croissants and coffee for breakfast and a sandwich or salad with a glass of wine for lunch. Dinner includes seafood, chickens du jour, and fondues. Please be advised that this is a non-tipping establishment and prices are All Inclusive.  @ 98 Broad St
---
---
---
---
---
---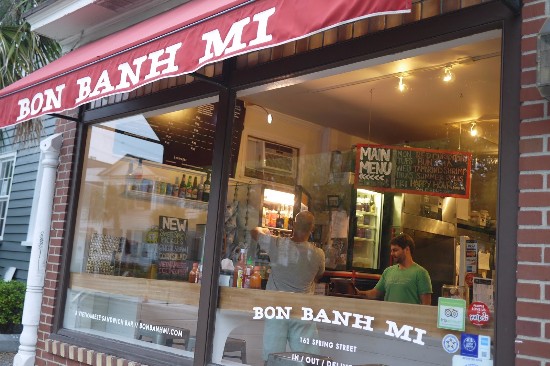 Bon Bahn Mi
Bon Bahn Mi is a Vietnamese Sandwich Bar serving up fresh, unique combinations. First, choose from a toasted baguette, a salad or tacos. Next, choose your fillings which include red curry beef, 5-spice pork, ginger lemongrass chicken, country pate, 5-spice tofu, Vietnamese ham, or egg and Canadian bacon. Parking is available behind the restaurant. @ 162 Spring St

---
---
---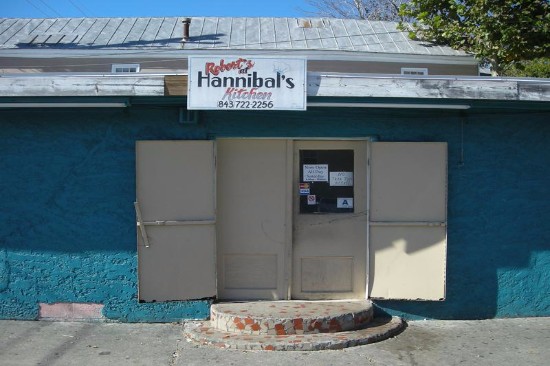 Hannibal's Kitchen
Hannibal's Kitchen is probably one of the ugliest restaurants on the outside, but once you go inside, you will be happy you did. Hannibal's has been serving up some of the best soul food in Charleston for over 40 years. They serve breakfast, lunch, and dinner and daily specials include crab and shrimp rice, baked or fried chicken, turkey wings, liver and onions, fried shrimp, and fried pork chops. @ 16 Blake St
---
---
---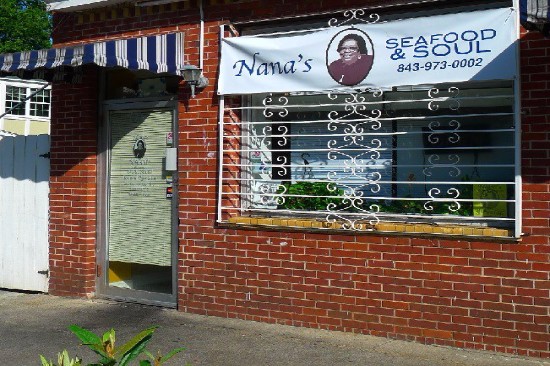 Nana's Seafood and Soul
Nana's Seafood and Soul serves up some of the freshest seafood and some of the best soul food in Charleston.  Favorites include garlic blue crabs and garlic snow crab legs, pork chops, shrimp salad, dirty rice and bread pudding. Choose from sandwiches, seafood platters, wings and daily specials. @ 176 Line St
---
---
---
---
---
---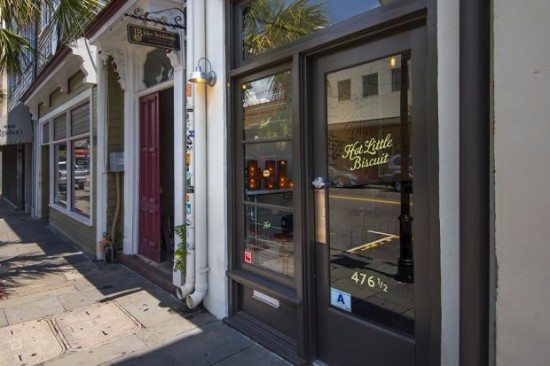 Callie's Hot Little Biscuit
Callie's Hot Little Biscuit is a great place for breakfast and lunch or a late night snack on the weekends. They serve a large variety of biscuits including cheese and chive, buttermilk, country ham, black pepper bacon, shortcake, blackberry, and cinnamon. You can avoid waiting in line by downloading the Callies Biscuit app which allows you to order, pay online, and move to the front of the line to pick up your order. Callies has two locations, one on King Street and one at the City Market. @ 476 1/2 King St @ 188 Meeting St
---
---
Map of Cheap Eats in Charleston
---
---
Additional Charleston Restaurants
---
---
Charleston SC Restaurants
---
---
Copyright © 2009-2021 visit-historic-charleston.com