---
Charleston Travel 
Getting Around Charleston 

---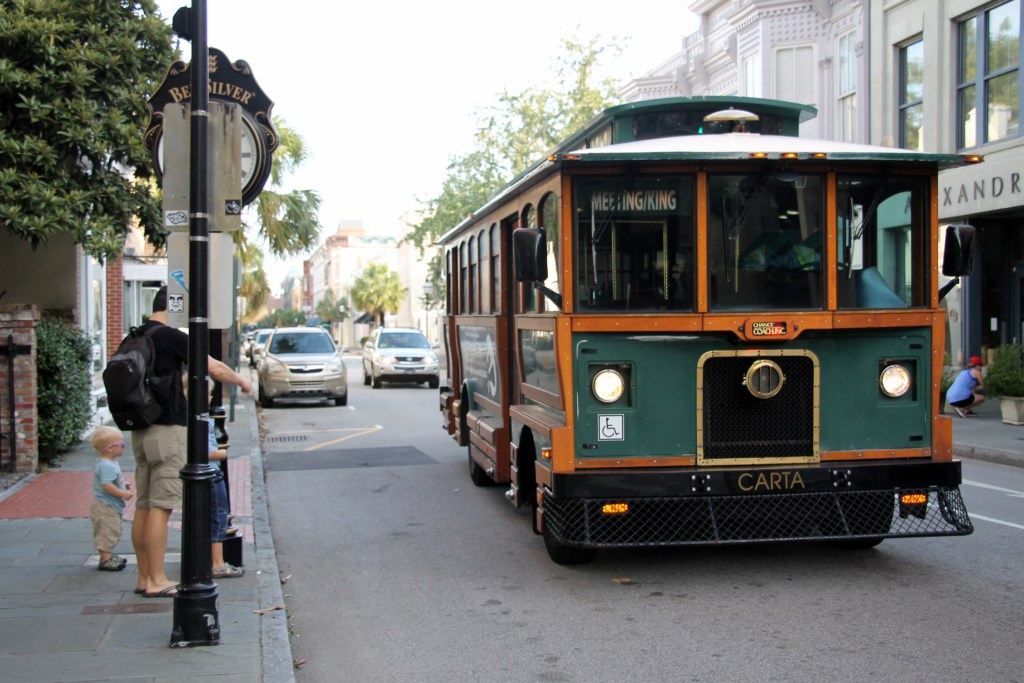 The Charleston travel guide is full of information and tips to help you navigate your way around the "The Holy City." Charleston has various ways to get around the city, including taxis, pedicabs, water taxis, and buses. 

---
Free Downtown Area Shuttle (DASH)
---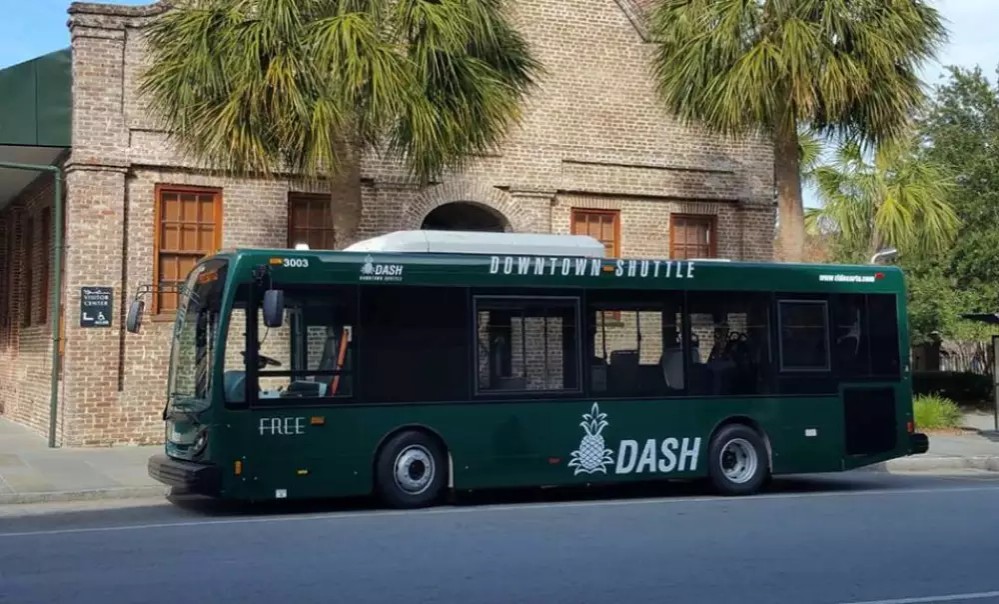 The Charleston Downtown Area Shuttle (DASH) is the most convenient way to get around downtown Charleston. The city recently replaced the DASH Trolley's (pictured at top of page) with buses. These buses are free to everyone and operate in the Downtown historic area. Visitors can park at the Visitor Center, 375 Meeting St., or at any city-owned parking garage while they ride. 

There are three DASH routes: (see the map below)

Rte 210 (Orange) – The College of Charleston and the Aquarium
Rte 211 (Green) – Meeting and King Streets
Rte 213 (Purple) – Lockwood and Calhoun Streets

Some things to remember when riding DASH:

DASH buses are free to ride
Pets are not allowed
Buses are not equipped to carry bicycles
The seats located in the front of each bus behind the driver are reserved for senior citizens and disabled passengers
Exit from the center door when exiting the bus. This minor effort allows boarding passengers to use the front door and helps keep the bus on schedule.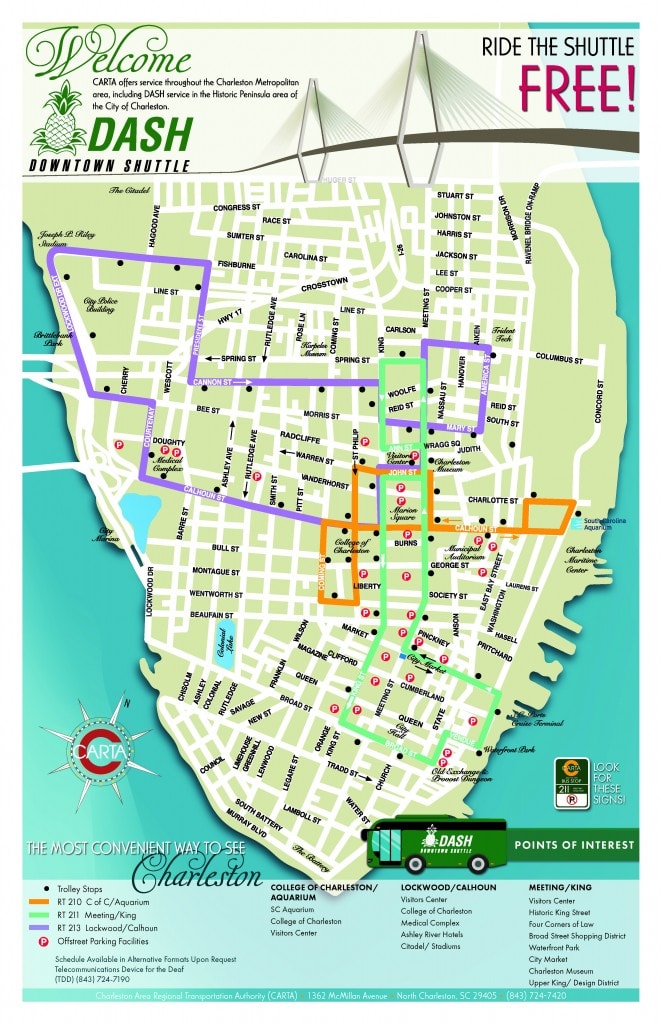 ---
CARTA 



---
If you are planning to visit attractions not located on the DASH routes, then CARTA buses are a fast and easy way to get to many of Charleston's attractions, restaurants, beaches, shopping, hotels and historic sites.

Rather than trying to find street parking or paying per hour to park in a garage, you can simply climb aboard and enjoy the ride. To see if a bus stops near where you are going, visit the CARTA website and click on plan in the upper right corner of the page. You can then key in your current address and use the planner tool to see if a bus is going to your destination. For a complete map of all the CARTA bus routes, check out the system map.
Some things to remember when riding the bus are: 

The regular fare is $ 2.00 for Fixed-Route buses
Discounted daily passes can be purchased at the visitors center
Please remember to bring exact change
Pets are not allowed
Be sure to be at the bus stop five minutes before the bus arrives.
Many buses are bicycle friendly, but check the Charleston Area Transit Authority website for a listing of rack and ride routes
---
Bike Taxi
---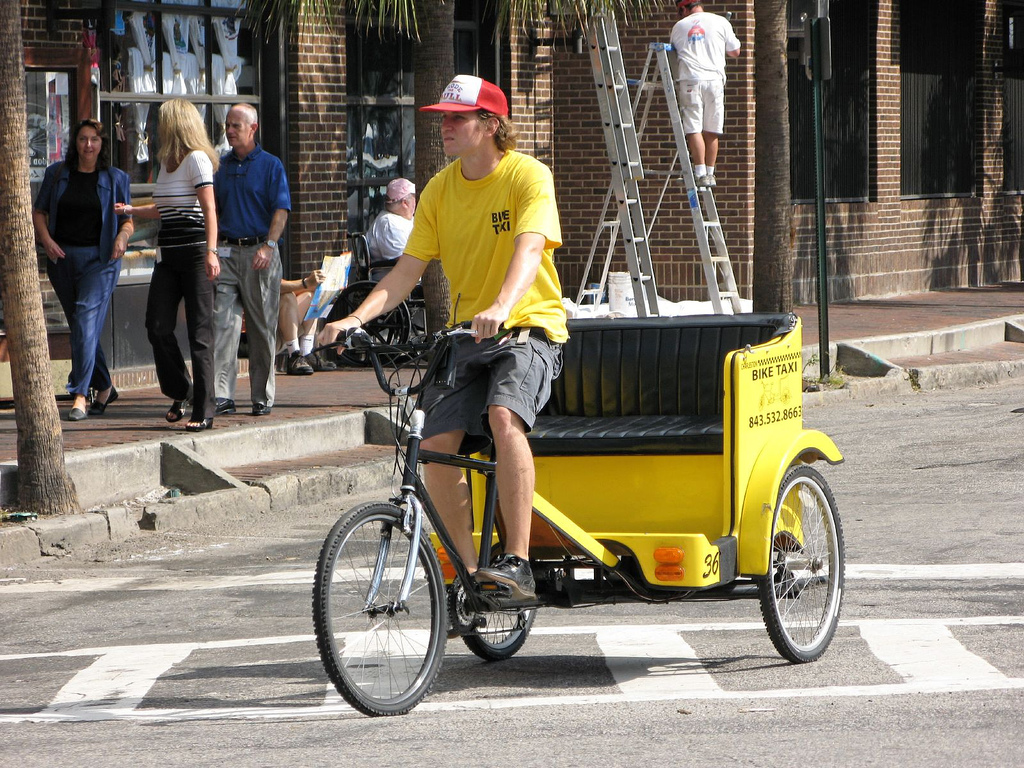 A fun way to travel around the downtown Charleston area is by bike taxi. The rides are reliable and affordable. Simply call, give them your location, and within 10 minutes a bicycle will pick you up and drive you anywhere on the downtown peninsula for about $6 per person, for every ten minutes. The bike taxis run from 9 am-midnight seven days a week (weather permitting). 

| | |
| --- | --- |
| Charleston Pedicab | (843) 577-7088 |
| Charleston Rickshaw | (843) 723-5685 |
| Charleston Bike Taxi | (843) 532-8663 |
---
Charleston Water Taxi
---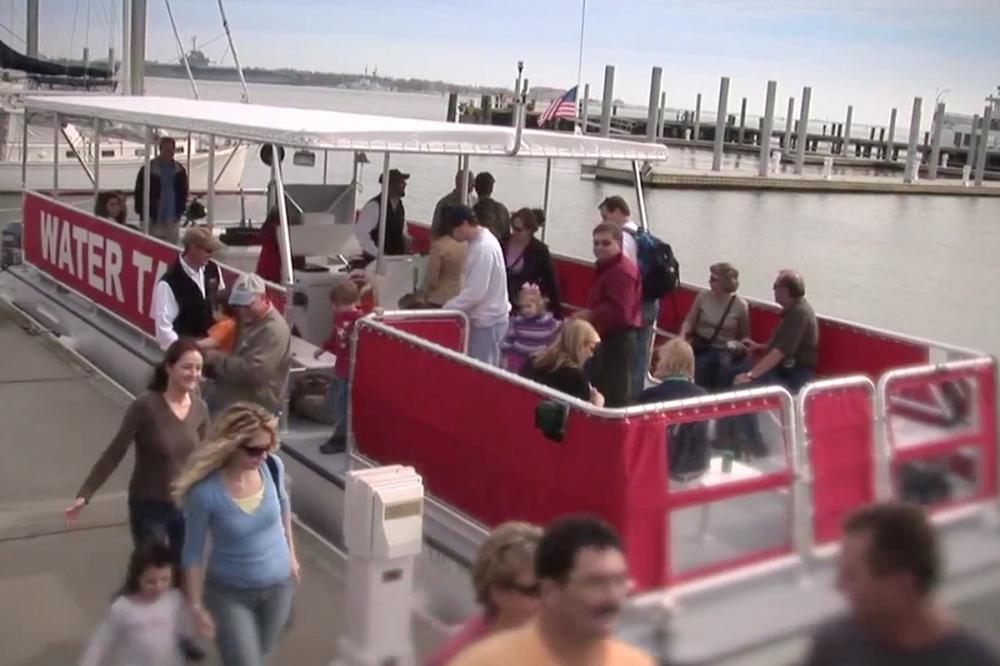 The Charleston Water Taxi is the best way to get to Patriots Point from downtown Charleston if you don't have a car. The water taxi charges $12 for an all-day pass, and children under three ride free. A fun thing to do is walk or bike across the Ravenel Bridge, and then take a relaxing boat ride back across the harbor. Bikes are always welcome on the water taxi.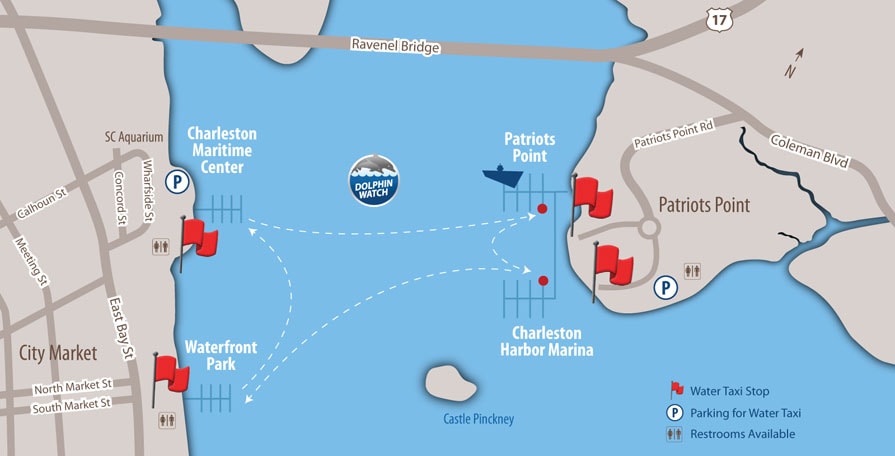 | | |
| --- | --- |
| Charleston Water Taxi | (843) 330-2989 |
---
Charleston SC Travel Guide
Taxis
---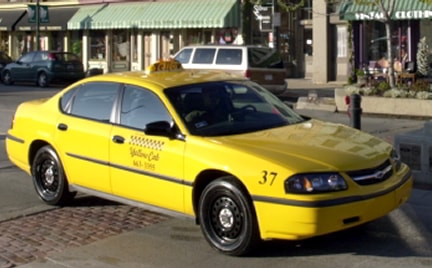 If you travel to Charleston by bus, plane, or train and you don't have a car, then you may need to take a taxi to get to certain destinations. Taxis charge a $15 minimum fee from Charleston International Airport. The cost for a cab in Charleston is $5.00 for the 1st 2 miles and $0.50 for every 1/5 miles after that. Each extra passenger is $1.00. Waiting time is $0.20 per minute and a maximum of $12 per hour.  If a trip begins and ends on the Charleston Peninsula, there is a $7.00 flat fee from 5:01 am until 11:59 pm. A $1 surcharge will be added for each additional passenger after the first passenger. The rate is increased to $14 from midnight to 5 am. 
| | |
| --- | --- |
| Charleston Cab Company | (843) 566-5757 |
| Charleston Green Taxi | (843) 819-0846 |
| East Cooper Taxi | (843) 697-2412 |
| Express Cab | (843) 577-8816 |
| Safety Cab Company | (843) 722-4066 |
| Yellow Cab Company | (843) 577-6565 |
---
Charleston SC Travel Guide
Car Rentals
---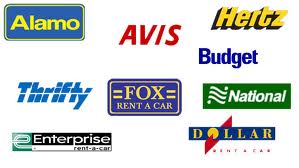 If you are flying into Charleston, the airport offers shuttles and taxis to downtown, but you may still choose to rent a car.  Charleston is very pedestrian friendly, and most attractions are within walking distance, but most nearby beaches and plantations are a 20-30 minute drive from the city. Some tour companies offer shuttles to nearby plantations, but you may need a car if you want to visit nearby islands and beaches. 

Historic Charleston Travel - Charleston Car Rentals
| | |
| --- | --- |
| Avis | CHS Airport (843) 767-7030 or Downtown Charleston (843) 577-9705 |
| Budget | CHS Airport (843) 552-1771 or downtown Charleston (843) 577-5195 |
| Enterprise | CHS Airport (843) 767-1109 or downtown Charleston (843) 723-6215 |
| Hertz | CHS Airport (843) 767-4554 or West Ashley (843) 573-2147 |
| National | CHS Airport (843) 767-3078 |
---
Parking in Downtown Charleston
---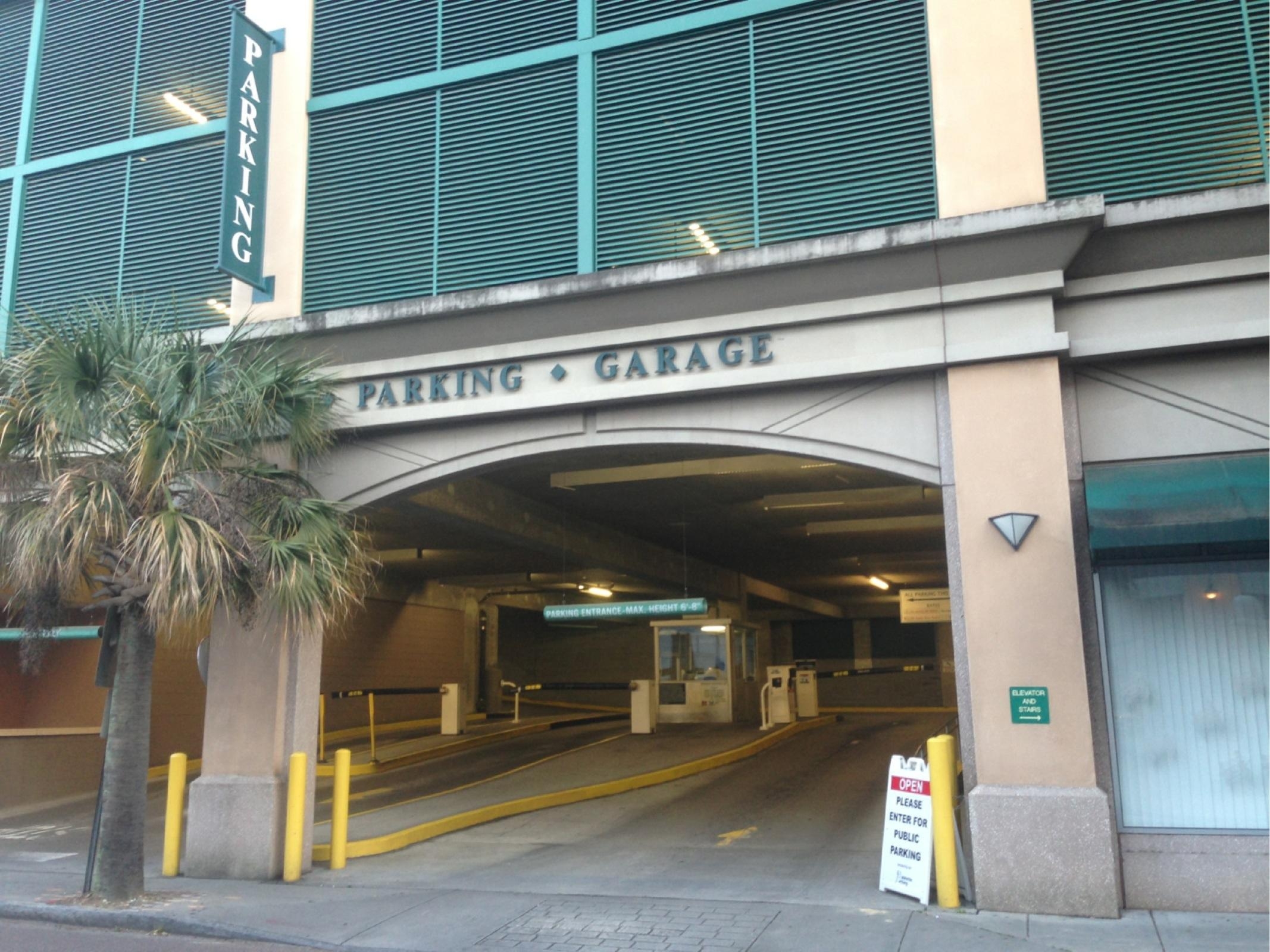 Charleston can quickly get congested with traffic, so one of the best ways to explore Charleston is on foot. However, if you decide to drive downtown, knowing where to legally park can be confusing. 
The City of Charleston offers 1,656 metered parking spaces with two methods of payment: coins and the SmartCard. All meters require payment from Monday through Saturday, 9 a.m. to 6 p.m. (excluding Sunday and official city holidays). The hours for parking meters in the City's surface lots are 9 a.m. to 6 p.m., Monday through Saturday. The rate for both parking meters and surface lots is $2 per hour, with a 2-hour limit. Parking meters accept VISA, Mastercard, City of Charleston SmartCards and coins for payment. 
The SmartCard is a convenient payment method for parking meters in the city of Charleston. Users pay a one-time charge of $5 for the card, and then purchase meter time for the card. SmartCards are available at the Visitor Center Gift Shop at 375 Meeting Street.
One of the biggest benefits of the SmartCard is the ability to refund any unused parking minutes. So if you put two hours on the meter, but only stayed for 30 minutes, you can simply reinsert the card to get the 1.5 hour back – you cannot do that with coins. 
The city owns 12 parking garages (see map below) with nearly 6,700 public spaces. The rates for city owned parking garages are $1 for every 30 minutes, with a maximum daily rate of $18. Additional privately owned parking garages and lots (with varying daily, hourly, evening and weekend rates) can be found throughout the city. 
The best place to park is the Visitor Center at 375 Meeting Street, as a central location with many public transportation options. The parking garage offers easy access to the Visitor Center and is one of the few places that offers RV parking. 
Be advised that street parking downtown south of Broad Street requires residential parking permits. Be sure not to park in these areas, as you will likely get a ticket.
---
---
---
---
Copyright © 2009-2023 visit-historic-charleston.com