---
Charleston Weather



---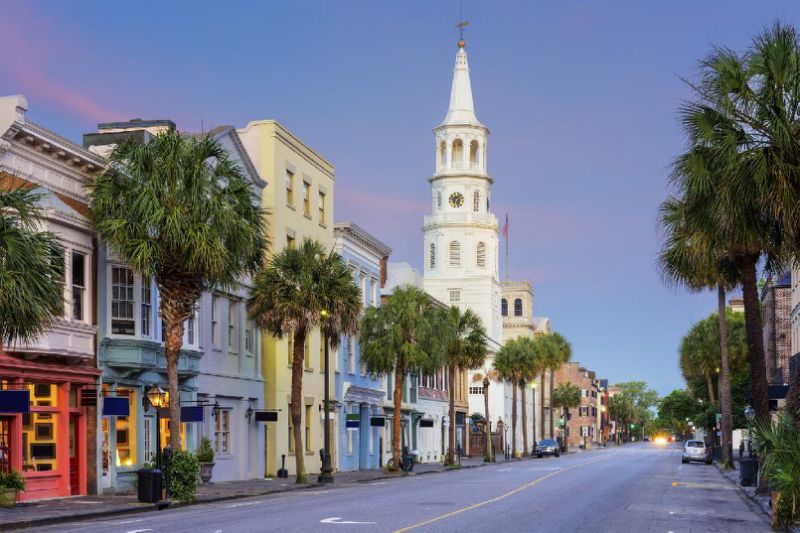 Charleston weather is highlighted by mild winters and humid summers. The subtropical climate makes Charleston a perfect place to visit year round. On average, Charleston has 209 days of sunshine each year, with summer the wettest season and fall the driest season. 
---
Average Temperatures and Precipitation in Charleston SC
---
Month
High
Low
Water
Days
with
Precip.
Precip.
Hours of
Sunshine
January
59°
38°
50°
9
3.7"
188
February
63°
41°
50°
9
2.9"
189
March
70°
47°
57°
11
3.7"
243
April
76°
53°
66°
8
2.9"
284
May
83°
62°
73°
14
3.0"
323
June
88°
70°
80°
10
5.7"
308
July
91°
73°
83°
15
6.5"
297
August
89°
72°
84°
12
7.2"
281
September
85°
67°
81°
10
6.1"
244
October
77°
57°
71°
6
3.7"
239
November
70°
47°
63°
7
2.4"
210
December
62°
40°
54°
8
3.1"
187
---
The Four Seasons in Charleston SC
---
Spring in Charleston
Average temperatures: 54° F  to 76° F 




Best time of the year to visit Charleston

Azaleas and dogwoods blooming

Cool nights and mornings

Warm afternoons

Pants and long-sleeve shirts in the morning and evening

Shorts and short-sleeve shirts in the afternoon

Bring a lightweight jacket
Summer in Charleston
Average temperatures: 72° F  to 89° F




Hot, humid summers with cool coastal breezes and afternoon storms

July is the warmest month

Summer is the rainiest season

Bring lots of sunscreen and bottled water

Pack plenty of cool clothing
Fall in Charleston
Average temperatures: 57° F  to 77° F




Clear blue skies with mild afternoon temps

Cool Evenings

September is a moderately wet month

October and November are the driest months of the year

Bring shorts and pants along with short and longsleeve shirts
Winter in Charleston
Average temperatures: 40° F to 61° F 




Typically mild winters




Cool with periods of rain

Snow flurries possible late December and early January
---
Charleston SC Hurricanes
---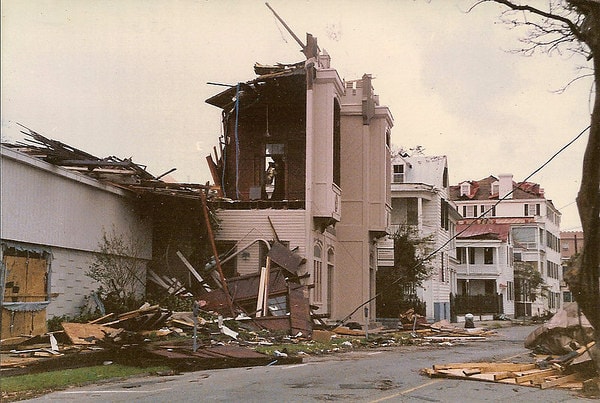 Hurricanes are a major threat to the Charleston area during the summer and early fall. The Atlantic Hurricane season runs from June 1st - November 30th. Although it is rare for the area to take a direct hit from a major hurricane, the area experiences beach erosion and flooding from passing storms. Charleston is only about 19 ft above sea level, so it does not take much to cause major flooding.
One of the strongest and costliest storms to hit the area was Hurricane Hugo on Sept. 21, 1989.  The storm slammed into Charleston Harbor around midnight as a category 4, gusting winds up to 140 miles per hour. The storm pushed a wall of water, as much as five ft high, across low-lying areas in Downtown Charleston, and swept some boats inland. Many homes were severely damaged or destroyed at the oceanfront, and the area in and around Charleston suffered mostly from wind damage, leaving three-quarters of the homes in Charleston's historic district damaged. The hurricane caused over $2.8 billion in damage.
---
Earthquakes in Charleston SC
---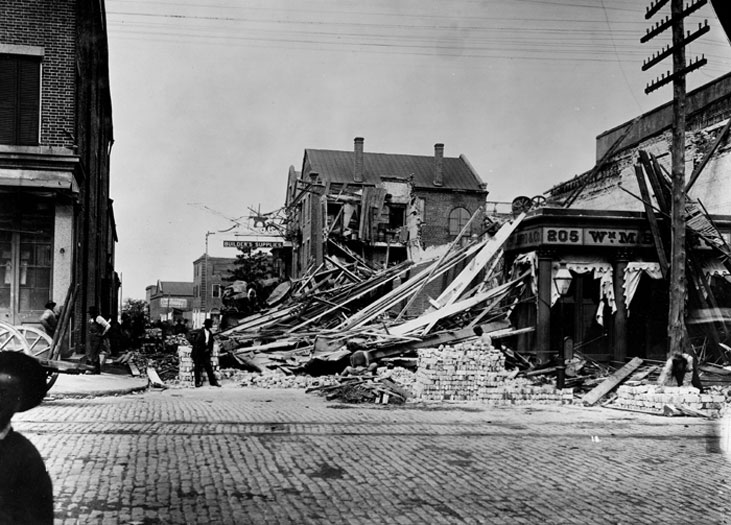 On August 31, 1886, Charleston, South Carolina was almost destroyed by a 7.5 earthquake. Major damage was reported as far away as Tybee Island, Georgia (over 60 miles away), and structural damage was reported several hundred miles from Charleston (including central Alabama, central Ohio, eastern Kentucky, southern Virginia, and western West Virginia). It was felt as far away as Boston to the North, Chicago, and Milwaukee to the Northwest, as far west as New Orleans, as far south as Cuba, and as far east as Bermuda. It damaged 2,000 buildings in Charleston and caused $6 million worth of damage, while in the whole city the buildings were only valued at approximately $24 million.

---
---
---
Copyright © 2009-2023 visit-historic-charleston.com