---
Charleston Boat Tours
---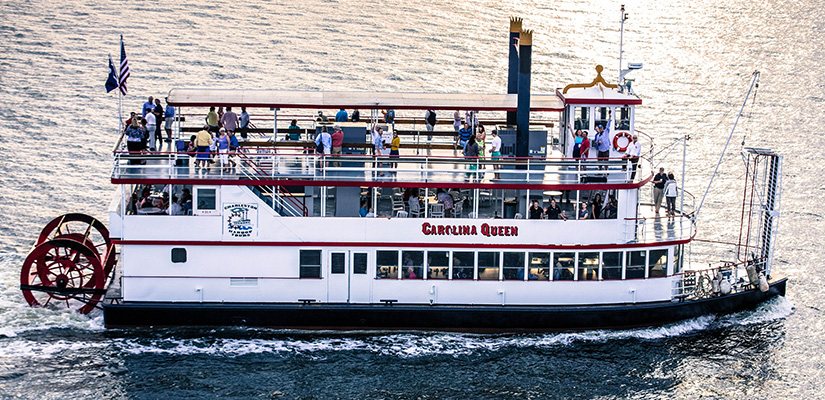 ---
Charleston boat tours are a great way to experience Charleston's culture and history while getting an up close view of landmarks including the USS Yorktown, Fort Sumter, Castle Pinckney, The Battery, and the Arthur Ravenel Bridge. 

---
Charleston is a beautiful city, and one of the best ways to experience it is from a boat. Charleston boat tours offer a complete view of the city's waterfront along with many historic landmarks and points of interest. Visitors can choose from narrated cruises, dinner cruises and water taxi rides. 
---
Charleston Boat Tours
---
---
Charleston Harbor Tours
10 Wharfside St
Charleston SC 29401
(843) 722-1112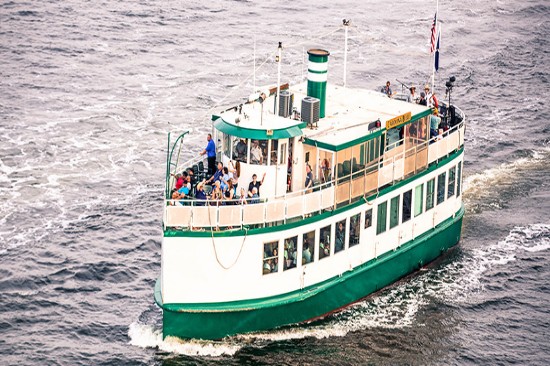 Take a 90 minute cruise aboard the Carolina Belle where you will see over 75 landmarks and points of interest. The boat has two decks, a climate controlled main deck with large windows and an outdoor observation deck. Tickets for the tours are about $25.

---

---
---
Spiritline Cruises
360 Concord St
Charleston SC 29401
843-722-BOAT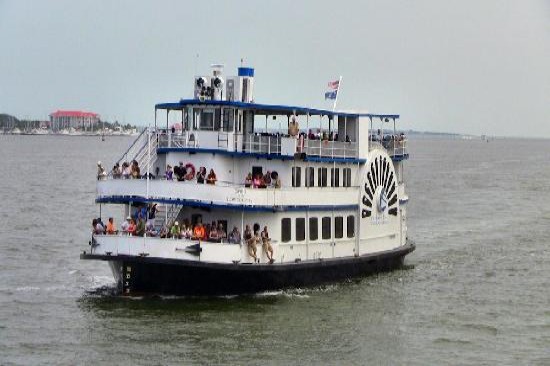 Spiritline Cruises has been operating in Charleston for over 50 years. Fort Sumter, the USS Yorktown, and the Cooper River Bridge are just a few of the landmarks you will see on your 90-minute tour. The ship has an outside main deck, an enclosed air-conditioned area, and a snack bar. Tickets are $24.
---

---
---
Sandlapper Water Tours
10 Wharfside St
Charleston SC 29401
(843) 849-8687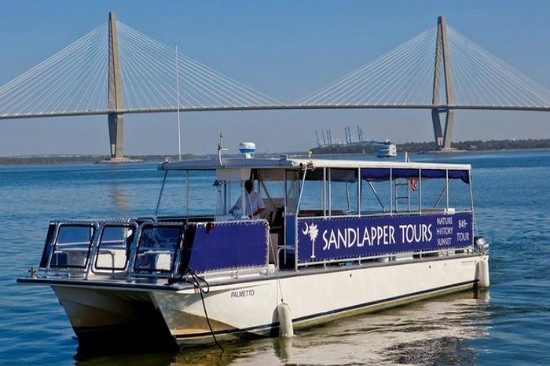 Sandlapper Water Tours is a locally owned and operated tour company offering sunset cruises, evening ghost tours, and Eco Tours to Morris Island. Soda, wine and snacks are available. Tickets are $23-$32 depending on which tour you choose.
---

---
---
Adventure Harbor Tours
56 Ashley Point Dr
Charleston SC 29464
(843)442-9455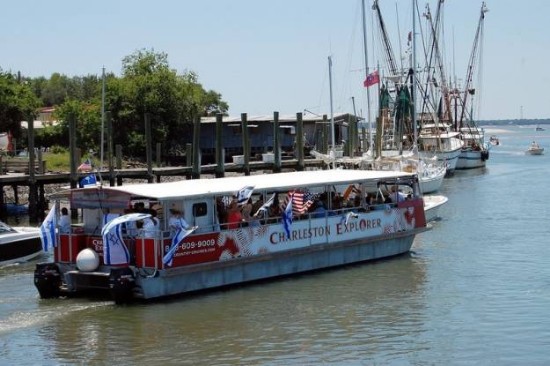 Adventure Harbor Tours offers a 90-minute sunset and dolphin cruise and a 3 hour Morris Island beach trip. Coolers, alcohol and pets are allowed on the boat. The Harbor Cruise is $29 and the Morris Island Beach tour is $55. Come out and enjoy a unique experience while jamming to Jimmy Buffett and Bob Marley.
---

---
---
The Schooner Pride
360 Concord St
Charleston SC 29401
(843) 722-1112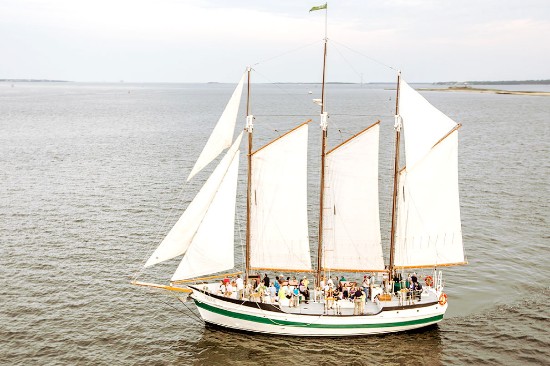 The Schooner Pride, an 84'tall ship, offers daily afternoon dolphin sails, evening sunset sails, and night time moonlight sails. The ship sails for up to two hours and every trip is different. Guest may bring a picnic lunch but beverages must be purchased on board. Tours range in price from about $40 - $70. 
---

---
---
Charleston Water Taxi
10 Wharfside St
Charleston SC 29403
(843) 330-2989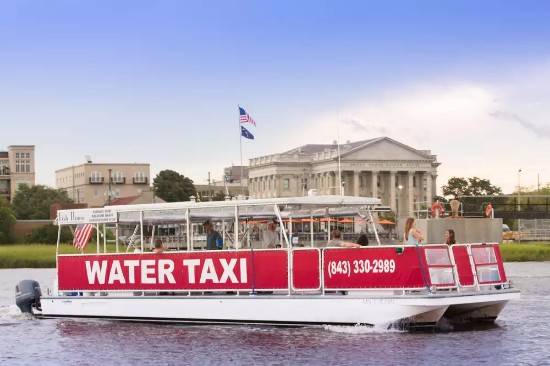 The Charleston Water Taxi connects Mount Pleasant (Patriots Point or Charleston Harbor Resort and Marina) and downtown Charleston (Waterfront Park or Aquarium Wharf). The Water Taxi runs on a continuous loop around Charleston Harbor from 9 am to 8 pm. You can purchase an all day pass for $12.  

---

---
---
Charleston Sailing Charters - Fate
17 Lockwood Dr
Charleston SC 29401
(843) 557-7403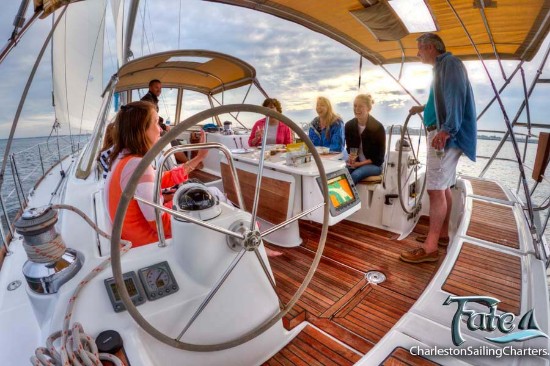 Charleston Sailing Charters offers year-round sailing on the luxurious 50ft sailing yacht named Fate. Experience a 2 hour day sail while enjoying sights from Ft Sumter to the Ravenel Bridge. Charters range from $499 - $599. 

---

---
---
Charleston Sail - Harbor Yacht Tours
95 Ripley Point Dr
Charleston 29407
(843) 345-7790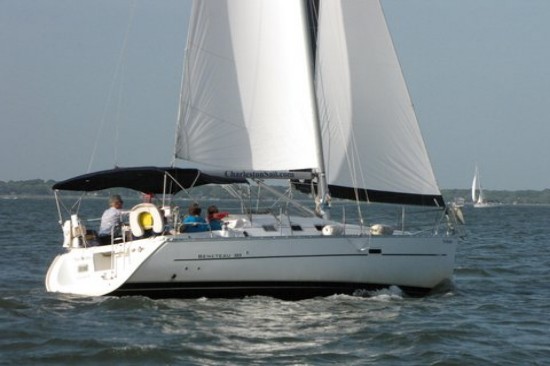 Charleston Sail's three-hour harbor tour will get you up close to popular landmarks including the Ravenel Bridge, Fort Sumter, the Charleston Battery, and the USS Yorktown. The routes are determined by the winds and tides, so each voyage will take you on a different journey. Rates are $275 - $675. 

---

---
---
Speed Boat Adventures
56 Ashley Point Dr
Charleston SC 29407
(843) 800-6003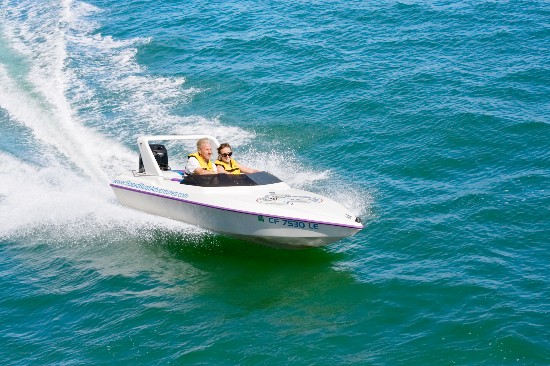 Charleston Speed Boat Adventures, one of the most exhilarating tours in Charleston, offers a narrated tour through thirteen miles of the Charleston Harbor. Get once in a lifetime views of the Ravenel Bridge and the downtown Charleston skyline while driving a 13-foot mini speed boat. Rates are $130 - $150.
---

---
---
Charleston Sailing Adventures 
10 Wharfside St
Charleston SC 29403
(843) 277-9019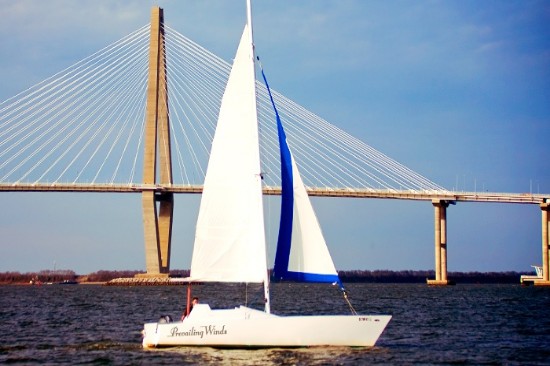 Charleston Sailing Adventures operates Prevailing Winds, a 27' stiletto catamaran sailboat, which offers a stable and exciting ride. The ship holds a maximum of six adults, and all tours are narrated and guided by licensed captions. Food and beverages may be brought on board. Rates are $45 - $150. 
---

---
---
Harborview Charters
56 Ashley Point Dr
Charleston SC 29407
(843) 324-3183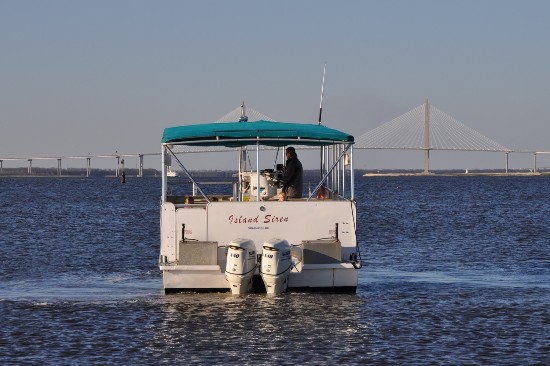 Harborview charters takes pride in creating a safe and fun experience for the entire family. Awaken all your senses, and get up close and personal with Charleston's marine wildlife. Charters ranges from $28 - $44. 
---

---
---
Spiritline Dinner Cruise
360 Concord St
Charleston SC 29401
843-722-2628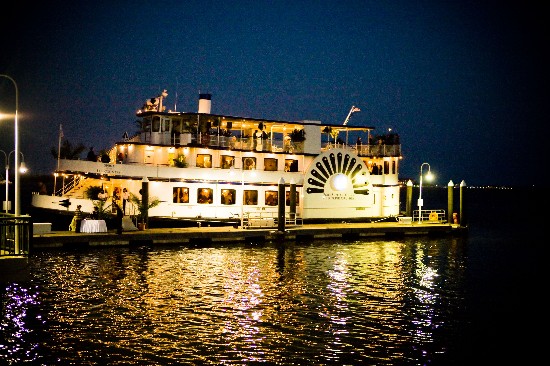 Take a 2 hour evening dinner cruise through Charleston Harbor while enjoying spectacular views. Guests will choose from five fresh prepared entrees, made to order on the ship and accompanied by She-Crab soup and a fresh salad. After dinner, enjoy entertainment by local musicians. Rates are $60 - $160. 

---

---
---
---
Other Charleston Tours
---
---
Home > Charleston Tours > Charleston Boat Tours
---
Copyright © 2009-2019 visit-historic-charleston.com