---
Charleston Carriage Tours
---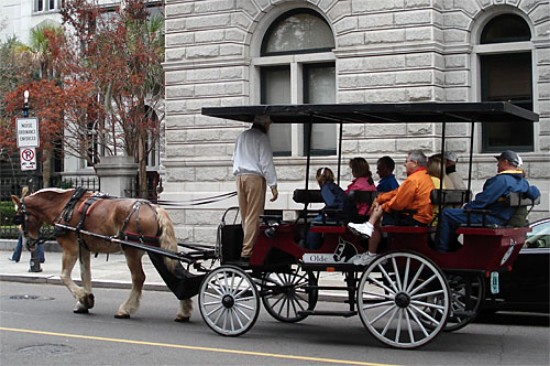 ---
A guide to Charleston carriage tours. Experience Charleston's downtown historic district by horse-drawn carriage. Take a relaxing one hour narrated tour through the picturesque and charming streets of downtown Charleston while engaging guides bring to life the history and architecture of the "Holy City."

---
One of the fun things to do when visiting Charleston is take a guided carriage tour. Several companies offer guided tours of the historic downtown district. Most of the tours last around an hour and during the tour you will learn about the history, architecture, and people of Charleston. The guides encourage riders to ask questions, so this is a great way to get an insider's view on the best places to eat and the best attractions to visit. 
The tickets for the group carriage ride are about $35 for adults and $25 for children and the tickets for a private carriage ride for two are $150 - $160.  Most carriage companies give discounts for purchasing tickets online in advance. Tickets can also be purchased at the carriage tour booths located outside the Old City Market. 
Be advised that after your carriage is loaded, the tour guide will go to a designated location where a random lottery system is utilized to choose which route your carriage will take. This ensures that there are not too many carriages in the same part of town at the same time which can back up traffic. Unfortunately this also makes it impossible to choose in advance which part of town you want to tour. 
---
Charleston Carriage Tour Companies
---
---
---
Old South Carriage Company



14 Anson St
Charleston SC 29401
(843) 723-9712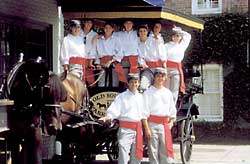 A licensed guide in Confederate Uniform will take you on a one hour narrated tour that covers about 30 city blocks. The residential tour is $45 for adults and $35 for children. Old South Carriage also offers child-free carriage tours and haunted carriage tours. 

---

---
---
---
---
Palmetto Carriage Works



8 Guignard St
Charleston SC 29401
(843) 853-6125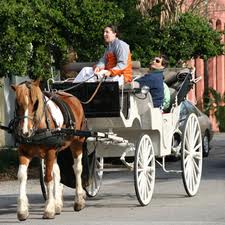 Palmetto Carriage Works is the oldest carriage tour company in Charleston. The one hour Residential District tour allows riders to see gardens, mansions, churches and parks. The tour is $45 for adults and $30 for children. Palmetto Carriage Works also offers evening tours of the commercial district. 

---

---
---
Charleston Carriage Works



20 Anson St 
Charleston SC 29401
(843) 779-1279
Charleston Carriage Works offers an hour long narrated tour that covers 3-4 miles of Charleston's residential Historic District. The tour is $45 for adults and $35 for children. Charleston Carriage Works also offers early tour specials for the morning tours if you book through the company's website.

---

---
---
Carolina Polo and Carriage Company




181 Church St




Charleston SC 29401




(843) 577-6767



Carolina Polo and Carriage Company offers a one hour tour of historic downtown. The tour is $40 for adults and $30 for children.

---

---
Other Charleston Tours
---
---
Charleston Carriage Tours
---
---
Copyright © 2009-2022 visit-historic-charleston.com