---
Folly Beach County Park 
---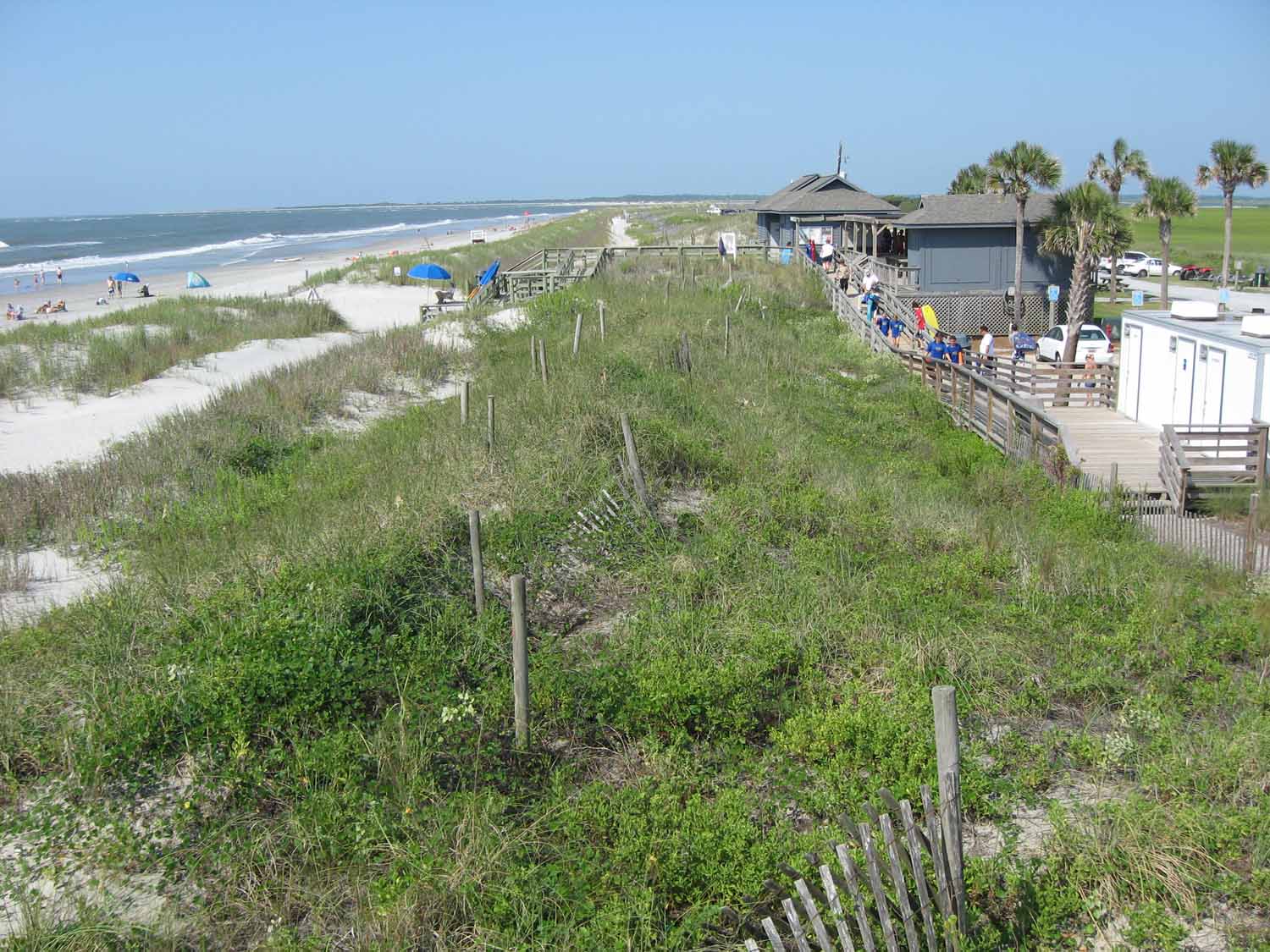 Folly Beach County Park is located on the west end of Folly Island, between the Atlantic Ocean and the Folly River. The park offers beach access with over 4,000 feet of ocean frontage. Be advised the beach can get crowded, and parking can fill up during the peak summer months. For beach goers looking for a less crowded area to enjoy the beach, just cross over the boardwalk and continue south until the crowds begin to dissipate. During the summer months, the park has lifeguards on duty, chair and umbrella rentals, and a snack bar. The park also has picnic tables, grills, and public restrooms. The park does not charge an entrance fee, but rather a parking fee per vehicle. Dogs are allowed on the beach during certain hours of the day, but must always be leashed. 
---
Folly Beach County Park Photos
---
---
Folly Beach County Park Hours and Admission
---
Hours:
Open Daily
January - April: 10 am - Sunset
May - Labor Day 8 am - Sunset
September - December: 10 am - Sunset
Closed Thanksgiving Day, Christmas Eve, Christmas Day and New Year's Day

Parking Fees: 
January and February - $5
March - $5 Monday - Friday and $10 Saturday and Sunday
April $10
May - Labor Day - $10 Monday - Friday and $15 Saturday and Sunday
September - $10
October - $5 Monday - Friday and $10 Saturday and Sunday
November and December $5

Walk-Ins/Bicyclists
Free

---
Folly Beach County Park Address and Map
---
---
Features and Amenities of Folly Beach
County Park
---
Dressing Areas

Outdoor Showers

Restrooms

Boardwalks

Lifeguards (Seasonal)
---
Folly Beach County Park Rules and Regulations
---
Cans and bottles prohibited on the beach

Parents should remain with children at all times.

Boats, surfboards, and motorized watercraft are not permitted in the designated swimming area.

Walk your bicycles on on boardwalks and ramps.

No dogs allowed on beach May 1- September 30 from 10 am - 6 pm



Fishing is not allowed in designated swimming areas.

Use designated crossovers.

Fires allowed only in cooking grills.

Removal or disturbance of natural resources or wildlife is prohibited.




Firearms and Fireworks are prohibited.

Alcoholic beverages are only allowed at the Pelican Watch.
---
Current and Upcoming Events 

at
Folly Beach County Park
---
What: Sunrise Yoga
When: Sat. May 7, 2022
Time: 6:30 am - 7:30 am
Where: Folly Beach County Park
Admission: $10 in advance (Until Friday at 4 pm) / $12 after 4 pm on Friday

Stretch your body, awaken your mind, and fuel your spirit in this uplifting, intention-setting yoga class to enhance your day ahead. Inclusive and open to all abilities and fitness levels. Register online. 
---
Hotels Near Folly Beach County Park
---
---
Find top-rated hotels at the lowest prices on TripAdvisor. Check rates now!
---
---
More things to do in Charleston
---
---
---
---
---
Copyright © 2009-2022 visit-historic-charleston.com