---
Charles Towne Landing
---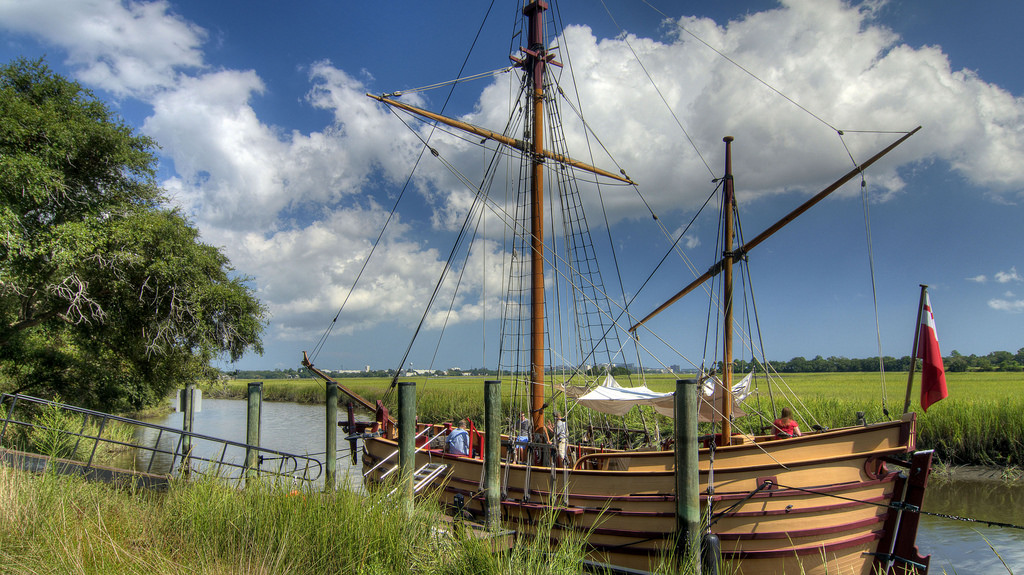 Charles Towne Landing Park is located on the original site where English settlers landed in 1670 and set up the first permanent European settlement in South Carolina. The park boasts a 12-room exhibit hall with interactive exhibits, a replica of a 17th-century sailing ship, and an Animal Forest natural habitat zoo. Visitors can tour the ship, take a peek at otters, bears, bison and more, or take an audio tour on the self-guided history trail. Bicycles can be rented by the hour or by the day for use on the 7 miles of paved and unpaved trails. The park has a small gift shop and offers free WiFi at the Visitors Center. Paid Admission is required to enter the park. 
---
Charles Towne Landing Photos
---
---
Charles Towne Landing Hours and Admission
---
Hours:
Park Open Daily 9 am - 5 pm
Animal Forest Daily 10 am - 4:30 pm
Closed Christmas Eve and
Christmas Day
Admission:
Adult (16+) $12
Seniors $7.50
Youth (6-15) $7
Children (5 and under) Free


---
Charles Towne Landing Address and Map
---
---
Features and Amenities of Charles Towne Landing
---
Animal Forest (only zoo in Charleston area)




Walking and Biking Trails

Park gardens

Free WiFi




Archaeology Exhibits
---
Current and Upcoming Events
at Charles Towne Landing
---
What: Great Guns on the Ashley (Artillery Demonstration)
When: Dec. 2, 2023
Time: 1 pm - 3:20 pm
Where: The Gun Platform along the History Trail.
Admission: Regular Admission
Feel the ground shake beneath your feet and smell the brimstone as the Charles Towne Militia fires replica, 17th-century cannons. Charles Towne, established on the edge of England's North American empire, faced many threats, especially from England's longstanding rival: Spain. Wary of a Spanish attack, the English colonists came heavily armed and formed a provincial militia for the defense of Carolina. This 20-minute program explores the Spanish threat, Charles Towne's fortifications, and the citizen-soldiers who protected the early colony.
---
What: Toddler Time at the Animal Forest 
When: Dec. 5 & 19, 2023
Time: 11 am - 11:30 am
Where: Outdoor Classroom at the Animal Forest
Admission: Regular Admission
Zoos are great learning environments for young minds. Bring your toddler to the Animal Forest at Charles Towne Landing for "Toddler Time" and watch their eyes light up when they see the animals! We'll read a story, talk about animals, and then take a walk to a habitat to actually see what we talked about. This program is designed for ages 2-4. Please allow at least 15 minutes to walk from the parking lot to the Animal Forest outdoor classroom.
---
What: There's Still a "Lot" to Learn
When: Dec. 7, 9, 12, 14, & 16, 2023
Time: 
Dec. 7 - 1 pm - 2 pm
Dec. 9 - 10 am - 12 pm 
Dec. 12 - 2 pm - 3 pm
Dec. 14 - 1 pm - 2 pm
Dec. 16 - 10 am - 12 pm
Where: The Archaeology Shelter at the Structure 2 Excavation
Admission: Regular Admission
Step inside the shelter at the Structure 2 excavation and discover what archaeologists have unearthed, thus far, at the site of one of Charles Towne's most dynamic lots. Talk with a park educator about the intriguing finds that have been made here over the past decade and what the evidence tells us about the people who lived and worked on the property in the 1670s.
---
What: A Sense of the Season
When: Dec. 16, 2023
Time: 11 am - 3 pm 
Where: The Common House inside the Palisade Wall
Admission: Regular Admission
It's the holiday season! Time for bringing greenery inside our homes, wrapping presents, and getting carols stuck in our heads. Have you ever wondered when and where some of our December traditions started? Warm yourself inside the Common House and visit with educators dressed in period clothing to discover how people in the English Atlantic world celebrated the season during the 17th century. Learn about once-popular practices that have fallen out of fashion as well as those that still endure today.
---
What: 1st Day 5K
When: Jan. 1, 2023 
Time: Kids Run starts at 8:30am and 1st Day 5K Race starts at 9:00am.
Where: Parking Lot
Admission: Regular Admission
Happy New Year! Start your New Year's resolution out on the right foot - and left foot - as you take part in the first Race the Landing 5K of 2024. Start off the new year on a "healthy step" with a 5K race on the beautiful grounds at Charles Towne Landing.
---
Hotels Near Charles Towne Landing
---
---
Find top-rated hotels at the lowest prices on Priceline. Check rates now!
---
---
More things to do in Charleston
---
---
---
---
---
Copyright © 2009-2023 visit-historic-charleston.com