---
Charles Towne Landing
---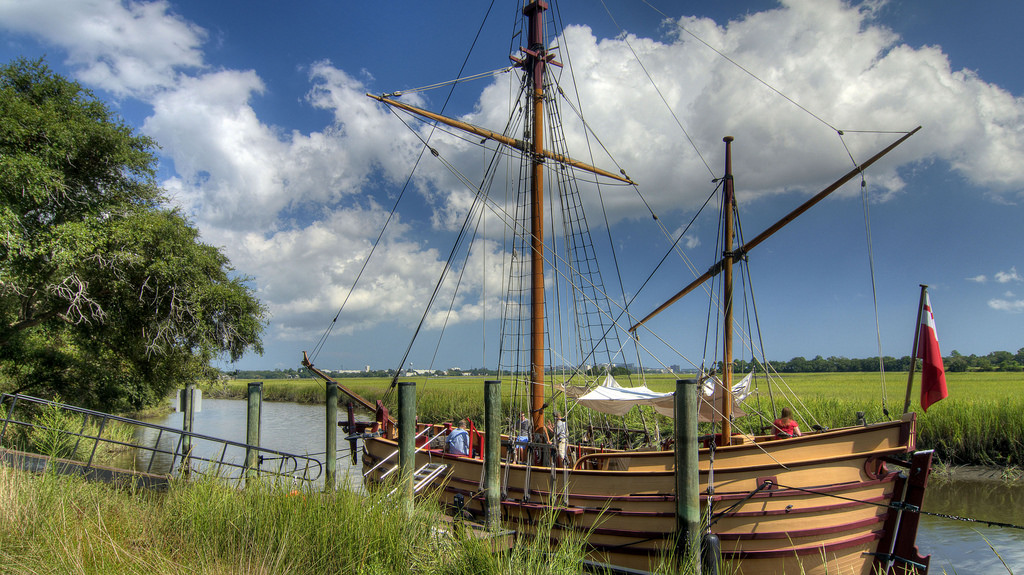 Charles Towne Landing Park is located on the original site where English settlers landed in 1670 and set up the first permanent European settlement in South Carolina. The park boasts a 12-room exhibit hall with interactive exhibits, a replica of a 17th-century sailing ship, and an Animal Forest natural habitat zoo. Visitors can tour the ship, take a peek at otters, bears, bison and more, or take an audio tour on the self-guided history trail. Bicycles can be rented by the hour or by the day for use on the 7 miles of paved and unpaved trails. The park has a small gift shop and offers free WiFi at the Visitors Center. Paid Admission is required to enter the park. 
---
Charles Towne Landing Photos
---
---
Charles Towne Landing Hours and Admission
---
Hours:
Open Daily 9 am - 5 pm
Closed Christmas Eve and
Christmas Day
Admission:
Adult (16+) $12
Seniors $7.50
Youth (6-15) $7
Children (5 and under) Free


---
Charles Towne Landing Address and Map
---
---
Features and Amenities of Charles Towne Landing
---
Animal Forest (only zoo in Charleston area)




Walking and Biking Trails

Park gardens

Free WiFi




Archaeology Exhibits
---
Current and Upcoming Events
at Charles Towne Landing
---
What: Animal Forest Enrichment Day
When: March 14, 2020
Time: 1 pm - 4 pm
Where: Animal Habitats at Charles Towne Landing 
Admission: Regular admission required

We all need our lives enriched – seeing a movie on Friday night, going to a playground, eating at your favorite restaurant. Going through the same motions day after day wears on everyone, and everything. Variety is the spice of life, as the saying goes - especially if you live in a zoo! So, zookeepers regularly develop creative ways to enrich the lives of the animals in their care. The "toys" that they create keep the animals active and engaged, which makes them healthier. Your home pet could benefit from enrichment, too. Join us in the Animal Forest at Charles Towne Landing for Enrichment Day and see what toys our animals enjoy, and maybe even leave with some ideas that will enrich the life of your "best friend."
What: Defense of a Colony
When: March 7, May 2, June 6, Sept. 5, Oct. 3, and Dec. 5
Time: 11 am - 4 pm
Where: Cannon Platforms along the History Trail at Charles Towne Landing 
Admission: Regular admission required

Feel the ground shake beneath your feet and smell the brimstone as the Charles Towne Militia fires replica, 17th-century cannons. Charles Towne, established on the edge of England's North American empire, faced many threats, especially from England's longstanding rival, Spain. Not only did Spain lay claim to what is now South Carolina, but the Spanish garrison at St. Augustine, Florida, was within a few days sail of the fledgling English colony. In a strange, new land without professional troops to protect them, Carolina's farmers and laborers could be pulled away from their daily tasks and forced to serve as soldiers. Historic weapons demonstrated at 1 pm, 2 pm, and 3 pm at the cannon platforms.

---
Hotels Near Charles Towne Landing
---
---
Find top-rated hotels at the lowest prices on TripAdvisor. Check rates now!
---
---
More things to do in Charleston
---
---
Home > Things to do in Charleston SC > Parks in Charleston SC > Charles Towne Landing
---
---
Copyright © 2009-2020 visit-historic-charleston.com