---
Charles Towne Landing
---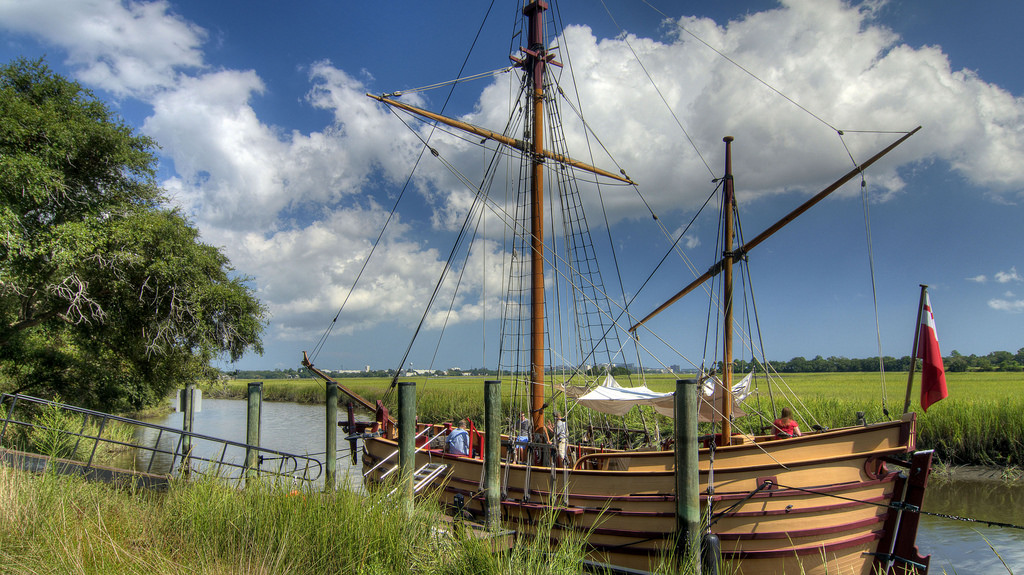 Charles Towne Landing Park is located on the original site where English settlers landed in 1670 and set up the first permanent European settlement in South Carolina. The park boasts a 12-room exhibit hall with interactive exhibits, a replica of a 17th-century sailing ship, and an Animal Forest natural habitat zoo. Visitors can tour the ship, take a peek at otters, bears, bison and more, or take an audio tour on the self-guided history trail. Bicycles can be rented by the hour or by the day for use on the 7 miles of paved and unpaved trails. The park has a small gift shop and offers free WiFi at the Visitors Center. Paid Admission is required to enter the park. 
---
Charles Towne Landing Photos
---
---
Charles Towne Landing Hours and Admission
---
Hours:
Park Open Daily 9 am - 5 pm
Animal Forest Daily 10 am - 4:30 pm
Closed Christmas Eve and
Christmas Day
Admission:
Adult (16+) $12
Seniors $7.50
Youth (6-15) $7
Children (5 and under) Free


---
Charles Towne Landing Address and Map
---
---
Features and Amenities of Charles Towne Landing
---
Animal Forest (only zoo in Charleston area)




Walking and Biking Trails

Park gardens

Free WiFi




Archaeology Exhibits
---
Current and Upcoming Events
at Charles Towne Landing
---
What: "Goods Fit to Make a Cargo": Trade in Early Carolina
When: June 12, 15, 16, 17 & 18, 2023
Time: 10 am - 4 pm
Where: Adventure Wharf
Admission: Regular Admission
Trade – the act of buying, selling, or bartering goods and services – is the basis of any economy and the success of the Carolina colony hinged on it. The colonists traded both by land and by sea, establishing commercial ties with various Native peoples as well as other English colonies, such as Barbados in the West Indies and New York on the mainland. Join a park educator to learn more about the types of goods that the colonists imported and exported and the trade networks that they established in pursuit of wealth and provisions.
---
What: There's Always a Ketch
When: June 1, 2, 4, 19, 22, 23, 24 & 25, 2023
Time: 10 am - 12 pm & 2 pm  - 4 pm
Where: Adventure Wharf Area
Admission: Regular Admission
Or a pink, a frigate, or even a dogger. Join a park educator onboard the ketch Adventure for an introduction to the types of sailing vessels that the Carolina colonists used to transport cargo to and from the fledgling port of Charles Towne.
---
What: The Colors of Kingdom
When: June 5, 8, 9, 11, 26, 29 & 30, 2023
Time: 10 am - 12 pm and 2 pm - 4 pm 
Where: The Adventure Wharf Area
Admission: Regular Admission
Flags, also known more poetically as "colors," are powerful cultural symbols that can represent people, places, and even ideas. In early-modern England and its colonies, flags were flown both on land and at sea, provoking a wide array of emotions from friend and foe alike. Explore the vivid world of vexillology (the study of flags) with a park educator and learn about the colors that would have fluttered in skies across the English empire, including the province of Carolina, during the late 17th century.
---
What: Great Guns on the Ashley (Artillery Demonstration)
When: June 3, 2023
Time: 1 pm - 3:20 pm
Where: The Gun Platform along the History Trail.
Admission: Regular Admission
Feel the ground shake beneath your feet and smell the brimstone as the Charles Towne Militia fires replica, 17th-century cannons. Charles Towne, established on the edge of England's North American empire, faced many threats, especially from England's longstanding rival: Spain. Wary of a Spanish attack, the English colonists came heavily armed and formed a provincial militia for the defense of Carolina. This 20-minute program explores the Spanish threat, Charles Towne's fortifications, and the citizen-soldiers who protected the early colony.
---
What: The Open Hearth: Historic English Foodways 
When: June 10, 2023
Time: 11 am - 3 pm
Where: The Common House inside the Palisade Walls
Admission: Regular Admission
The cuisine of a given culture derives from a host of variables, ranging from climate to tradition to the availability of certain ingredients. Our tastes, too, may change over time as some foods fall out of fashion and new ones are adopted. If you opened an English cookbook from the 17th century, do you think that you would find the cuisine familiar? See what's on the menu at the Common House and savor the aroma of open-hearth cooking as educators dressed in period attire prepare authentic, 17th-century recipes. Food is for demonstration purposes only.
---
What: A Defensive Posture (Musket Demonstration)
When: June 17, 2023
Time: 1 pm - 3:15 pm
Where: Along the History Trail inside the Palisade Wall
Admission: Regular Admission
Cock your firelock. Present. Fire! The proprietors of England's Carolina colony spent a small fortune outfitting the expedition that founded Charles Towne in 1670. The 200 flintlock muskets that they purchased for the provincial militia ranked third on the list of most-expensive items. Learn why they thought that muskets were necessary for Carolina's defense and experience the smoke and fire of historic weapons as educators dressed in period attire demonstrate reproduction, 17th-century small arms.
---
Hotels Near Charles Towne Landing
---
---
Find top-rated hotels at the lowest prices on Priceline Check rates now!
---
---
More things to do in Charleston
---
---
---
---
---
Copyright © 2009-2023 visit-historic-charleston.com