---
Gibbes Museum of Art 
---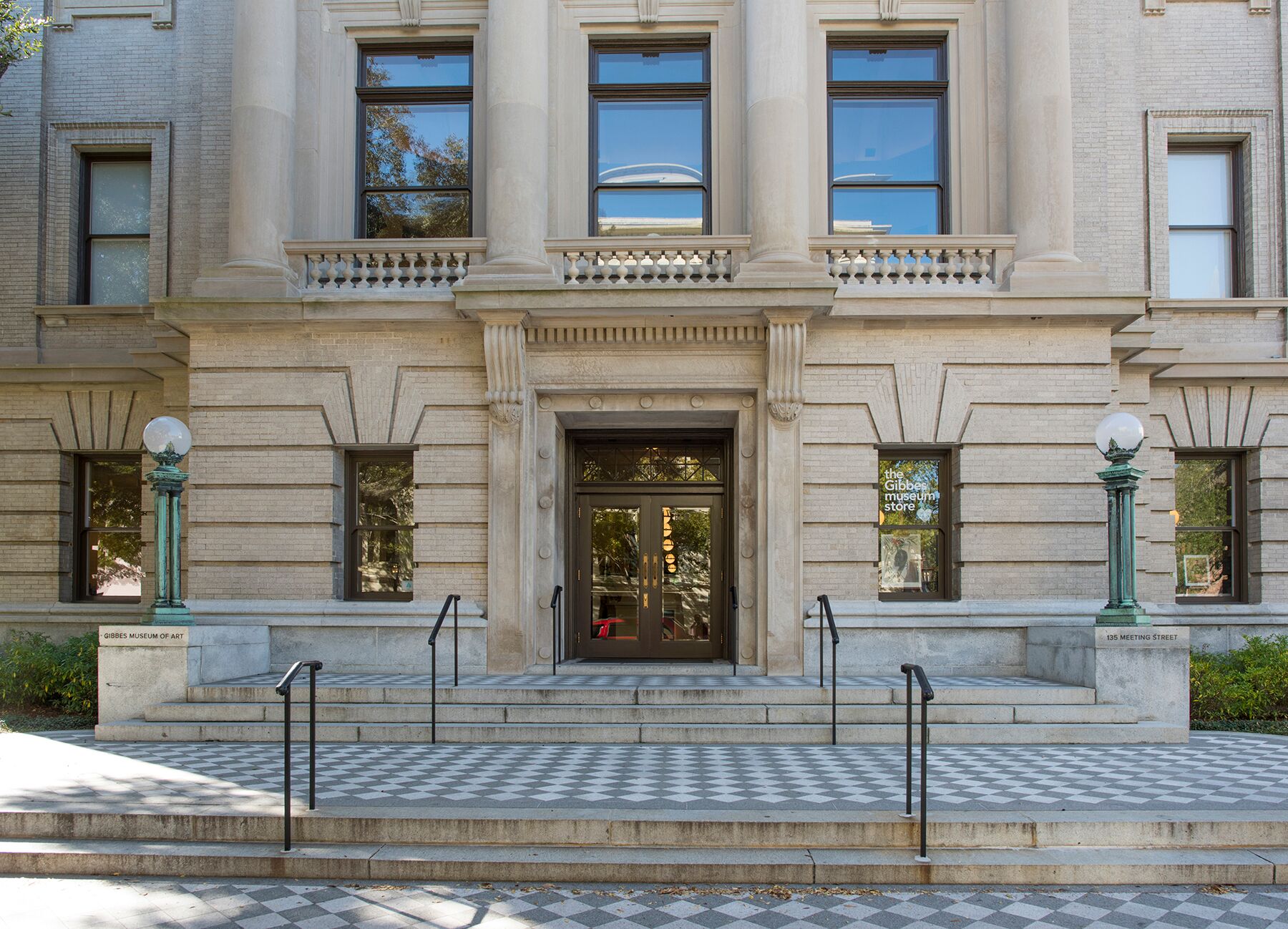 The Gibbes Museum of Art is one of the most remarkable buildings located in Charleston's famed historic district. The museum, which opened its doors to the public in 1905, houses over 10,000 works of art. 

These works of art are mainly American with a connection to the Southern U.S. and Charleston area. Visitors can explore Charleston and the Lowcountry through paintings, sculptures, photographs, and miniature portraits. 
In addition, the museum has a rotating series of collections available for a limited time that are borrowed from famous museums all over the world. Spanning virtually every style, era and genre, Charleston visitors are encouraged to return to the gallery often to see what new exhibitions are on display.
The Gibbes Museum of Art is the perfect place for someone who wants to enjoy one of largest southern collections of fine artwork on display. The first floor gallery is free to the public but paid admission is required to view the second and third floor galleries. Allow 1 1/2 - 2 hours to tour the entire museum depending on the number of visitors at the time.  Parking is not available at the museum but on-street metered parking is offered throughout downtown. Parking is also available in the parking deck on Cumberland St and Queen St for a fee.
---
Gibbes Museum of Art Photos
---
---
Gibbes Museum of Art Hours and Admission
---
Hours:
Mon. - Sat. 10 am - 5 pm
Sunday 1 pm - 5 pm

Admission:
Adults (18+) $12
College Student $10
Senior/Military $10
Child (4-17) $6
Children 3 and under Free

The museum is closed in observance of the following holdiays: New Year's Day, Martin Luther King Jr. Day, Presidents Day, Easter, Memorial Day, Independence Day, Labor Day, Thanksgiving Day, Christmas Eve and Christmas Day. 
---
Gibbes Museum of Art Address and Map
---
---
Current and Upcoming Exhibitions 
at the Gibbes Museum of Art
---
Current Exhibition: Japonisme in Charleston: Alice Smith and Her Circle
When: Apr. 30, 2021 - Oct. , 2021
Where: Gallery 9

Early 20th century Charleston artist Alice Ravenel Huger Smith was one of many American artists to react to the western dissemination of Japanese prints. In a companion exhibition to Lasting Impressions: Japanese Prints from the Read-Simms Collection the wave of enthusiasm for the Japanese aesthetic in Charleston will be explored through the works of Smith and other artists who embraced the tenets and techniques of Japanese art.

---
Current Exhibition: Last Impressions: Japanese Prints from the Read-Simms Collection
When: Apr. 30, 2021 - Oct. 3, 2021
Where: Gallery 8

The Gibbes Museum of Art is home to one of the most significant collections of Japanese woodblock prints in the Southeast. This exhibition will present 60 exceptional and rare prints amassed by Charleston collector, Motte Alston Read, and his sister, Mary Read Hume Simms of New Orleans, during the first decades of the 20th century. The Read-Simms Collection reflects the full range of popular print subjects by master Ukiyo-e artists of the Edo period, from famous Kabuki theater actors portrayed by Suzuki Harunobu and Tōshūsai Sharaku in the 18th century, to vibrant landscapes by Utagawa Hiroshige and Katsushika Hokusai in the 19th century.

---
Current Exhibition: Charleston Collects: Devotion and Fantasy, Witchcraft and the World's End
When: Oct. 9, 2020 - Aug. 15, 2021
Where: Galleries 2 & 3

This selection of paintings and prints from a major private Charleston collection of Northern Renaissance art introduces a world of intensely, and sometimes disturbingly, vivid imagery. Created in the Low Countries and Germany between 1440 and 1590, this is a world of contradictions and unease—whether the subject is a troubled Virgin Mary contemplating her young son, or a menacing group of malevolent figures inspired by Hieronymus Bosch, or Albrecht Dürer's famous scenes from Revelations. In the turbulent era of the Renaissance and the beginning of the Reformation in Northern Europe, viewers found their hopes, desires, and anxieties mirrored in images like these inspiring pious belief or depicting fantastic visions of good and evil.

---
Upcoming Events
at the Gibbes Museum of Art
---
What: The Art of Jazz: Geoffrey Dean Trio
When: August 25, 2021
Time: 6 - 7 pm 
Where: Gibbes Museum of Art
Admission: $30 members/ $40 non-members
Geoffrey Dean is a pianist, composer, and electronic music artist originating out of Washington D.C. He began playing classical piano at age 5 before fully pursuing jazz. Dean began jazz studies at the Peabody Conservatory of Johns Hopkins, and then the Berklee College of Music. He traveled to Knoxville, Tennessee to study with his mentor and former Jazz Messenger Donald Brown while pursuing a Masters Degree in Jazz Performance. Dean received a Doctorate in Music from the University Of Illinois and now works as a performer as well as teacher in the Charleston, South Carolina region. Tickets sell out early so register on-line in advance. 

---
Hotels Near the Gibbes Museum of Art
---
---
Find top-rated hotels at the lowest prices on TripAdvisor. Check rates now!
---
---
More things to do in Charleston
---
---
---
---
---
Copyright © 2009-2021 visit-historic-charleston.com