---
Gibbes Museum of Art 
---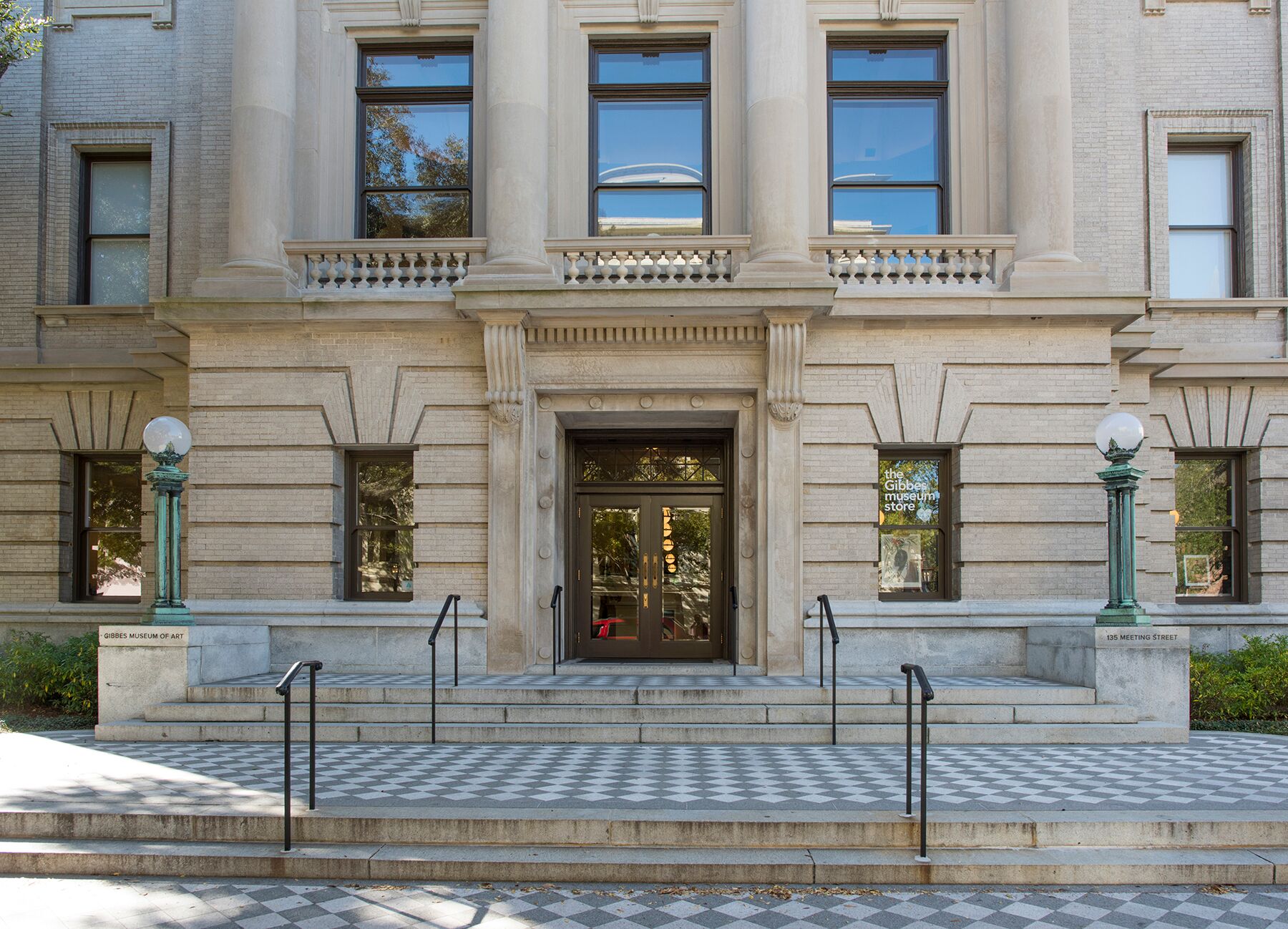 The Gibbes Museum of Art is one of the most remarkable buildings located in Charleston's famed historic district. The museum, which opened its doors to the public in 1905, houses over 10,000 works of art. 

These works of art are mainly American with a connection to the Southern U.S. and Charleston area. Visitors can explore Charleston and the Lowcountry through paintings, sculptures, photographs, and miniature portraits. 
In addition, the museum has a rotating series of collections available for a limited time that are borrowed from famous museums all over the world. Spanning virtually every style, era and genre, Charleston visitors are encouraged to return to the gallery often to see what new exhibitions are on display.
The Gibbes Museum of Art is the perfect place for someone who wants to enjoy one of largest southern collections of fine artwork on display. The first floor gallery is free to the public but paid admission is required to view the second and third floor galleries. Allow 1 1/2 - 2 hours to tour the entire museum depending on the number of visitors at the time.  Parking is not available at the museum but on-street metered parking is offered throughout downtown. Parking is also available in the parking deck on Cumberland St and Queen St for a fee.
---
Gibbes Museum of Art Photos
---
---
Gibbes Museum of Art Hours and Admission
---
Hours:
Mon. - Sat. 10 am - 5 pm
Sunday 1 pm - 5 pm

Admission:
Adults (18+) $12
College Student $10
Senior/Military $10
Child (4-17) $6
Children 3 and under Free

---
Gibbes Museum of Art Address and Map
---
---
Current and Upcoming Exhibitions 
at the Gibbes Museum of Art
---
Current Exhibition: A Return to the Grand Tour: Micromosaic Jewels from the Collection of Elizabeth Locke
When: Jan. 17, 2020 - Jan. 10, 2021
Where: Gallery 9

Micromosaics arrived at their height of pictorial perfection from the late 18th to the mid 19th centuries. These exquisitely crafted plaques, which contain up to 1,400 delicately shaded tiles of glass per square inch, were sold to travelers on their Grand Tour through Italy. Made into jewelry, boxes, and paper weights and sold as easily carried mementoes, micromosaics passed out of fashion toward the end of the 19th century and are now a lost art. This exhibition features 92 brilliant examples from the private collection of Elizabeth Locke.
---
Current Exhibition: Building a Legacy: The Vibrant Vision Collection of Jonathan Green and Richard Weedman
When: Aug. 21, 2020 - Jan. 10, 2021
Where: Gallery 8

Building a Legacy explores the themes of work, love, belonging, and spirituality. Works in the exhibition portray tender moments between a parent and child, struggles for racial equality, pride in ancestral heritage, and strength derived through personal faith. The collection also expands the traditional notion of American art and identity, embracing a Pan American approach that goes beyond the United States to include art and artists of African, Caribbean, and Latin American descent. This approach provides a broader look at our nation's history and a better understanding of what it means to be American today. In addition to Green's own work the collection highlights include works by artists such as, Jacob Lawrence, Elizabeth Catlett, Charles White, David Driskell, Sam Gilliam, and Reynier Llanes.

---
Current Exhibition: Charleston Collects: Devotion and Fantasy, Witchcraft and the World's End
When: Oct. 9, 2020 - Jun. 27, 2021
Where: Galleries 2 & 3

This selection of paintings and prints from a major private Charleston collection of Northern Renaissance art introduces a world of intensely, and sometimes disturbingly, vivid imagery. Created in the Low Countries and Germany between 1440 and 1590, this is a world of contradictions and unease—whether the subject is a troubled Virgin Mary contemplating her young son, or a menacing group of malevolent figures inspired by Hieronymus Bosch, or Albrecht Dürer's famous scenes from Revelations. In the turbulent era of the Renaissance and the beginning of the Reformation in Northern Europe, viewers found their hopes, desires, and anxieties mirrored in images like these inspiring pious belief or depicting fantastic visions of good and evil.

---
Hotels Near the Gibbes Museum of Art
---
---
Find top-rated hotels at the lowest prices on TripAdvisor. Check rates now!
---
---
More things to do in Charleston
---
---
Home > Things to do in Charleston SC > Charleston SC Museums > Gibbes Museum of Art
---
---
Copyright © 2009-2020 visit-historic-charleston.com