---
Gibbes Museum of Art 
---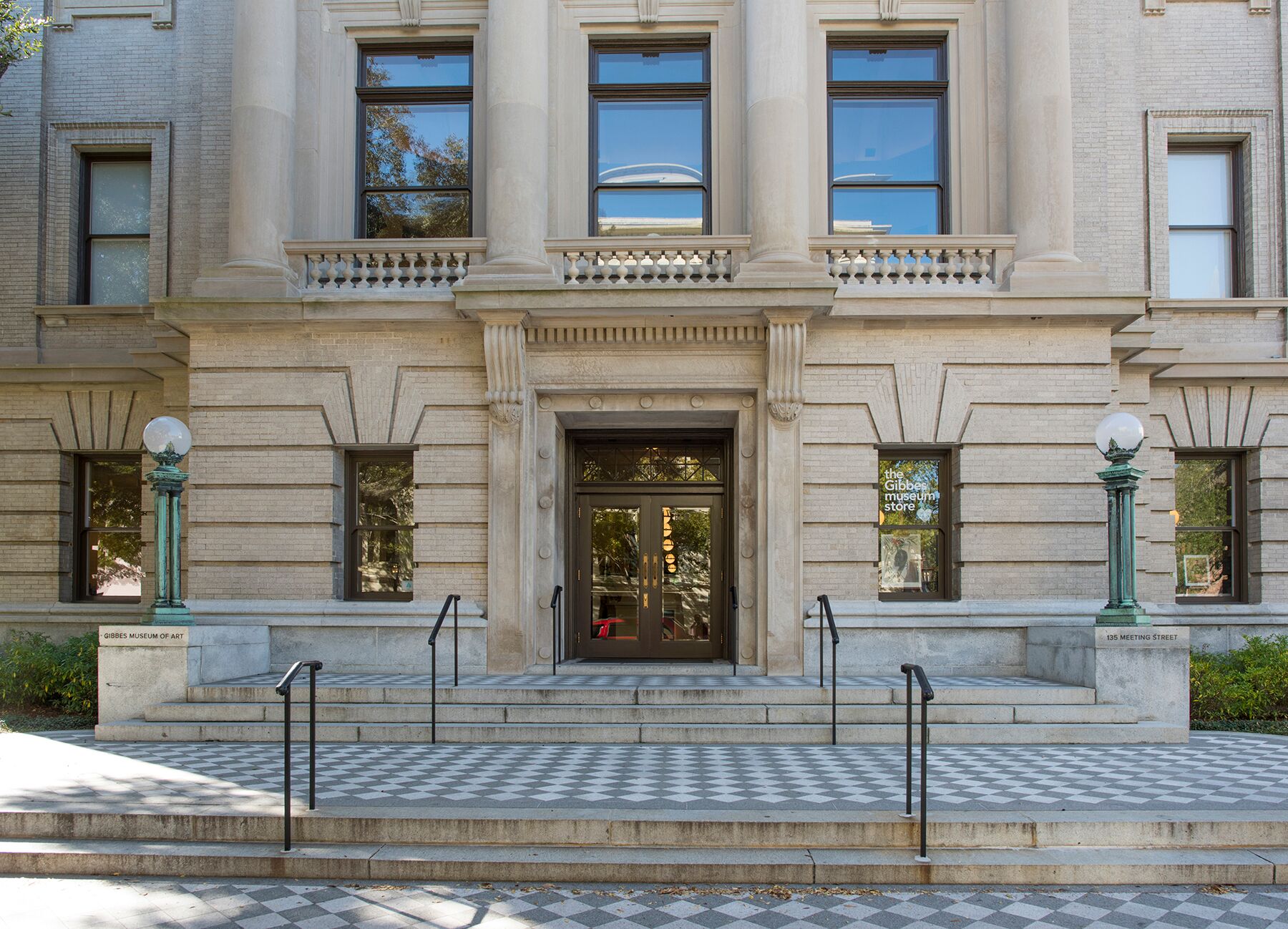 The Gibbes Museum of Art is one of the most remarkable buildings in Charleston's famed historic district. The museum, which opened its doors to the public in 1905, houses over 10,000 works of art. 

These works of art are mainly American, with a connection to the Southern U.S. and Charleston area. Visitors can explore Charleston and the Lowcountry through paintings, sculptures, photographs, and miniature portraits. 
In addition, the museum has a rotating series of collections available for a limited time, borrowed from famous museums all over the world. Spanning virtually every style, era and genre, Charleston visitors are encouraged to return to the gallery often to see what new exhibitions are on display.
The Gibbes Museum of Art is the perfect place for someone who wants to enjoy one of the largest southern collections of fine artwork on display. The first floor gallery is free to the public, but paid admission is required to view the second and third floor galleries. Allow 1 1/2 - 2 hours to tour the entire museum, depending on the number of visitors at the time.  Parking is not available at the museum, but on-street metered parking is offered throughout downtown. Parking is also available in the parking deck on Cumberland St and Queen St for a fee.
---
Gibbes Museum of Art Photos
---
---
Gibbes Museum of Art Hours and Admission
---
Hours:
Mon. - Sat. 10 am - 5 pm
Sunday 1 pm - 5 pm

Admission:
Adults (18+) $12
College Student $10
Senior/Military $10
Child (4-17) $6
Children 3 and under Free

The museum is closed in accordance with the following holidays: New Year's Day, Martin Luther King Jr. Day, Presidents Day, Easter, Memorial Day, Independence Day, Labor Day, Thanksgiving Day, Christmas Eve and Christmas Day. 
---
Gibbes Museum of Art Address and Map
---
---
Current Exhibitions 
at the Gibbes Museum of Art
---
Current Exhibition: Damian Stamer: Ruminations
When: Mar. 17, 2023 - Oct. 15, 2023
Where: Galleries 2 & 3
Damian Stamer: Ruminations showcases new work by North Carolina-based contemporary painter Damian Stamer. Stamer depicts barns, abandoned buildings, and other vernacular structures of the rural South, often in large scale. His heavily layered surfaces blur the line between abstraction and representation as they seek to express the solemn beauty of the old and overlooked. Stamer's work considers the intersection of past and present, and how new technologies and modes of expression influence traditional approaches to painting. Ruminations includes a selection of paintings informed by the use of artificial intelligence. Rather than painting from photographs as source material, Stamer used an artificial intelligence text-to-image generator to create source imagery, resulting in innovative paintings titled the Collaboration series.
---
Current Exhibition: Beverly McIver: Full Circle
When: Apr. 28, 2023 - Aug. 6, 2023
Where: Galleries 8 & 9
Beverly McIver: Full Circle presents the career arc and continued ascent of contemporary artist Beverly McIver. This survey show featuring nearly fifty works from the last twenty-five years demonstrates the diversity of the artist's bold thematic approach to portrait painting. From her early self-portraits in clown makeup, which explore expressions of individuality, stereotypes, and ways of masking identity, to portraits of family members and friends that provide glimpses of intimate life moments, in good times as well as in illness and death, McIver's poignant large-scale paintings reveal her personal journey. Born and raised in Greensboro, North Carolina, McIver is nationally recognized for her autobiographical portraits and is currently the Ebenshade Professor of the Practice in Studio Arts at Duke University.
---
Upcoming Exhibitioins
at the Gibbes Museum of Art
---
Current Exhibition: Something Terrible May Happen: The Works of Aubrey Beardsley and Edward "Ned" I.R. Jennings
When: Oct. 20, 2023 - Mar. 10, 2024
Where: Galleries 2 & 3
Oscar Wilde, then the poster boy of the inherently queer British Aestheticism Movement, visited Charleston in 1882. That same year, a local newspaper would attribute the popularity of yellow Easter egg dyes to the influence of "aesthetic fever." Something Terrible May Happen: The Art of Aubrey Beardsley and Edward Ned I.R. Jennings will expand on the lasting influence of "aesthetic fever" as it relates to Charleston's visual arts specifically. Recontextualizing the work of Charleston Renaissance artist Edward "Ned" I.R. Jennings, and examining the stylistic affinity of his work to British Aesthete, and famed illustrator, Aubrey Beardsley, Something Terrible May Happen will open new doors for exploring the LGBTQ+ influences on the Charleston Renaissance and one of its most original artists.
---
Hotels Near the Gibbes Museum of Art
---
---
Find top-rated hotels at the lowest prices on Priceline Check rates now!
---
---
More things to do in Charleston
---
---
---
---
---
Copyright © 2009-2023 visit-historic-charleston.com