---
Gibbes Museum of Art 
---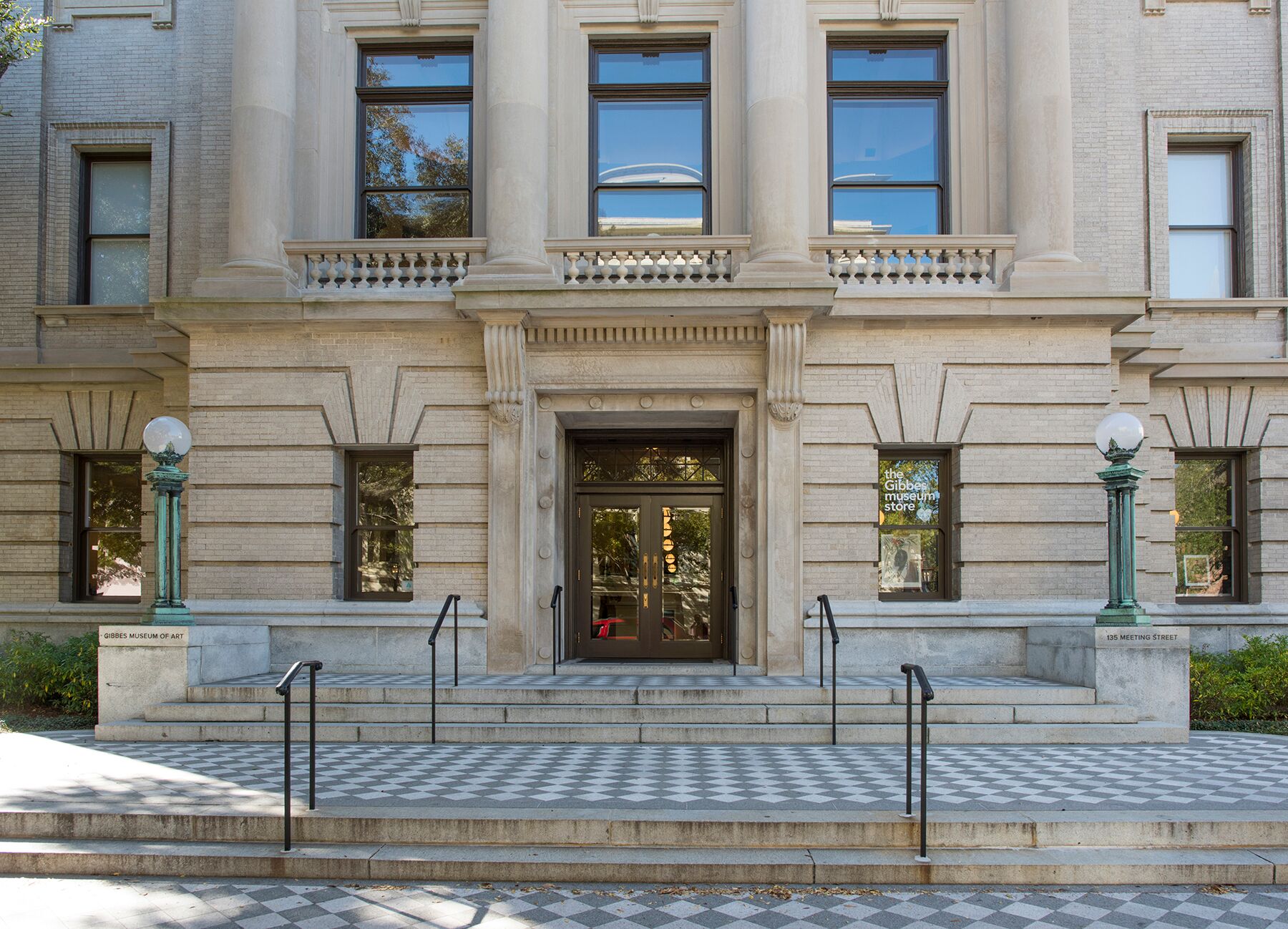 The Gibbes Museum of Art is one of the most remarkable buildings located in Charleston's famed historic district. The museum, which opened its doors to the public in 1905, houses over 10,000 works of art. 

These works of art are mainly American with a connection to the Southern U.S. and Charleston area. Visitors can explore Charleston and the Lowcountry through paintings, sculptures, photographs, and miniature portraits. 
In addition, the museum has a rotating series of collections available for a limited time that are borrowed from famous museums all over the world. Spanning virtually every style, era and genre, Charleston visitors are encouraged to return to the gallery often to see what new exhibitions are on display.
The Gibbes Museum of Art is the perfect place for someone who wants to enjoy one of largest southern collections of fine artwork on display. The first floor gallery is free to the public but paid admission is required to view the second and third floor galleries. Allow 1 1/2 - 2 hours to tour the entire museum depending on the number of visitors at the time.  Parking is not available at the museum but on-street metered parking is offered throughout downtown. Parking is also available in the parking deck on Cumberland St and Queen St for a fee.
---
Gibbes Museum of Art Photos
---
---
Gibbes Museum of Art Hours and Admission
---
Hours:
Mon, Tues, Thurs, Fri, and Sat 10 am - 5 pm
Wednesday 10 am - 8 pm
Sunday 1 pm - 5 pm

Admission:
Adults (18+) $12
College Student $10
Senior/Military $10
Child (4-17) $6
Children 3 and under Free

---
Gibbes Museum of Art Address and Map
---
---
Current and Upcoming Exhibitions 
at the Gibbes Museum of Art
---
Current Exhibition: Betwixt and Between
When: Mar. 24, 2017 - Apr. 19, 2020
Where: 2nd Floor Atrium

Sculptor Patrick Dougherty works with twigs and branches to create site-specific installations. Woven together and held in place by tension, Dougherty's sculptures have a whimsical quality, inspired by his childhood adventures exploring the woods of North Carolina. At the Gibbes, Dougherty has created an installation titled Betwixt and Between in the museum's glass atrium, creating a visual connection between the interior gallery space and the lush outdoor garden.

Current Exhibition: A Return to the Grand Tour: Micromosaic Jewels from the Collection of Elizabeth Locke
When: Jan. 17, 2020 - May. 3, 2020
Where: Gallery 9

Micromosaics arrived at their height of pictorial perfection from the late 18th to the mid 19th centuries. These exquisitely crafted plaques, which contain up to 1,400 delicately shaded tiles of glass per square inch, were sold to travelers on their Grand Tour through Italy. Made into jewelry, boxes, and paper weights and sold as easily carried mementoes, micromosaics passed out of fashion toward the end of the 19th century and are now a lost art. This exhibition features 92 brilliant examples from the private collection of Elizabeth Locke.

Current Exhibition: Central to the Lives: Southern Women Artists in the Johnson Collection
When: Jan. 17, 2020 - May. 3, 2020
Where: Gallery 8

Spanning the decades between the late 1890s and early 1960s, Central to Their Lives brings together for the first time the paintings and sculptures of forty-two diverse women artists who made significant contributions to the art of the South. This exhibition examines the challenges female artists faced during a period in which women's social, cultural, and political roles were being redefined and reinterpreted. Whether working from dedicated studio spaces, in spare rooms at home, or on the world stage, the artists showcased made remarkable impacts by fostering future generations of artists through instruction, incorporating new aesthetics into the fine arts, and challenging the status quo. Organized by the Johnson Collection in Spartanburg, South Carolina, the exhibition includes works by leading figures in the Charleston Renaissance such as Alice Ravenel Huger Smith and Elizabeth O'Neill Verner, as well as Corrie McCallum, Minnie Evans, Anne Goldthwaite, Clementine Hunter, and Augusta Savage.

Current Exhibition: Charleston Collects: British Sporting Art from the Penkhus Collection
When: Feb. 7, 2020 - Jun. 28, 2020
Where: Galleries 2 & 3

The Charleston Collects series at the Gibbes aims to highlight significant fine art collections formed by Lowcountry residents. This exhibition features exceptional British sporting art paintings from the private collection of Charleston's Dr. Stephen and Mrs. Martha Penkhus.

---
Upcoming Exhibition: Fred Wilson: Afro Kismet
When: May. 15, 2020 - Oct. 4, 2020
Where: Galleries 8 & 9

Fred Wilson: Afro Kismet, is presented in partnership with Spoleto Festival, USA, and features the internationally acclaimed artist's most recent body of work originally produced for the 15th Istanbul Biennial. A 1999 MacArthur Foundation "Genius" award winner, Fred Wilson (American, b. 1954) challenges assumptions of history, culture, race, and conventions of display. By reframing objects and cultural symbols, he alters traditional interpretations, encouraging viewers to reconsider social and historical narratives.

---
Hotels Near the Gibbes Museum of Art
---
---
Find top-rated hotels at the lowest prices on TripAdvisor. Check rates now!
---
---
More things to do in Charleston
---
---
Home > Things to do in Charleston SC > Charleston SC Museums > Gibbes Museum of Art
---
---
Copyright © 2009-2020 visit-historic-charleston.com