---
Gibbes Museum of Art 
---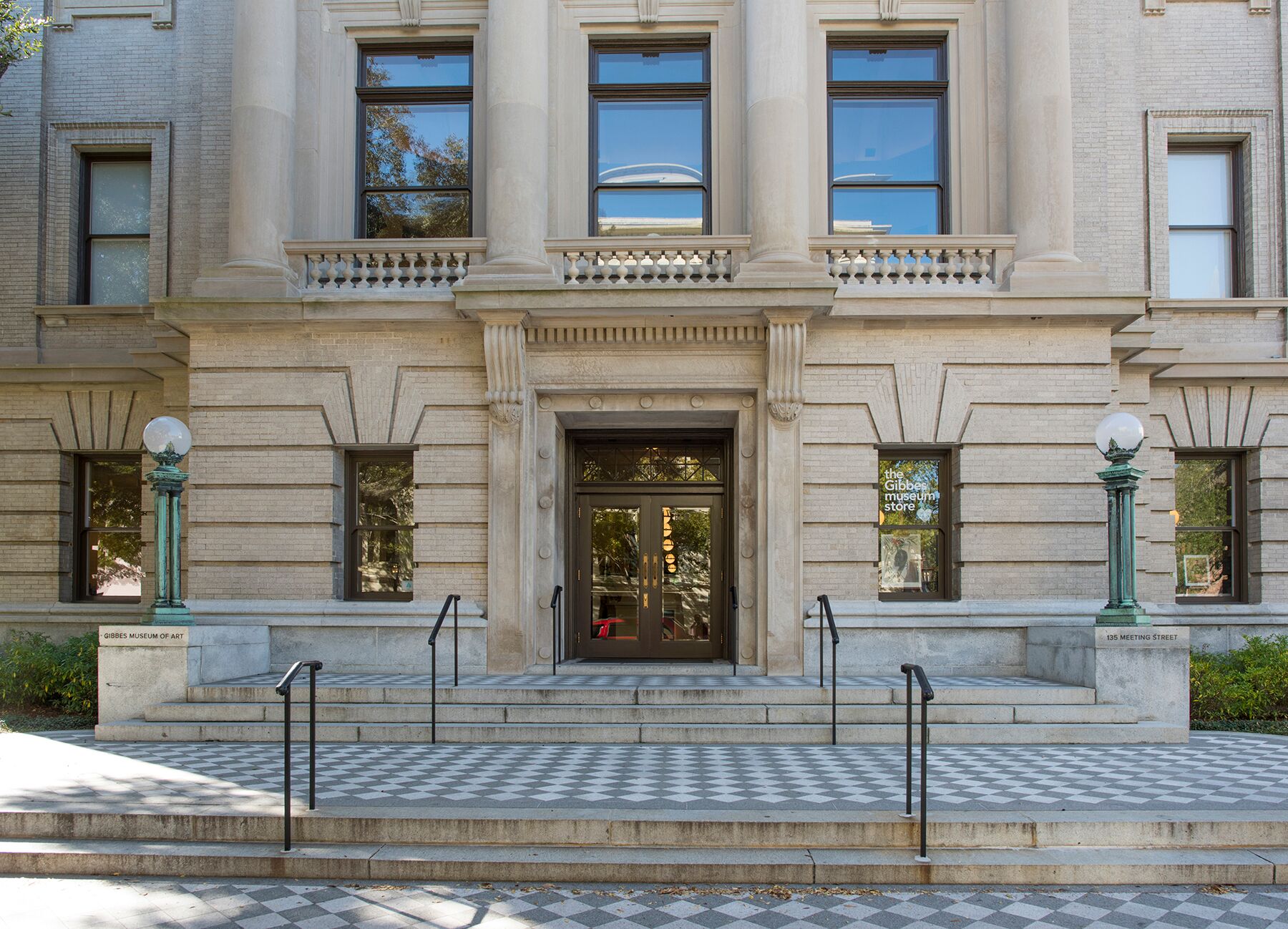 The Gibbes Museum of Art is one of the most remarkable buildings in Charleston's famed historic district. The museum, which opened its doors to the public in 1905, houses over 10,000 works of art. 

These works of art are mainly American, with a connection to the Southern U.S. and Charleston area. Visitors can explore Charleston and the Lowcountry through paintings, sculptures, photographs, and miniature portraits. 
In addition, the museum has a rotating series of collections available for a limited time, borrowed from famous museums all over the world. Spanning virtually every style, era and genre, Charleston visitors are encouraged to return to the gallery often to see what new exhibitions are on display.
The Gibbes Museum of Art is the perfect place for someone who wants to enjoy one of the largest southern collections of fine artwork on display. The first floor gallery is free to the public, but paid admission is required to view the second and third floor galleries. Allow 1 1/2 - 2 hours to tour the entire museum, depending on the number of visitors at the time.  Parking is not available at the museum, but on-street metered parking is offered throughout downtown. Parking is also available in the parking deck on Cumberland St and Queen St for a fee.
---
Gibbes Museum of Art Photos
---
---
Gibbes Museum of Art Hours and Admission
---
Hours:
Mon. - Sat. 10 am - 5 pm
Sunday 1 pm - 5 pm

Admission:
Adults (18+) $12
College Student $10
Senior/Military $10
Child (4-17) $6
Children 3 and under Free

The museum is closed in accordance with the following holidays: New Year's Day, Martin Luther King Jr. Day, Presidents Day, Easter, Memorial Day, Independence Day, Labor Day, Thanksgiving Day, Christmas Eve and Christmas Day. 
---
Gibbes Museum of Art Address and Map
---
---
Current Exhibitions 
at the Gibbes Museum of Art
---
Current Exhibition: William Eggleston: Photographs from the Laura and Jay Crouse Collection
When: Feb. 25, 2021 - Oct. 9, 2022
Where: Galleries 2 & 3
It is said that William Eggleston's unique ability to conflate the epic and the everyday has made him one of the most impactful figures in late twentieth century photography. A native of Memphis, Tennessee, Eggleston first photographed his local environs in the 1950s in black-and-white, but became one of the first fine art photographers to use color to record his observations in a more heightened and accurate way. Today his strikingly vivid, yet enigmatic images of parked cars, billboards, storefronts, diners, and other artifacts of the ordinary world are considered groundbreaking. The photographs presented in this edition of the Gibbes's Charleston Collects exhibition series were selected from the Laura and Jay Crouse Collection and represent many of the pioneering artist's most notable works. This exhibition is accompanied by a full color catalogue with an essay on the artist by Simon Constantine, PhD, a lecturer on the history of photography at Birkbeck, University of London, and a longstanding consultant lecturer for Sotheby's Institute of Art, London.

---
Current Exhibition: Bo Bartlett:Earthly Matters
When: Sept. 9, 2022 - Jan. 15, 2023
Where: Galleries 8 & 9
Acclaimed for his large-scale paintings that explore modern American life and cultural heritage, contemporary artist Bo Bartlett follows the traditions of American Realists such as Thomas Eakins,  Edward Hopper, and Andrew Wyeth. Earthly Matters presents a selection of Bartlett's recent works that examine humankind's impact on and interaction with nature's elements. Bartlett's subjects, both human and animal, find themselves in precarious environmental situations, either from their own doing or by forces beyond their control. Bartlett's appreciation for the beauty of ordinary moments imbues his work with an underlying luminosity and frankness. His larger-than-life scenes break down the barriers between the subjects on canvas and the viewers, who are invited to contemplate their role in the narrative. The exhibition will be accompanied by a publication produced by Miles McEnry Gallery, NYC, featuring essays by the artist and guest curator, Pam Wall.  This exhibition is organized by the Gibbes Museum of Art and is supported by BlueCross BlueShield of South Carolina, SeaFields at Kiawah, Lynch Cracraft Wealth Management of Raymond James, The Gaylord and Dorothy Donnelley Foundation, the Jane Smith Turner Foundation, and the Joseph J. Schott Foundation. Upcoming Exhibition Dates: Bo Bartlett Center: February 3 – April 28, 2023 MOCA Jacksonville: May 26 – September 10, 2023.
---
Upcoming Exhibitioins
at the Gibbes Museum of Art
---
Current Exhibition: From Chaos to Order: Greek Geometric Art from the Sol Rabin Collection
When: Oct. 14, 2022 - March. 5, 2023
Where: Galleries 2 & 3
From Chaos to Order: Greek Geometric Art from the Sol Rabin Collection is the first exhibition of its kind to focus on the aesthetics of Greek Geometric art and to demonstrate that stylistic principles in visual art during the Geometric period reflect a characteristically Greek idea of "the beautiful" (kallos). A new visual vocabulary developed during this period–one that stressed clarity, balance, and symmetry. These design principles may appear contemporary, yet they provided the foundation for all subsequent Greek art. This collection and exhibition re-examines the contributions and innovations of Geometric art and its enduring legacy throughout classical antiquity.
---
Hotels Near the Gibbes Museum of Art
---
---
Find top-rated hotels at the lowest prices on TripAdvisor. Check rates now!
---
---
More things to do in Charleston
---
---
---
---
---
Copyright © 2009-2022 visit-historic-charleston.com