---
Gibbes Museum of Art 
---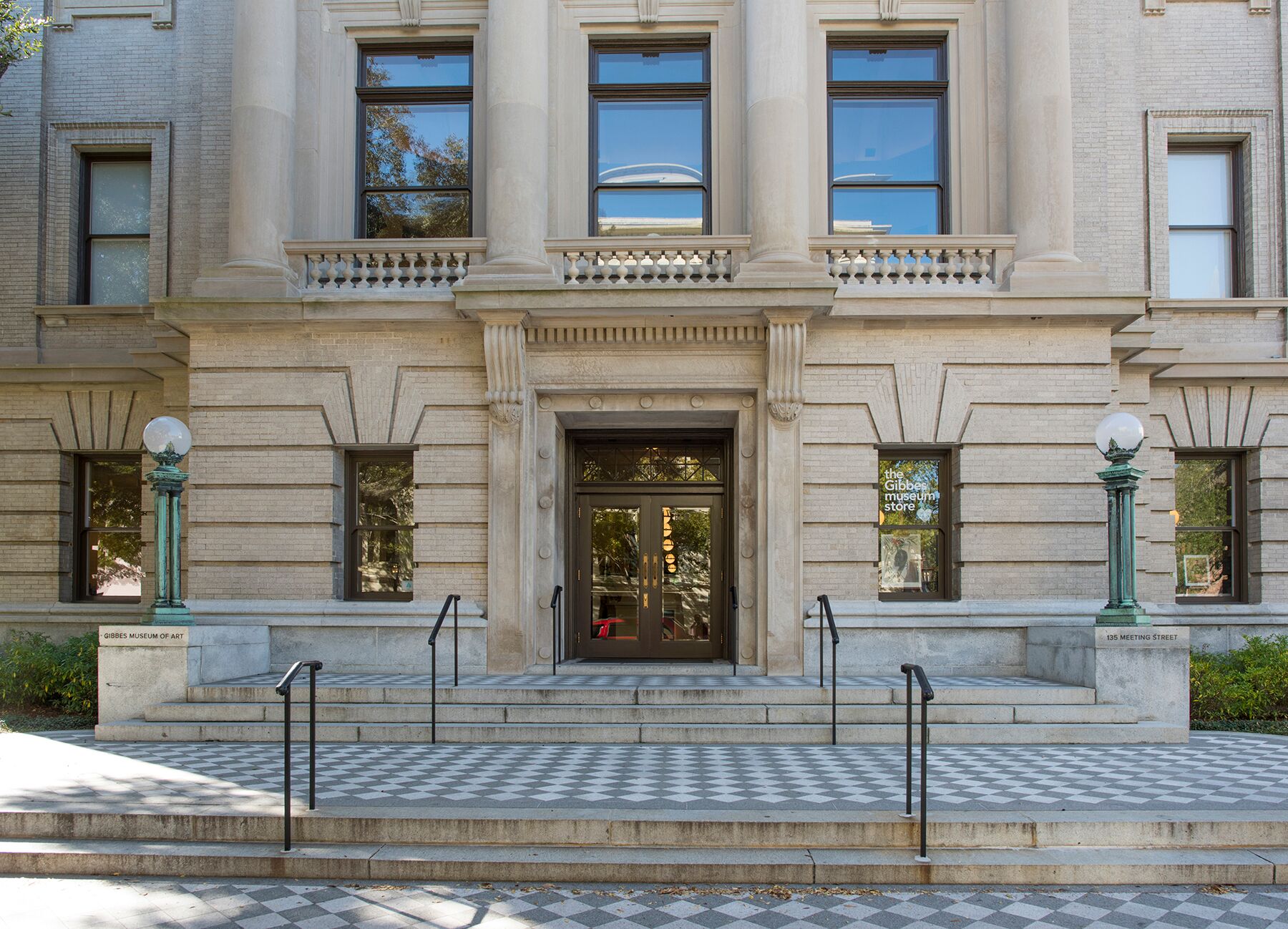 The Gibbes Museum of Art is one of the most remarkable buildings located in Charleston's famed historic district. The museum, which opened its doors to the public in 1905, houses over 10,000 works of art. 

These works of art are mainly American with a connection to the Southern U.S. and Charleston area. Visitors can explore Charleston and the Lowcountry through paintings, sculptures, photographs, and miniature portraits. 
In addition, the museum has a rotating series of collections available for a limited time that are borrowed from famous museums all over the world. Spanning virtually every style, era and genre, Charleston visitors are encouraged to return to the gallery often to see what new exhibitions are on display.
The Gibbes Museum of Art is the perfect place for someone who wants to enjoy one of largest southern collections of fine artwork on display. The first floor gallery is free to the public but paid admission is required to view the second and third floor galleries. Allow 1 1/2 - 2 hours to tour the entire museum depending on the number of visitors at the time.  Parking is not available at the museum but on-street metered parking is offered throughout downtown. Parking is also available in the parking deck on Cumberland St and Queen St for a fee.
---
Gibbes Museum of Art Photos
---
---
Gibbes Museum of Art Hours and Admission
---
Hours:
Mon. - Sat. 10 am - 5 pm
Sunday 1 pm - 5 pm

Admission:
Adults (18+) $12
College Student $10
Senior/Military $10
Child (4-17) $6
Children 3 and under Free

---
Gibbes Museum of Art Address and Map
---
---
Current and Upcoming Exhibitions 
at the Gibbes Museum of Art
---
Current Exhibition: In Body and Soul: The Figure in Modernist Photography
When: Jan. 22, 2020 - Apr. 18, 2021
Where: Gallery 9

Drawn from the Robert Marks Collection, this exhibition features thirty photographs by renowned 20th century photographers. From Alfred Stieglitz's intimate composite portraits of Georgia O'Keeffe to Lewis Hines's depictions of American laborers, modernist-era photographers radically shifted how the human body was captured on film and for what purpose. Employing a variety of techniques from cropping and zooming, to distortion and framing, photographers explored the human figure for social, performative, voyeuristic, and documentary purposes. Highlights include the work of Stieglitz, Hines, Berenice Abbott, Margaret Bourke-White, George Platt Lynes, and László Moholy-Nagy.

---
Current Exhibition: Manning Williams: Reinventing Narrative Painting
When: Jan. 22, 2021 - Apr. 18, 2021
Where: Gallery 8

Manning Williams's paintings are rooted in the history, traditions, and terrain of the South Carolina Lowcountry. A Charleston native and lifelong resident, Williams (American, 1939—2012) earned degrees from the College of Charleston and the Pennsylvania Academy of Fine Arts. His highly personal approach to realist painting emphasized storytelling and was fueled by an interest in portraying subjects that he found on the periphery of the city and along the barrier islands. Western subjects also commanded Williams's attention, and during the later years of his career his concern with narrative was expressed in a more abstract style. Reinventing Narrative Painting features thirty paintings from Williams's prolific career that spanned more than forty years.

---
Current Exhibition: Charleston Collects: Devotion and Fantasy, Witchcraft and the World's End
When: Oct. 9, 2020 - Jun. 27, 2021
Where: Galleries 2 & 3

This selection of paintings and prints from a major private Charleston collection of Northern Renaissance art introduces a world of intensely, and sometimes disturbingly, vivid imagery. Created in the Low Countries and Germany between 1440 and 1590, this is a world of contradictions and unease—whether the subject is a troubled Virgin Mary contemplating her young son, or a menacing group of malevolent figures inspired by Hieronymus Bosch, or Albrecht Dürer's famous scenes from Revelations. In the turbulent era of the Renaissance and the beginning of the Reformation in Northern Europe, viewers found their hopes, desires, and anxieties mirrored in images like these inspiring pious belief or depicting fantastic visions of good and evil.

---
Hotels Near the Gibbes Museum of Art
---
---
Find top-rated hotels at the lowest prices on TripAdvisor. Check rates now!
---
---
More things to do in Charleston
---
---
---
---
---
Copyright © 2009-2021 visit-historic-charleston.com