---
Gibbes Museum of Art 
---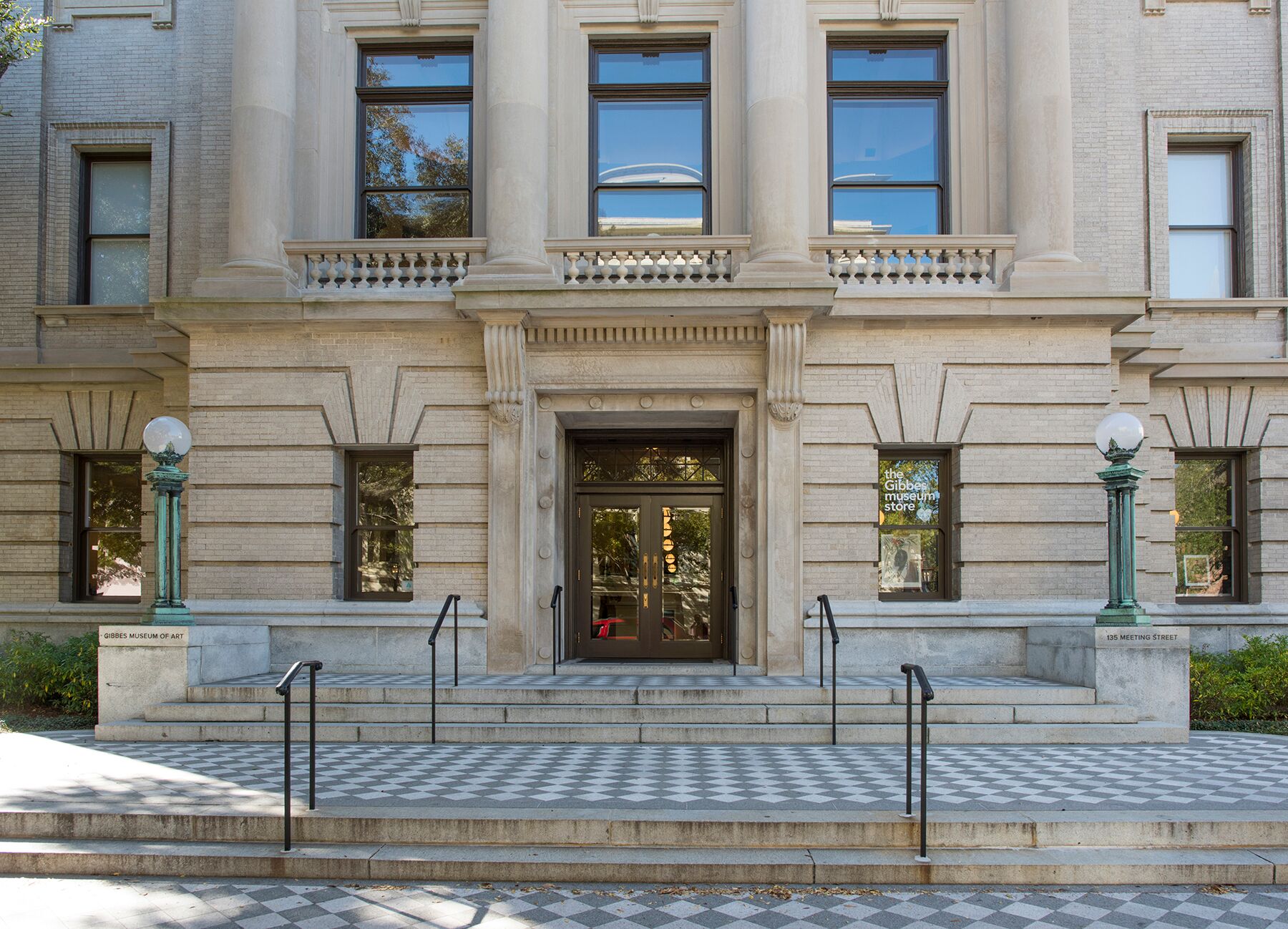 The Gibbes Museum of Art is one of the most remarkable buildings in Charleston's famed historic district. The museum, which opened its doors to the public in 1905, houses over 10,000 works of art. 

These works of art are mainly American, with a connection to the Southern U.S. and Charleston area. Visitors can explore Charleston and the Lowcountry through paintings, sculptures, photographs, and miniature portraits. 
In addition, the museum has a rotating series of collections available for a limited time, borrowed from famous museums all over the world. Spanning virtually every style, era and genre, Charleston visitors are encouraged to return to the gallery often to see what new exhibitions are on display.
The Gibbes Museum of Art is the perfect place for someone who wants to enjoy one of the largest southern collections of fine artwork on display. The first floor gallery is free to the public, but paid admission is required to view the second and third floor galleries. Allow 1 1/2 - 2 hours to tour the entire museum, depending on the number of visitors at the time.  Parking is not available at the museum, but on-street metered parking is offered throughout downtown. Parking is also available in the parking deck on Cumberland St and Queen St for a fee.
---
Gibbes Museum of Art Photos
---
---
Gibbes Museum of Art Hours and Admission
---
Hours:
Mon. - Sat. 10 am - 5 pm
Sunday 1 pm - 5 pm

Admission:
Adults (18+) $12
College Student $10
Senior/Military $10
Child (4-17) $6
Children 3 and under Free

The museum is closed in accordance with the following holidays: New Year's Day, Martin Luther King Jr. Day, Presidents Day, Easter, Memorial Day, Independence Day, Labor Day, Thanksgiving Day, Christmas Eve and Christmas Day. 
---
Gibbes Museum of Art Address and Map
---
---
Current Exhibitions 
at the Gibbes Museum of Art
---
Current Exhibition: A New Deal: Artists at Work
When: Jan. 21, 2022 - Aug. 7, 2022
Where: Gallery 9

During the Great Depression of the 1930s, President Franklin Delano Roosevelt launched his ambitious Works Progress Administration (WPA) programs that sent millions of unemployed Americans back to work, including more than 5,000 artists. Under the auspices of the WPA, the Federal Art Project afforded opportunities to a diverse group of artists, including women, African Americans, and immigrants from countries such as Russia, China, and Germany. The Gibbes is one of a select group of institutions across the country that houses an historic collection of Federal Art Project prints. This monumental effort to put artists back to work resulted in a collection of artwork intended to capture the national spirit from the coast to coast, and encourage creativity in the face of great challenges.

---
Current Exhibition: Fighters for Freedom: William H. Johnson Picturing Justice
When: Jan. 21, 2022 - Aug. 7, 2022
Where: Gallery 9

William H. Johnson painted his Fighters for Freedom series in the mid-1940s as a tribute to African American activists, scientists, teachers, and performers as well as international heads of state working to bring peace to the world. He celebrated their accomplishments even as he acknowledged the realities of racism, violence, and oppression they faced and overcame. Some of his Fighters—Harriet Tubman, George Washington Carver, Marian Anderson, and Mahatma Gandhi—are familiar historical figures; others are less well-known individuals whose determination and sacrifice have been eclipsed over time. Drawn entirely from the collection of more than 1,000 works by Johnson given to the Smithsonian American Art Museum by the Harmon Foundation in 1967, this exhibition is the first-ever presentation of this series in Johnson's home state of South Carolina.

---
Current Exhibition: William Eggleston: Photographs from the Laura and Jay Crouse Collection
When: Feb. 25, 2021 - Oct. 9, 2022
Where: Galleries 2 & 3
It is said that William Eggleston's unique ability to conflate the epic and the everyday has made him one of the most impactful figures in late twentieth century photography. A native of Memphis, Tennessee, Eggleston first photographed his local environs in the 1950s in black-and-white, but became one of the first fine art photographers to use color to record his observations in a more heightened and accurate way. Today his strikingly vivid, yet enigmatic images of parked cars, billboards, storefronts, diners, and other artifacts of the ordinary world are considered groundbreaking. The photographs presented in this edition of the Gibbes's Charleston Collects exhibition series were selected from the Laura and Jay Crouse Collection and represent many of the pioneering artist's most notable works. This exhibition is accompanied by a full color catalogue with an essay on the artist by Simon Constantine, PhD, a lecturer on the history of photography at Birkbeck, University of London, and a longstanding consultant lecturer for Sotheby's Institute of Art, London.

---
Upcoming Events
at the Gibbes Museum of Art
---
What: Amy P. Coy Forum
When: May 9, 2022
Time: 6 pm - 8 pm
Where: Gibbes Museum of Art 
Admission: $40 Members/ $50 Non-Members 
Recognizing the achievements of regionally and nationally renowned artists, while exciting and educating up-and-coming art patrons about the diverse objects created in the South, the Amy P. Coy Forum offers stimulating conversation with the 1858 Prize winner for Contemporary Southern Art. Awarded each year by the Gibbes young collector's auxiliary group, Society 1858, the prize and forum recognize an artist whose work demonstrates the highest level of artistic achievement in any media, while contributing to a new understanding of Southern art.
Stephanie J. Woods is the 2021 winner of the 1858 Prize for Contemporary Southern Art. She will present at the 2022 Amy P. Coy Forum on Monday, May 9. A multimedia artist from Charlotte, NC, Woods' work fuses a relationship between photography and fiber. Honorable mentions go to Adebunmi Gbadebo (SC) and Edison Peñafiel (FL).
"I became aware of the 1858 Prize in 2014 while I pursued my MFA at the University of North Carolina at Greensboro," says Woods. "During that time, I saw that artists Sonya Clark, Stacy Lynn Waddell, Joyce Scott and Ebony G. Patterson were either winners or finalists of this award. Seeing the recognition of other Black women artists like myself excited me! 2021 was my fourth year applying, and it means so much to be recognized by the place where you come from. I was born in Seneca, S.C. and raised in Charlotte, N.C. My experiences growing up in the South have influenced so many aspects of my artwork and who I am." - Stephanie J. Woods, 2021 Prize Winner
Hotels Near the Gibbes Museum of Art
---
---
Find top-rated hotels at the lowest prices on TripAdvisor. Check rates now!
---
---
More things to do in Charleston
---
---
---
---
---
Copyright © 2009-2022 visit-historic-charleston.com