---
Aiken-Rhett House
---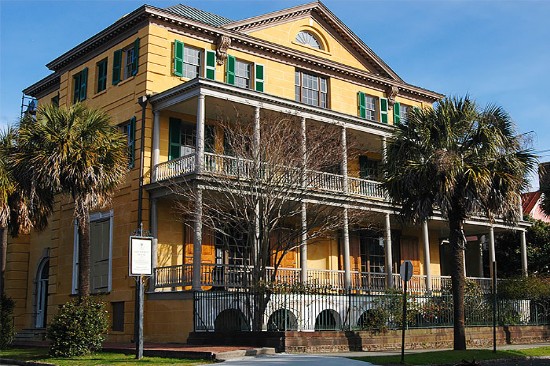 The Aiken-Rhett House was originally built by John Robinson in 1820 and then sold to William Aiken Sr. in 1827. Aiken died a few years later, and the house was left to his son William Aiken Jr. who was the former Governor of South Carolina from 1844 -1846. William Aiken Jr. renovated and expanded the house in the 1850's. The house was then passed down and remained in the family for 142 years until it was bought by the Charleston Museum and opened as a house museum in 1975. The Historic Charleston Foundation purchased the House in 1995. Much of the original style of the house has been preserved and it is one of the few houses that has not been restored. You will see the original wallpaper, original paint colors, and some original furnishings. In the back of the house, the slave quarters, kitchen and yard remain as they were when the original occupants lived in the house. Tickets can be purchased at the door and combo tickets can be purchased for the Aiken-Rhett House and the Nathaniel Russell House. Allow 1-2 hours to tour the house, slave quarters and kitchen.
---
Aiken-Rhett House Photos
---
---
Aiken-Rhett House Hours and Admission
---
Hours:
Open Daily 10 am - 5 pm
Last tour begins at 4 pm

Aiken-Rhett House Admission:
Adults (17+) $15
Child (6-16) $7
Children under 6 Free
Combo Admission for Aiken-Rhett House and Nathaniel Russell House
Adult combos $24
Child 6-16 combos $12

Note about Summer Hours - On days with extreme heat, the Aiken-Rhett House Museum may close early. Please call (843) 723-1159 to verify the schedule on hot summer days.

---
Aiken-Rhett House Address and Map
---
---
Current and Upcoming Events
at the Aiken-Rhett House
---
What: FLIGHT by Mary Edna Fraser at the Aiken-Rhett House Museum
When: Sept. 29 - Nov. 27, 2022
Time: 10 am - 5 pm
Where: Aiken-Rhett House Museum
Admission: Regular Paid Admission
Opening September 29 at the preserved-as-found Aiken-Rhett House Museum, master dyer and environmental artist, Mary Edna Fraser, will present a visual arts exhibit, FLIGHT. The exhibit, on display September 29 through November 27, is comprised of nine groupings of oil paintings to tell stories of the FLIGHT of enslaved men and women and to honor their stories. Poems by Marjory Wentworth, former Poet Laureate of SC, and J. Drew Lanham will be on display in the historic house's most poignant and powerful spaces. Silks drape through rooms suggesting the spirits of the lost and finally, batiks on silk and oils will add a visual narrative to the poetry.
---
What: Dark History: Tragic Love and Tragic Loss Candlelight Tours of the Aiken-Rhett House Museum
When: Oct. 19 - 22, 2022
Time: 6:45 pm - 8:15 pm
Where: Aiken-Rhett House Museum
Admission: $40
Guests are invited to deviate from the normal offerings at the Aiken-Rhett House, and step into some of the more dangerous and tragic sides of history and lived experience in Charleston, SC. Weaving local stories and legends through each room of the preserved-as-found 1820s historic house, museum curators will lead guests through a new route, with new information, for a truly unique experience to fit the autumn season. Four, 45-minute tours will be scheduled between 6 and 8 pm on October 19 through 22 at the Aiken-Rhett House Museum. Candlelight will illuminate the historic house. Bring an extra lantern or flashlight if you feel so inclined. Purchase tickets online.

---
Hotels Near the Aiken-Rhett House
---
---
Find top-rated hotels at the lowest prices on TripAdvisor. Check rates now!
---
More things to do in Charleston
---
---
---
---
---
Copyright © 2009-2022 visit-historic-charleston.com