---
Aiken-Rhett House
---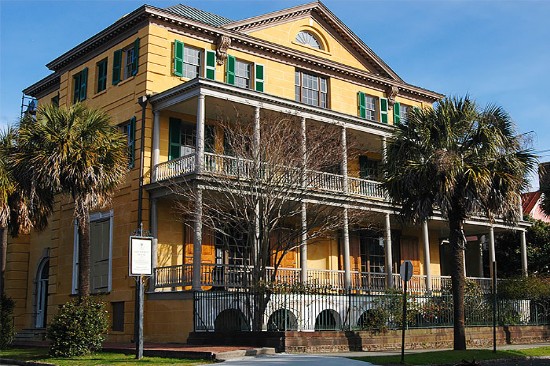 The Aiken-Rhett House was originally built by John Robinson in 1820 and then sold to William Aiken Sr. in 1827. Aiken died a few years later and the house was left to his son William Aiken Jr. who was the former Governor of South Carolina from 1844 -1846. William Aiken Jr. renovated and expanded the house in the 1850's. The house was then passed down and remained in the family for 142 years until it was bought by the Charleston Museum and opened as a house museum in 1975. The Historic Charleston Foundation purchased the House in 1995. Much of the original style of the house has been preserved and it is one of the few houses that has not been restored. You will see the original wallpaper, original paint colors, and some original furnishings. In the back of the house, the slave quarters, kitchen and yard remain as they were when the original occupants lived there. Tickets can be purchased at the door and combo tickets can be purchased for the Aiken-Rhett House and the Nathaniel Russell House. Allow 1-2 hours to tour the house, slave quarters and kitchen.
---
Aiken-Rhett House Photos
---
---
Aiken-Rhett House Hours and Admission
---
Hours:
Open Thur. - Sun. 10 am - 5 pm
Last tour begins at 4 pm

Aiken-Rhett House Admission:
Adults (17+) $12
Child (6-16) $5
Children under 6 Free
Combo Admission for Aiken-Rhett House and Nathaniel Russell House
Adult combos $18
Child 6-16 combos $10

Note about Summer Hours - On days with extreme heat, the Aiken-Rhett House Museum may close early. Please call (843) 723.1159 to verify the schedule on hot summer days.

---
Aiken-Rhett House Address and Map
---
---
Current and Upcoming Events
at the Aiken-Rhett House
---
What: Morning History Walk
When: April 17, 23, & 30, 2021
Time: 9:15 am - 11:15 pm
Where: 
Admission: $30
Led by Charleston's most experienced guides, these two-hour walking tours of the Old & Historic District provide the perfect background for your stay in Charleston, detailing its notable history and architecture and some of Charleston's most significant historic resources. Purchase tickets on-line. 
---
What: The Architectural Styles of Charleston
When: April 23, 2021
Time: 11:30 pm - 1 pm
Where: Captain James Missroon House
Admission: $55
Charleston's Historic District is a National Historic Landmark with thousands of historic buildings in an array of period styles. From the distinctive Charleston Single House to Colonial, Federal, Georgian, Regency, Adamesque, Classical Revival, Greek Revival, Italianate, Gothic Revival, and Queen Anne, the Historic District is a living museum of architectural treasures. Learn about Charleston's history, as portrayed by its architectural legacy. Purchase tickets on-line. 
---
What: Tours of Glorious Gardens I
When: April 30, 2021
Time: 2 pm - 5 pm
Where: Shop Historic Charleston 
Admission: $75
These garden tours are designed for a leisurely stroll through some of Charleston's loveliest private gardens. Guides are stationed at each location to provide information about garden design, plant material and history. Colorful blooms are found in many of Charleston's spring gardens, while others feature the more traditional Charleston garden design display of elegant palettes of green and white. Scale and proportion are deftly used to complement each house, whether it boasts a small courtyard space or a series of garden "rooms." In addition to frequently favored plants, such as azaleas, camellias, climbing roses and tea olives, look for masonry walls, wrought iron gates, parterres edged with boxwood, water features, statues and garden rooms with slight but changing elevations as you stroll through a selection of sophisticated Charleston gardens. Each Glorious Gardens tour includes approximately four – six gardens. Purchase tickets on-line. 
---
Hotels Near the Aiken-Rhett House
---
---
Find top-rated hotels at the lowest prices on TripAdvisor. Check rates now!
---
More things to do in Charleston
---
---
---
---
---
Copyright © 2009-2021 visit-historic-charleston.com