---
Aiken-Rhett House
---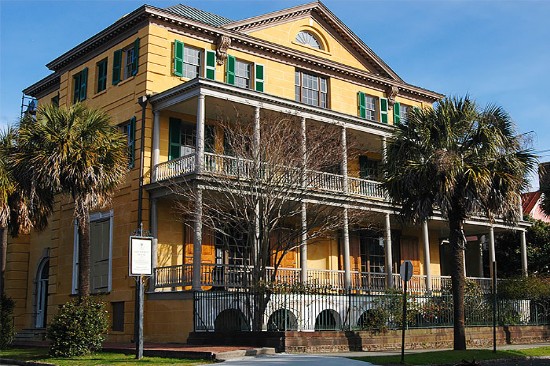 The Aiken-Rhett House was originally built by John Robinson in 1820 and then sold to William Aiken Sr. in 1827. Aiken died a few years later and the house was left to his son William Aiken Jr. who was the former Governor of South Carolina from 1844 -1846. William Aiken Jr. renovated and expanded the house in the 1850's. The house was then passed down and remained in the family for 142 years until it was bought by the Charleston Museum and opened as a house museum in 1975. The Historic Charleston Foundation purchased the House in 1995. Much of the original style of the house has been preserved and it is one of the few houses that has not been restored. You will see the original wallpaper, original paint colors, and some original furnishings. In the back of the house, the slave quarters, kitchen and yard remain as they were when the original occupants lived there. Tickets can be purchased at the door and combo tickets can be purchased for the Aiken-Rhett House and the Nathaniel Russell House. Allow 1-2 hours to tour the house, slave quarters and kitchen.
---
Aiken-Rhett House Photos
---
---
Aiken-Rhett House Hours and Admission
---
Hours:
Open Daily 10 am - 5 pm
Last tour begins at 4 pm

Aiken-Rhett House Admission:
Adults (17+) $12
Child (6-16) $5
Children under 6 Free
Combo Admission for Aiken-Rhett House and Nathaniel Russell House
Adult combos $18
Child 6-16 combos $10

Note about Summer Hours - On days with extreme heat, the Aiken-Rhett House Museum may close early. Please call (843) 723.1159 to verify the schedule on hot summer days.

---
Aiken-Rhett House Address and Map
---
---
Current and Upcoming Events
at the Aiken-Rhett House
---
What: Candlelight Tour at Historic Aiken-Rhett House
When: Oct. 1 - Oct. 23, 2021 (Thursdays, Fridays, and Saturdays)
Time: 6 pm, 6:30 pm and 7 pm
Where: Aiken-Rhett House
Admission: $25 (Advanced purchased required)
There's something about an early evening tour by candlelight through the iconic Aiken-Rhett House in the fall. Experience the ambiance of this preserved-as-found antebellum house and its outbuildings including the kitchen house, the original slave quarters, and the carriage block on a candlelight tour during the month of October. Purchase tickets online.
---
What: First Thursday Gullah Spirituals
When: October 7, 2021
Time: 5:30 am - 6:30 pm
Where: Unitarian Church
Admission: $40 
Clap your hands and stomp your feet during an exhilarating performance of Gullah spirituals and the music of the Sea Islands. The ancestors of the Gullah people brought a rich heritage of African cultural traditions to this country. That extraordinary musical inheritance is still part of the Lowcountry culture, and we're delighted to share it and a bit of Gullah history with you. The historic Unitarian Church c. 1817 provides an extraordinary backdrop for this moving event. Purchase tickets online. 
---
What: Taste of the State: South Carolina's Signature Foods, Recipes, and their Stories
When: October 25, 2021
Time: 2:00 pm - 4:00 pm
Where: 108 Meeting Street
Admission: Free
Come meet Kevin Mitchell, co-author with David Shields of Taste the State: South Carolina's Signature Foods, Recipes, and Their Stories, at a book signing on Monday, October 25, 2021 from 2 – 4pm at Shop Historic Charleston, 108 Meeting Street.<br>
<br>
In Taste the State, Kevin Mitchell and David S. Shields present surprising stories and engaging profiles of eighty-two of South Carolina's most distinctive ingredients, such as Carolina Gold rice, Sea Island White Flint corn, and the cone-shaped Charleston Wakefield cabbage, and signature dishes, such as shrimp and grits, chicken bog, okra soup, Frogmore stew, and crab rice. These portraits, illustrated with original photographs and historical drawings, provide origin stories, tales of kitchen creativity, and agricultural innovation throughout the Palmetto State. Purchase tickets online.
---
Hotels Near the Aiken-Rhett House
---
---
Find top-rated hotels at the lowest prices on TripAdvisor. Check rates now!
---
More things to do in Charleston
---
---
---
---
---
Copyright © 2009-2021 visit-historic-charleston.com