---
Aiken-Rhett House
---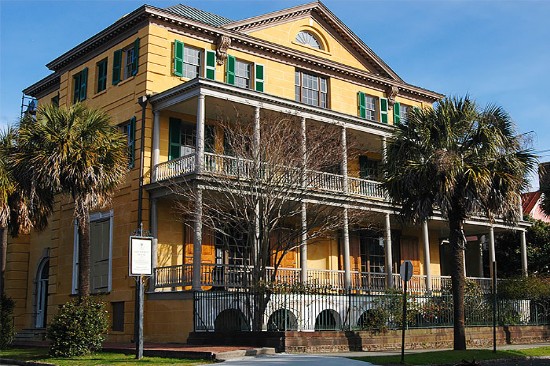 The Aiken-Rhett House was originally built by John Robinson in 1820 and then sold to William Aiken Sr. in 1827. Aiken died a few years later and the house was left to his son William Aiken Jr. who was the former Governor of South Carolina from 1844 -1846. William Aiken Jr. renovated and expanded the house in the 1850's. The house was then passed down and remained in the family for 142 years until it was bought by the Charleston Museum and opened as a house museum in 1975. The Historic Charleston Foundation purchased the House in 1995. Much of the original style of the house has been preserved and it is one of the few houses that has not been restored. You will see the original wallpaper, original paint colors, and some original furnishings. In the back of the house, the slave quarters, kitchen and yard remain as they were when the original occupants lived here. Tickets can be purchased at the door and combo tickets can be purchased for the Aiken-Rhett House and the Nathaniel Russell House. Allow 1-2 hours to tour the house, slave quarters and kitchen.
---
Aiken-Rhett House Photos
---
---
Aiken-Rhett House Hours and Admission
---
Hours:
Open Daily 10 am - 5 pm
Last tour begins at 4 pm

Aiken-Rhett House Admission:
Adults (17+) $12
Child (6-16) $5
Children under 6 Free
Combo Admission for Aiken-Rhett House and Nathaniel Russell House
Adult combos $18
Child 6-16 combos $10

---
Aiken-Rhett House Address and Map
---
---
Current and Upcoming Events
at the Aiken-Rhett House
---
What: Candlelight Tour at the Aiken-Rhett House
When: Friday Oct. 11th, 18th, and 25th
Time: 6:00 pm, 6:30 pm, and 7:00 pm
Where: Aiken-Rhett House
Admission: $25
Step back in time and witness the sounds, shadows and waning light of the day's end in this stately 19th-century townhouse. Preserved as found, the Aiken-Rhett House is a poignant reminder of the effects of time and climate on historical structures. Appreciate the challenges of life before modern lighting while experiencing the beautifully lit house and learn about the lives of the family and of the enslaved who lived and labored on this once grand urban estate. 

---
Hotels Near the Aiken-Rhett House
---
---
---
---
More things to do in Charleston
---
---
Home > Things to do in Charleston SC > Things to do in Charleston > Aiken-Rhett House
---
---
Copyright © 2009-2019 visit-historic-charleston.com