---
Aiken-Rhett House
---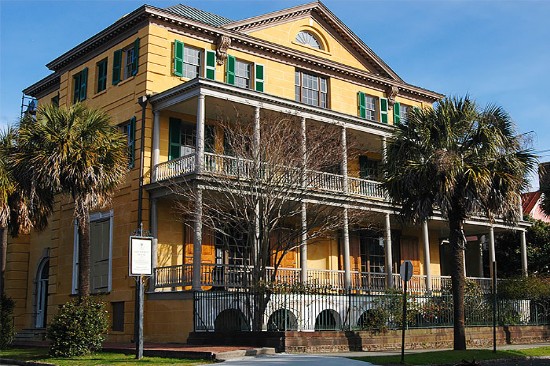 The Aiken-Rhett House was originally built by John Robinson in 1820 and then sold to William Aiken Sr. in 1827. Aiken died a few years later and the house was left to his son William Aiken Jr. who was the former Governor of South Carolina from 1844 -1846. William Aiken Jr. renovated and expanded the house in the 1850's. The house was then passed down and remained in the family for 142 years until it was bought by the Charleston Museum and opened as a house museum in 1975. The Historic Charleston Foundation purchased the House in 1995. Much of the original style of the house has been preserved and it is one of the few houses that has not been restored. You will see the original wallpaper, original paint colors, and some original furnishings. In the back of the house, the slave quarters, kitchen and yard remain as they were when the original occupants lived there. Tickets can be purchased at the door and combo tickets can be purchased for the Aiken-Rhett House and the Nathaniel Russell House. Allow 1-2 hours to tour the house, slave quarters and kitchen.
---
Aiken-Rhett House Photos
---
---
Aiken-Rhett House Hours and Admission
---
Hours:
Open Daily 10 am - 5 pm
Last tour begins at 4 pm

Aiken-Rhett House Admission:
Adults (17+) $12
Child (6-16) $5
Children under 6 Free
Combo Admission for Aiken-Rhett House and Nathaniel Russell House
Adult combos $18
Child 6-16 combos $10

Note about Summer Hours - On days with extreme heat, the Aiken-Rhett House Museum may close early. Please call (843) 723.1159 to verify the schedule on hot summer days.

---
Aiken-Rhett House Address and Map
---
---
Current and Upcoming Events
at the Aiken-Rhett House
---
What: Morning History Walk
When: July 9, 16, 23, & 30, 2021
Time: 9:15 am - 11:15 pm
Where: Shop Historic Charleston, 108 Meeting Street
Admission: $30 (Adults) & $10 (Children)
Led by Charleston's most experienced guides, these two-hour walking tours of the Old & Historic District provide the perfect background for your stay in Charleston, detailing its notable history and architecture and some of Charleston's most significant historic resources. Purchase tickets online. 
---
What: Wine by the Water
When: August 10, 2021
Time: 5:30 pm - 7:00 pm
Where: Capt. James Missroon House
Admission: $55
We're toasting your time in the Lowcountry! Join us by the beautiful Charleston Harbor for a wine tasting featuring four varietals, curated and presented by the expert sommeliers from Savi Cucina and Wine Bar. Savi has been taking Charleston by storm with their innovative programming and reputation as a world class wine bar. We're so excited to have them partner with us for this event! Purchase tickets online.
---
What: Gullah Memories
When: August 13, 2021
Time: 11:30 am - 1:00 pm
Where: Capt. James Missroon House
Admission: $55
The Gullah people descend from enslaved Africans and live in the coastal areas of the Southeastern United States, and their influence on Charleston's culture – from cuisine to the arts to historic traditions – is indelible. When freedom came to the enslaved people who toiled on rice plantations in lower Berkeley County, SC, many remained to farm the land and raise their families in settlements near the plantation gates. Charleston-based writer Herb Frazier, author of Behind God's Back: Gullah Memories of Cainhoy, Wando, Huger, Daniel Island, St. Thomas Island, South Carolina, will share accounts of the experiences of Gullah people who struggled after Emancipation, through the Depression and into the middle of the twentieth century to maintain their African-based lifestyles in rural communities near Charleston. A book singing will follow.  Purchase tickets online.
---
What: The African American Experience: A Sneak Peek at the International African American Museum
When: August 20, 2021
Time: 11:30 am - 1:00 pm
Where: Capt. James Missroon House
Admission: $55
Join Bernard Powers, PhD and acting director of the International African American Museum (IAAM), for a look at journey that began centuries ago in Africa, and still continues. Powers will take the audience on a virtual sneak-peek of the museum (opening in 2022), which will detail the journey of millions of Africans, captured and forced across the Atlantic in the grueling and inhumane Middle Passage, who arrived at Gadsden's Wharf in Charleston and other ports in the Atlantic World. Their labor, resistance and ingenuity and that of their descendants shaped every aspect of our world. Powers will touch on some of the galleries that include connections across the African diaspora, the spread of African American culture and influence, and the movements for justice and equality. Purchase tickets online.
---
Hotels Near the Aiken-Rhett House
---
---
Find top-rated hotels at the lowest prices on TripAdvisor. Check rates now!
---
More things to do in Charleston
---
---
---
---
---
Copyright © 2009-2021 visit-historic-charleston.com