---
Aiken-Rhett House
---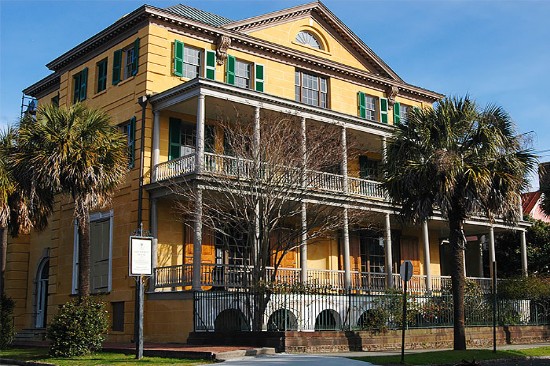 The Aiken-Rhett House was originally built by John Robinson in 1820 and then sold to William Aiken Sr. in 1827. Aiken died a few years later, and the house was left to his son William Aiken Jr. who was the former Governor of South Carolina from 1844 -1846. William Aiken Jr. renovated and expanded the house in the 1850's. The house was then passed down and remained in the family for 142 years until it was bought by the Charleston Museum and opened as a house museum in 1975. The Historic Charleston Foundation purchased the House in 1995. Much of the original style of the house has been preserved and it is one of the few houses that has not been restored. You will see the original wallpaper, original paint colors, and some original furnishings. In the back of the house, the slave quarters, kitchen and yard remain as they were when the original occupants lived in the house. Tickets can be purchased at the door and combo tickets can be purchased for the Aiken-Rhett House and the Nathaniel Russell House. Allow 1-2 hours to tour the house, slave quarters and kitchen.
---
Aiken-Rhett House Photos
---
---
Aiken-Rhett House Hours and Admission
---
Hours:
Open Daily 10 am - 5 pm
Last tour begins at 4 pm

Aiken-Rhett House Admission:
Adults (17+) $15
Child (6-16) $7
Children under 6 Free
Combo Admission for Aiken-Rhett House and Nathaniel Russell House
Adult combos $24
Child 6-16 combos $12

Note about Summer Hours - On days with extreme heat, the Aiken-Rhett House Museum may close early. Please call (843) 723-1159 to verify the schedule on hot summer days.

---
Aiken-Rhett House Address and Map
---
---
Current and Upcoming Events
at the Aiken-Rhett House
---
What: The View from the Workyard: Black History at the Aiken Rhett House
When: Feb. 11, 2023
Time: 9 am - 11 am
Where: Aiken Rhett House
Admission: $40

This special tour, in honor of Black History Month, will be a full house tour given from the enslaved perspective, exploring how the landscape and buildings that make up the Aiken-Rhett House complex were experienced by those held in bondage. Looking beyond the bounds of enslavement, the tour will share some of the triumphs and persistent survival tactics that enabled some of the enslaved to succeed after emancipation as free Charlestonians. Additionally, the tour will give attention to the knowledge, skills, abilities, and ingenuity of an oppressed population who built the foundations of the American Republic, and who had equal share in creating a uniquely American culture and identity. Purchase tickets online.
---
Hotels Near the Aiken-Rhett House
---
---
Find top-rated hotels at the lowest prices on TripAdvisor. Check rates now!
---
More things to do in Charleston
---
---
---
---
---
Copyright © 2009-2022 visit-historic-charleston.com