---
Rainbow Row Charleston
---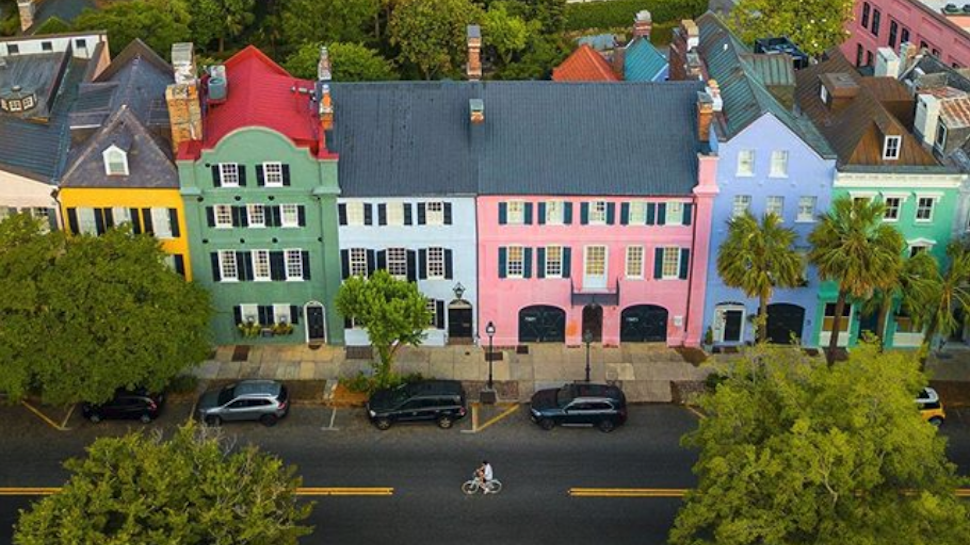 Rainbow Row in Charleston is one of the most visited and photographed places in the historic district. These iconic colorful homes can be found on t-shirts, photographs, paintings and postcards at gift shops throughout the city. 
Rainbow Row is a series of 13 brightly-colored houses along East Bay Street on the Charleston Harbor. In the 18th century, these homes were shops and businesses on the lower level with living quarters above. 
After the Civil War, these homes fell into disrepair and were viewed by many residents as the slums. In 1920, Susan Pringle Frost, a preservationist, took an interest in the area. She purchased six of the homes, but lacked the funds to restore them. 
Ten years later, Dorothy Haskell Porcher Legge purchased a section of the homes and began renovating them. She told the local newspaper she wanted to uplift the area with a pretty color, so she painted them pink. The trend quickly caught on, and other owners on the street started painting their homes bright pastel colors. 
Rainbow Row is unique to Charleston and continues to attract visitors from around the globe. Check out our guide for additional free things to see and do in Charleston. 
---
Rainbow Row Photos
---
---
Rainbow Row Charleston Address and Map
---
Rainbow Row
83 E Bay St
Charleston SC 29401


---
Insider's Tip on Visiting Rainbow Row 
---
This area is often very congested with traffic, so the best way to visit and photograph Rainbow Row is on foot. Just take the free Charleston Dash Shuttle (Route 211) and get off at City Hall. Rainbow Row is just a short walk from City Hall. 

---
Hotels Near Rainbow Row Charleston
---
---
Find top-rated hotels at the lowest prices on Priceline. Check rates now!
---
---
More things to do in Charleston
---
---
---
---
Copyright © 2009-2023 visit-historic-charleston.com