---
Charleston Art Galleries 
---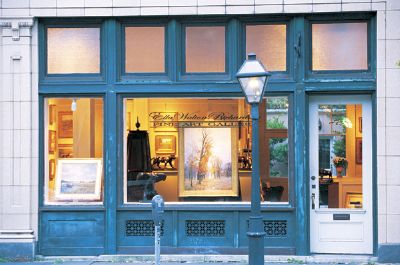 Charleston is well known for its flourishing arts scene, and one of the best ways to take a piece of the Lowcountry home with you is to find the perfect piece of local artwork to hang in your home. Charleston's art galleries feature a wide variety of styles and works by regionally and nationally acclaimed artists.
The majority of the art galleries in Charleston are located in two general areas, Gallery Row and the French Quarter. Gallery Row runs along Broad Street and the French Quarter and includes Church, State, Queen, and Chalmers Streets, just a block north of Broad Street.
A great way to experience Charleston's thriving art scene is by taking an official Artwalk. The Charleston Gallery Association hosts four official Art Walks each year. These are held on the first Friday in March, May, October, and December.

---
Top 10 Charleston Art Galleries
---
Robert Lange Studios - 

Robert Lange Studios has been voted Best Art Gallery in Charleston for four years by the Charleston City Paper. 

The gallery has created a reputation for consistently finding new and interesting artists that stand out for their imagination and distinctive personal touch. @ 2 Queen St. 


Principle Gallery - Principle Gallery Charleston finds joy in sharing museum-quality works from established American and international artists within the realm of Contemporary and Classical Realism. @ 125 Meeting St. 


Mary Martin Gallery - Mary Martin Galleries Of Fine Art introduces emerging local artists, as well as showcases mid-career national and international artists with a focus on art which forges new ground. @ 122 Market St. 


George Gallery - The George Gallery, located in a charming corner storefront, highlights Southern contemporary artists who push the edge with conviction and creativity. The gallery represents some of the most forward-thinking South Carolina artists of the moment. @ 54 Broad St. 


Meyer Vogl Gallery - Meyer Vogl Gallery is a contemporary fine art gallery located in the heart of Charleston's bustling gallery district and historic French Quarter. Permanently featuring oil paintings by artists Laurie Meyer and Marissa Vogl, they also exhibit works by local and nationally recognized guest artists. @ 122 Meeting St. 


Grand Bohemian Gallery - 

The Grand Bohemian Gallery, located within the luxury hotels and resorts of The Kessler Collection, is one of the most eclectic and visually stimulating art galleries in the nation. 

The collections at the Grand Bohemian Gallery are comprised of internationally and locally renowned artists. @ 55 Wentworth St. 


Corrigan Gallery - Corrigan Gallery, located at 7 Broad Street, exhibits works of art both representational and abstract, possessing the charm of old Charleston with a contemporary edge. Representing artists whose work is beyond the traditional approach to the southern landscape of marshes and palmettos, there are new works to see regularly. @ 7 Broad St. 


Atrium Art Gallery - Atrium Art Gallery, located at 61 Queen Street, is known for its "Exciting Art Space" featuring local, regional and national artists. It offers contemporary, abstract, lowcountry and fine art photography. This is a "must see" gallery in a city rapidly becoming a premier "destination art market city" in the country. @ 61 Queen St. 


Ella Walton Richardson Fine Art - Ella Walton Richardson Fine Art is housed in an elegant and inviting historic property at 58 Broad Street in downtown Charleston. The gallery represents a wide variety of art, from traditional impressionist paintings to more contemporary abstract styles. New exhibitions are mounted every month for a first Friday Art Opening Event. @ 58 Broad St. 
 
The City Gallery at Waterfront Park - The City Gallery at Joseph P. Riley, Jr. Waterfront Park displays the finest contemporary works of local, regional, national, and international artists. Best of all, admission to the exhibits is always free. @ 34 Prioleau St. 
---
Charleston Art Galleries - Map
---
---
Hotels Near Charleston's Gallery Row
---
---
Find top-rated hotels at the lowest prices on Priceline. Check rates now!
---
---
More things to do in Charleston
---
---
---
---
---
Copyright © 2009-2023 visit-historic-charleston.com