---
Cypress Gardens SC
---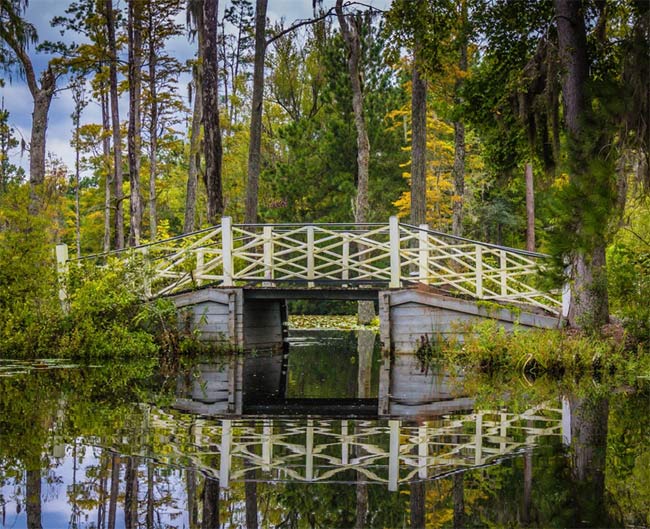 Cypress Gardens SC, a 175-acre swamp garden, is located about 30 minutes from downtown Charleston in Moncks Corner. The gardens were originally a freshwater reserve for the nearby rice plantation, Dean Hall. Visitors can enjoy the Butterfly House and observe the different stages of a butterfly's life cycle, or visit the Swamparium, where large tanks feature fish, amphibians and reptiles native to the South Carolina Lowcountry. Visitors can also rent a swamp boat to paddle along a marked trail, possibly spotting alligators, birds and turtles, or take a stroll along the 3.5 miles of walking trails that loop through the swamp and gardens. These amazing gardens were used in several movies, including scenes from The Notebook, Cold Mountain and The Patriot. 
---
Cypress Gardens SC Photos
---
---
Cypress Gardens SC Address and Map
---
---
Cypress Gardens SC Hours and Admission
Hours:
Open Daily 9 am - 5 pm
Closed Thanksgiving Day,
Christmas Eve, Christmas Day
and New Years Day

Admission:
Adults (18+) $10
Seniors (65+) $6.50
Military/First Responders $6.50
Child (6-17) $5
Children 5 and under Free

Please be advised that pets are no longer allowed from March - October.
---
What's Blooming and Flying in October?
---
Average temperatures range from 40 to 70 degrees F.
This is the prime fall month for observing the leaf-color change in deciduous plants and trees. The needles of our only deciduous conifer, the Bald Cypress, turn rust-brown.

Many of September's composites continue to flower, but most have gone to seed.

A few amphibians, such as the Ornate Chorus Frog, gear up for their fall and winter breeding season.

Great-horned and Screech Owls are more vocal.

Bird migration continues as Red-eyed Vireos and Indigo Buntings will soon vanish until next spring.

Winter arrivals include the:

Pied-billed Grebe

Eastern phoebe

House Wren

Winter Wren

Golden-crowned Kinglet

Ruby-crowned Kinglet

American Robin

Song Sparrow

Yellow-rumped Warbler

White-throated Sparrow

Butterflies remain plentiful and the striking Purple Hairstreak is notable.
---
Events at Cypress Gardens SC
---
What: Halloween in the Swamp
When: Oct. 13-15, 2022
Time: 7:30 pm - 11:30 pm 
Where: Cypress Gardens
Admission: $5 General Admission / $20 Haunted Swamp Experience - Purchase online.
General Admission for Halloween – This includes the children's pumpkin trail, movie, marshmallow roast, story-time, kids games, and access to food trucks.  This ticket DOES NOT give access to Haunted Trail or Haunted Swamp Ride.
Haunted Swamp Experience – This INCLUDES GENERAL ADMISSION activities, the Haunted Boat Trail, and the Haunted Walking Trail.  You have to do both trails.  Once you arrive at the time you selected, you will get on a flat-bottom boat and be paddled through the haunted swamp, and let off at the walking trail to walk the haunted trail.  This ticket is not for children 5 and under.  Children 6-12 MUST be accompanied by an adult!  All sales are FINAL – NO REFUNDS.  NO RESCHEDULING TIME OR DATE.  GROUP TICKET PURCHASES MUST ARRIVE WITH YOUR ENTIRE PARTY TO GET ON THE BOAT.
---
Hotels Near Cypress Gardens SC
---
---
Find top-rated hotels at the lowest prices on TripAdvisor. Check rates now!
---
---
More things to do in Charleston
---
---
---
---
---
Copyright © 2009-2022 visit-historic-charleston.com