---
Cypress Gardens SC
---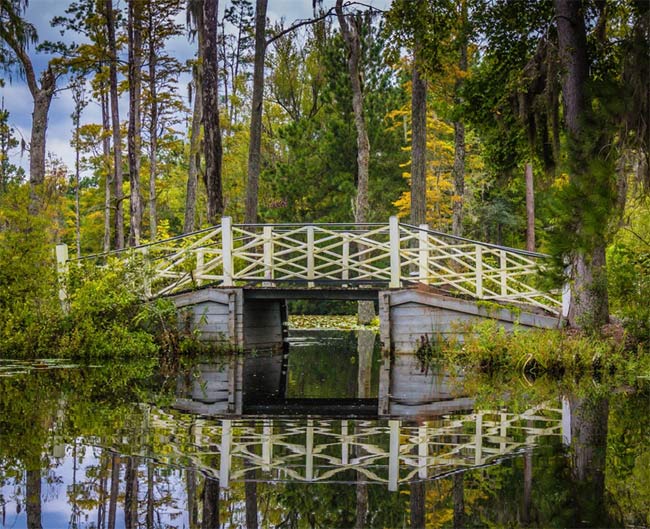 Cypress Gardens SC, a 175-acre swamp garden, is located about 30 minutes from downtown Charleston in Moncks Corner. The gardens were originally a freshwater reserve for the nearby rice plantation, Dean Hall. Visitors can enjoy the Butterfly House and observe the different stages of a butterfly's life cycle, or visit the Swamparium, where large tanks feature fish, amphibians and reptiles native to the South Carolina Lowcountry. Visitors can also rent a swamp boat to paddle along a marked trail, possibly spotting alligators, birds and turtles, or take a stroll along the 3.5 miles of walking trails that loop through the swamp and gardens. These amazing gardens were used in several movies, including scenes from The Notebook, Cold Mountain and The Patriot. 
---
Cypress Gardens SC Photos
---
---
Cypress Gardens SC Address and Map
---
---
Cypress Gardens SC Hours and Admission
Hours:
Open Daily 9 am - 5 pm
Closed Thanksgiving Day,
Christmas Eve, Christmas Day
and New Years Day

Admission:
Gen. Admission (18+) $10
Seniors (65+) $6.50

Please be advised that pets are no longer allowed from March - October.
---
What's Blooming and Flying in January?
---
Average temperatures range from 20 to 50 degrees Fahrenheit.
Peak Camellia bloom.

Alligators may occasionally be seen on sunny days.

Warm, rainy nights bring choruses from the Spring Peeper and Southern Chorus frogs.

Brown Creepers and the Orange-crowned Warbler are highlights to see.

Sunny days may bring the Cloudless Sulfur Butterfly.

A River Otter may be seen playing in the swamp and winter-nesting Bald Eagles are often sighted overhead.
---
Events at Cypress Gardens SC
---
What: Valentine's Torchlit Boat Rides
When: Feb. 14, 2023
Time: Evening
Where: Cypress Gardens
Admission: $50 per couple

Valentines Torchlit Boat Rides. Pre-registration is required. Register in the gift shop.
---
What: Free Day for Berkeley County Residents
When: Feb. 18, 2023
Time: All Day
Where: Cypress Gardens
Admission: Free 

Free Admission for Berkeley County Residents. Must show ID, Utility Bill or Tax Bill.
---
Hotels Near Cypress Gardens SC
---
---
Find top-rated hotels at the lowest prices on TripAdvisor. Check rates now!
---
---
More things to do in Charleston
---
---
---
---
---
Copyright © 2009-2022 visit-historic-charleston.com