---
Drayton Hall
---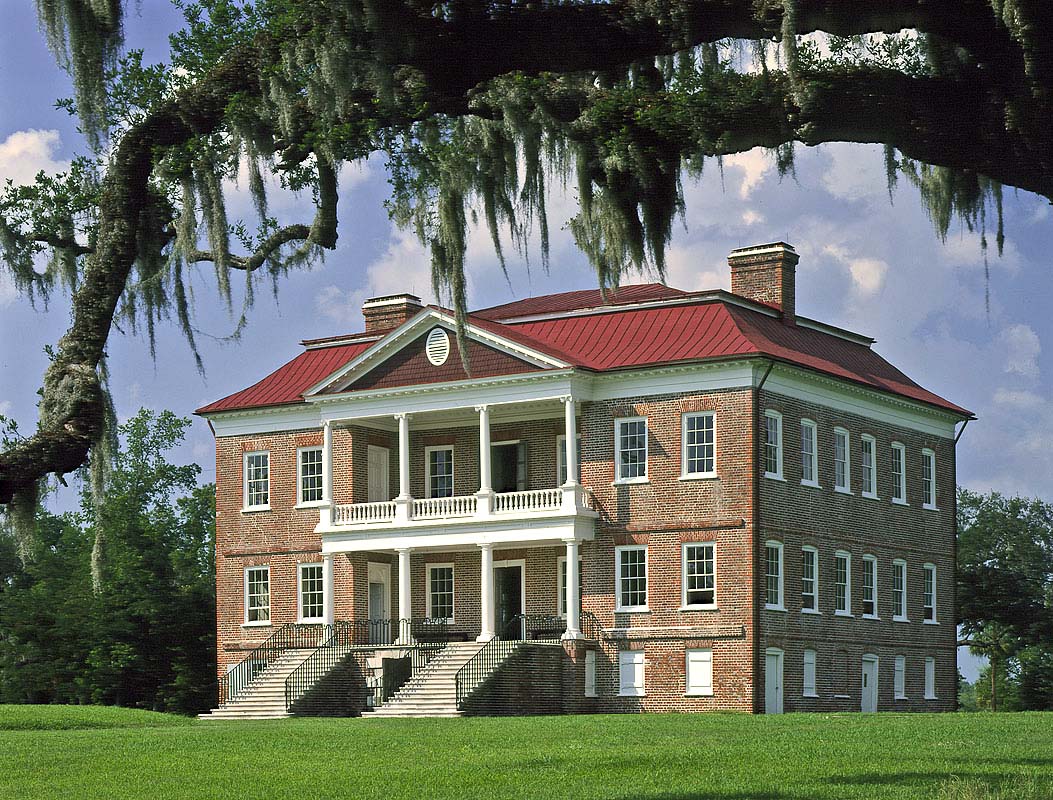 Drayton Hall is one of the only pre-Revolutionary houses that remains in close original condition and the oldest preserved plantation house in America still open to the public. The plantation was built in 1738 and owned by the Drayton family until it was sold to the National Trust for Historic Preservation in 1974. When you visit Drayton Hall, you will learn about the Drayton family along with the seven generations of the Bowen family that were brought to Drayton Hall as slaves. When you visit, be advised that the house looks much the way it did in the early years, and it is displayed unfurnished. The Gates Gallery, located on the plantation grounds, has a rotating exhibit of decorative art objects that once belonged to the Drayton Family. The gallery also displays archeological artifacts from the estate and its inhabitants. While at the plantation, visit one of the oldest documented African American Cemeteries still in use. The earliest surviving record describes its use as a "burying ground" from around 1790. Allow about 2 hours to tour the house, the yard and the cemetery.
---
Drayton Hall Photos
---
---
Drayton Hall Hours and Admission
---
Hours:
Monday - Saturday  9 am - 3:30 pm
Sunday 10 am - 3:30 pm

Admission:
Adults (15+) $32
Youth (8-14) $25
Children 7 and under Free

---
Drayton Hall Address and Map
---
---
Current and Upcoming Events
at Drayton Hall
---
What: Archaeology Thursdays at Drayton Hall
When: Thursday June 13, July 11, Aug. 8, Sept. 12, Oct. 10, and Nov. 14. 
Time: 10:00 am - 2:00 pm
Where: Hill Hall at Drayton Hall Plantation
Admission: Event is included with paid admission 
Come out for Archaeology Thursdays on the second Thursday of every month in Hill Hall at Drayton Hall. Drayton Hall is an active archaeological site with excavations dating back 40 years. Archeologists share objects, stories, and include you in the archaeological process during the demonstrations.
---
What: Fall Wine Stroll at Drayton Hall
When: Oct. 12, 19, & 26, 2019
Time: 2 pm - 4 pm
Where: Drayton Hall
Admission: Non-members $25 / Members $15 / House Tours are an additional $10
Make your fall weekend special with the perfect October event for wine, outdoors, and history lovers! You will enjoy carefully curated wines and be welcomed to take a fall stroll on Drayton Hall's historic and picturesque grounds. Drayton Hall – a Charleston, SC plantation house museum – is the oldest Palladian home in North America c.1738 and the oldest unrestored plantation home open to the public in the United States. Set on 125 acres next to Charleston's scenic Ashley River, the landscape of Drayton Hall is as memorable as the house. This is an opportunity to see one of Charleston's most important historic homes in a whole new way. 

Saturday fall afternoons will be bright and perfect with a glass of your favorite varietal and a welcome to stroll the grounds of the Drayton Hall Estate.
We encourage guests to arrive early and attend a house tour. House tours are an additional $10 fee, house tour tickets can be purchased at the gate of Drayton Hall on the day of the tasting. The last tour of the day is at 3:15, so if you wish to tour, please plan to come before 1 pm.
---
What: Beer BBQ and the Bluestone Ramblers 
When: Oct. 26, 2019
Time: 4 pm - 7:30 pm
Where: Drayton Hall
Admission: $60 per person / $40 for Palladian Circle members

A celebration of beer, bbq, and music at Charleston, SC's most beautiful plantation.  Enjoy an exciting and fun evening  with craft beer from Edmund's Oast and BBQ with sides. Music by popular local band, The Bluestone Ramblers.
---
Hotels Near Drayton Hall
---
---
---
---
More things to do in Charleston
---
---
Home > Things to do in Charleston SC > Charleston Plantations > Drayton Hall
---
---
Copyright © 2009-2020 visit-historic-charleston.com