---
Drayton Hall
---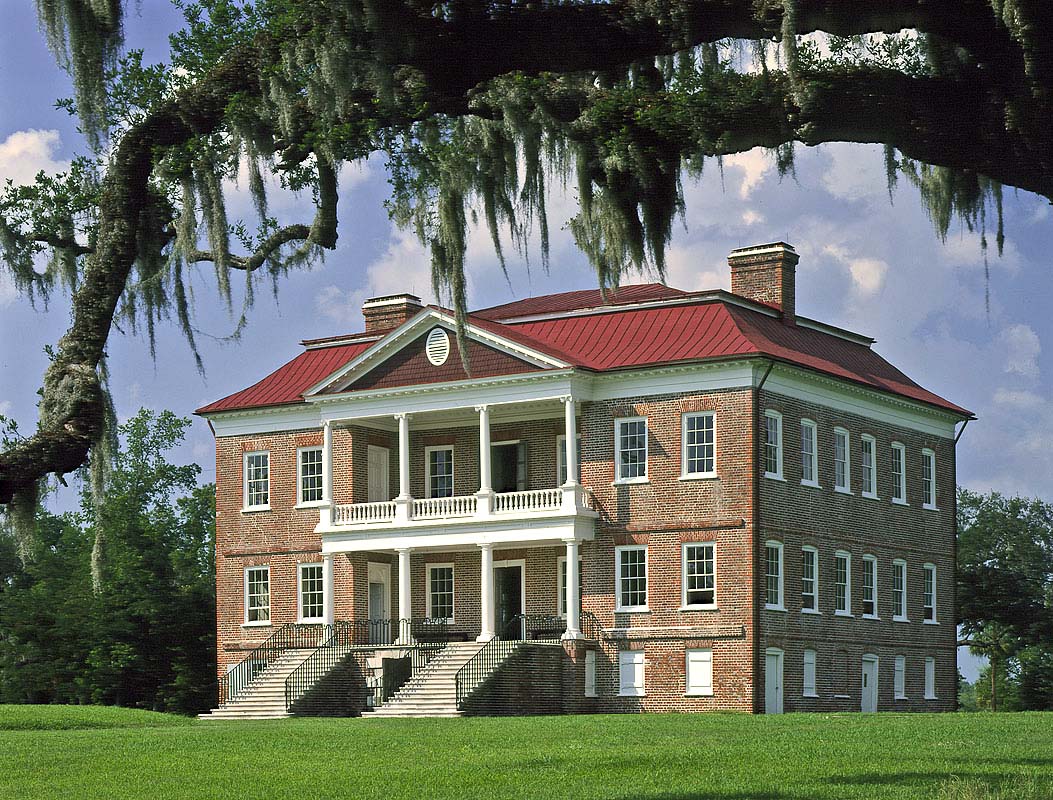 Drayton Hall is one of the only pre-Revolutionary houses that remains in close original condition and the oldest preserved plantation house in America still open to the public. The plantation was built in 1738 and owned by the Drayton family until it was sold to the National Trust for Historic Preservation in 1974. When you visit Drayton Hall, you will learn about the Drayton family along with the seven generations of the Bowen family that were brought to Drayton Hall as slaves. When you visit, be advised that the house looks much the way it did in the early years, and it is displayed unfurnished. The Gates Gallery, located on the plantation grounds, has a rotating exhibit of decorative art objects that once belonged to the Drayton Family. The gallery also displays archeological artifacts from the estate and its inhabitants. While at the plantation, visit one of the oldest documented African American Cemeteries still in use. The earliest surviving record describes its use as a "burying ground" from around 1790. Allow about 2 hours to tour the house, the yard and the cemetery.
---
Drayton Hall Photos
---
---
Drayton Hall Hours and Admission
---
Hours:
Wednesday - Sunday  9 am - 3:30 pm

Admission:
Adults (15+) $22
Youth (8-14) $10
Children 7 and under Free

---
Drayton Hall Address and Map
---
---
Current and Upcoming Events
at Drayton Hall
---
What: Downtown Walking Tour – The Drayton Family in Downtown Charleston
When: October 2, 2021
Time: 10 am - 12:00 pm
Where: Gazebo in the center of White Point Garden Park
Admission: $45 non-members/$40 members
Join the Curators of Historic Architecture of Drayton Hall for a walk in downtown Charleston to see and discuss the history of the Drayton family in downtown Charleston, SC on Saturday, October 2, 2021. Generations of Draytons lived in both downtown Charleston and at Drayton Hall, many of their homes still stand today. Purchase tickets online. 
---
What: Prosecco on the Portico of Drayton Hall
When: October 30, 2021
Time: 3 pm - 4:30 pm
Where: Drayton Hall
Admission: $35 non-members/$30 members
Enjoy a glass of prosecco on the iconic portico of Drayton Hall. Grounds admission and Audio Tour are included in the ticket price. Prosecco will be served from 3:00pm-4:30pm. Gates will close at 5pm. ​Guests will receive a glass of prosecco upon finishing the audio tour and exiting the house. Purchase tickets online. 

---
What: Drayton Hall Candlelight Tour
When: Nov. 27, Dec. 3, 4, 10 & 11, 2021
Time: 5:30 pm - 6:30 pm
Where: Drayton Hall
Admission: $45 non-members/$40 members
Experience Drayton Hall at night with our special candlelight tours. This is a remarkable way to understand the house and lives which touched it from the perspective of a non-modernized colonial home.  <br>
<br>
Tours will begin every ten minutes with groups of 15 or less to adhere to social distancing protocols. Masks are encouraged. Online registration is required and all tickets are non-refundable. No tickets will be sold at the gate. Entrance gates open at 6:30pm and close at 8:00pm. Please arrive 20 minutes prior to your selected start time - we are unable to accommodate late arrivals.  Purchase tickets online. 
---
Hotels Near Drayton Hall
---
---
Find top-rated hotels at the lowest prices on TripAdvisor. Check rates now!
---
---
More things to do in Charleston
---
---
---
---
---
Copyright © 2009-2021 visit-historic-charleston.com