---
Drayton Hall
---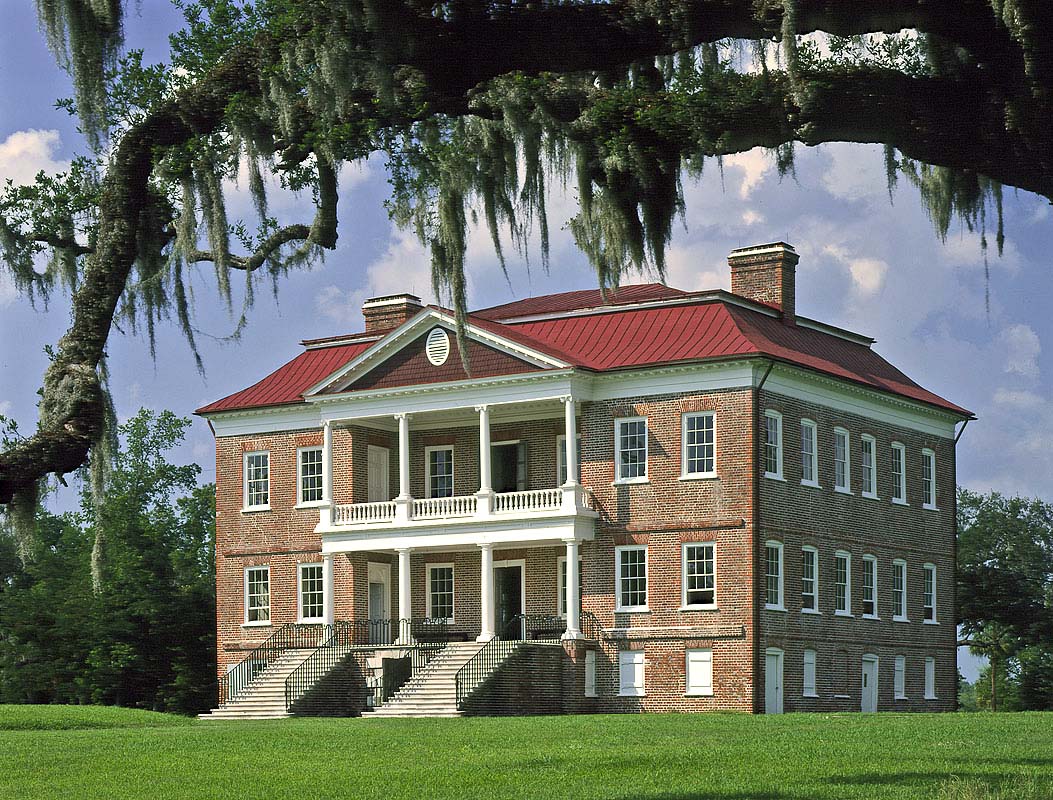 Drayton Hall is one of the only pre-Revolutionary houses that remains in close original condition and the oldest preserved plantation house in America still open to the public. The plantation was built in 1738 and owned by the Drayton family until it was sold to the National Trust for Historic Preservation in 1974. When you visit Drayton Hall, you will learn about the Drayton family along with the seven generations of the Bowen family that were brought to Drayton Hall as slaves. When you visit, be advised that the house looks much the way it did in the early years, and it is displayed unfurnished. The Gates Gallery, located on the plantation grounds, has a rotating exhibit of decorative art objects that once belonged to the Drayton Family. The gallery also displays archeological artifacts from the estate and its inhabitants. While at the plantation, visit one of the oldest documented African American Cemeteries still in use. The earliest surviving record describes its use as a "burying ground" from around 1790. Allow about 2 hours to tour the house, the yard and the cemetery.
---
Drayton Hall Photos
---
---
Drayton Hall Hours and Admission
---
Hours:
Monday - Saturday  9 am - 3:30 pm
Sunday 10 am - 3:30 pm

Admission:
Adults (15+) $22
Youth (8-14) $10
Children 7 and under Free

---
Drayton Hall Address and Map
---
---
Current and Upcoming Events
at Drayton Hall
---
What: Historic Landscape & Lenhardt Garden Walks of Drayton Hall
When: May 1 and 22, 2021
Time: 10 am
Where: Sally Reheard Visitors Center at Drayton Hall
Admission: $45 non-members/$35 members
Manager of Horticultural Landscapes and Modern Facilites at Drayton Hall, Eric Becker will host two in-person outdoor walking events in May 2021: Historic Landscape & Lenhardt Garden Walks of Drayton Hall. Register for either the Saturday, May 1st or May 22nd walk on the links below. Purchase tickets on-line. 

---
What: Prosecco on the Portico of Drayton Hall
When: May 8, June 19, September 4, and October 30, 2021
Time: 3 pm - 4:30 pm
Where: Drayton Hall
Admission: $35 non-members/$30 members
Enjoy a glass of prosecco on the iconic portico of Drayton Hall. Grounds admission and Audio Tour are included in the ticket price. Prosecco will be served from 3:00pm-4:30pm. Gates will close at 5pm. ​Guests will receive a glass of prosecco upon finishing the audio tour and exiting the house. Purchase tickets on-line. 

---
What: Life in the City - Houses of Rebecca Perry Drayton
When: May 13, 2021
Time: 5 pm - 6 pm
Where: Virtual
Admission: Donate what you can 

Rebecca Perry Drayton (1759-1840) was the fourth wife of John Drayton (1715-1779) and was widowed during the American Revolution when she and John were fleeing the approaching British army. At the close of the war, she sold Drayton Hall to her stepson Charles Drayton and took up fulltime residence in downtown Charleston. Join Drayton Hall's curators for a virtual tour of Rebecca Perry Drayton's downtown homes and find out who she shared these spaces with as we explore her life after Drayton Hall.

The Houses of Rebecca Perry Drayton is a Donate What You Can Event. If you are not able to attend at the broadcast time, please register as usual and a recording of the event will be on the event page the day after the event. Register on-line for this event.
---
Hotels Near Drayton Hall
---
---
Find top-rated hotels at the lowest prices on TripAdvisor. Check rates now!
---
---
More things to do in Charleston
---
---
---
---
---
Copyright © 2009-2021 visit-historic-charleston.com