---
Folly Beach
---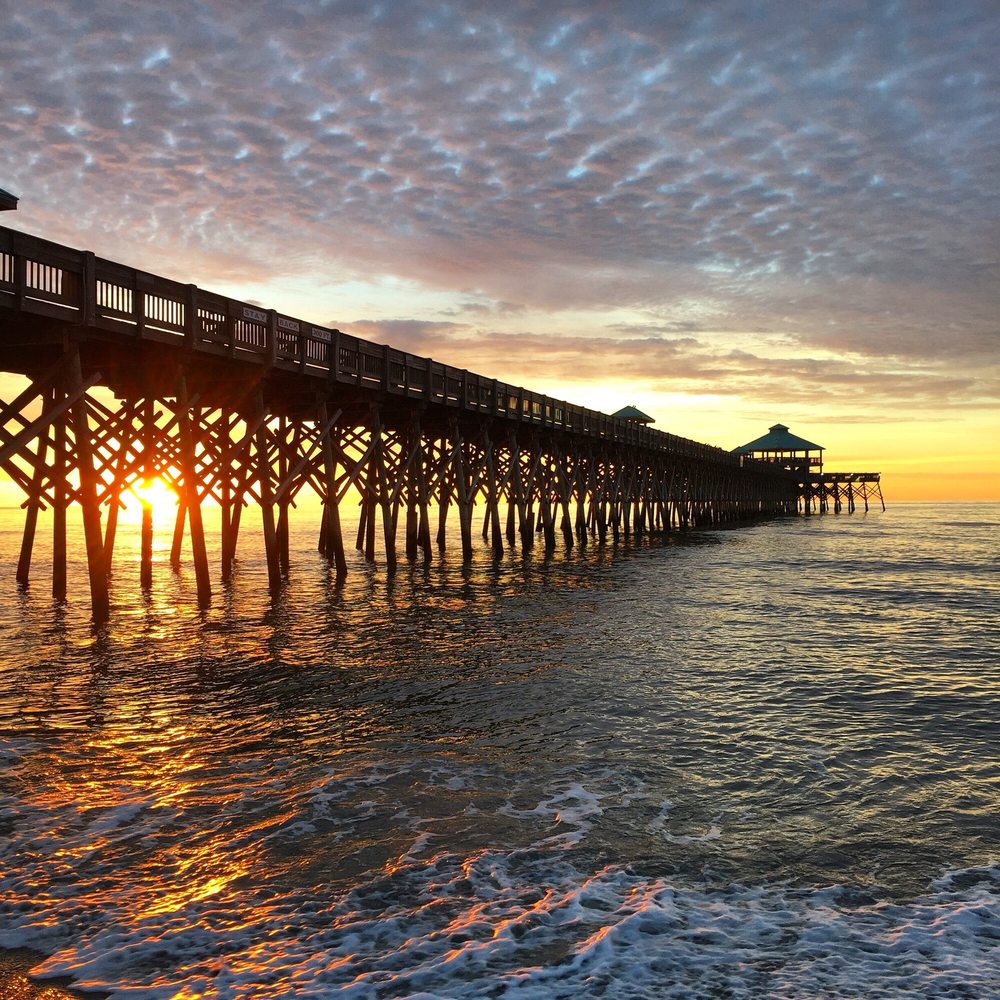 Folly Beach, located on a barrier island, is the closest beach to Charleston. The beach is located about 20 minutes from the downtown historic district and has a great mix of restaurants, cafes and shops. 

Center Street Beach, located in front of the Tides Hotel with Folly Beach Pier in the center, is the busiest beach on the island. At 1,045 ft, the fishing pier is the second longest on the east coast. It is great for fishing, walking and enjoying wonderful views of the beach. Folly Beach County Park is on the western end of the island, and here you will find showers, restrooms, changing rooms, picnic areas and a snack bar. The Washout is located on the opposite end of the island from Folly Beach County Park. This is where most surfers go, so it's a great place to watch the surfers and catch some rays. Lighthouse Inlet Beach is as far east on the island as you can go and is usually the most secluded beach on the island. This beach offers great views of the Morris Island Lighthouse and has a parking lot about ¼ of a mile from the beach.

Parking at the beach during the summer months can be hard, so be advised to arrive early. Free parking is offered along the streets, but this parking often fills up first. If you can't find any spots along the streets, you will have to pay to park at the County Park, the Folly Beach Pier or the public beach access points. 
---
Folly Beach Photos
---
---
Folly Beach  Map
---
---
Folly Beach Parking Rules
---
No parking on the roadway. All 4 tires must be off the road. If white lines are painted, tires must be outside the white line.

No parking against traffic. All vehicles must park with the flow of traffic.

No parking in a crosswalk

No parking within 20 feet of an intersection.

No parking on sidewalks.

No blocking public or private driveways.

No parking within 15 feet of a fire hydrant.

No stopping, standing, or parking in a roadway.

No diagonal parking unless posted. All parking must be parallel to the roadway.

No parking on dunes or revetments.

No parking on yellow curbs or within areas marked by yellow or red street lines.




No parking behind yellow lines.
---
Folly Beach Rules
---
Dogs are not allowed on the beach from 10 am to 6 pm from May 1st to Sept. 30th. At all other times, they must be leashed and under control. Pick up your dog's waste and remove from the beach. No pets are ever allowed on the pier.

No possession or consumption of alcohol on the beach.


Smoking on the beach, access points and walkovers prohibited

No glass is allowed on the beach.

No plastic, balloons, or Styrofoam allowed on the beach.

No open fires or fireworks are allowed at any time. 

Camping is prohibited within the City of Folly Beach's jurisdiction.

No littering - Please bring garbage bags and take trash to containers found at each beach access. 

Personal items left on the beach after sunset, such as tents, canopies, coolers, volleyball nets, and umbrellas, shall be considered abandoned, and the City has the right to take possession and dispose of said items. Please make sure you have all your personal property when you leave the beach.

Sand Dunes are protected and fragile. Beach Sea Oats and grass help protect the dunes. Stay off the dunes and use public walkovers, located at every block, to access the beach.

Sea Turtles are an endangered species. Do not interfere with them in any way. No lights are allowed that illuminate the front beach between 10 pm and dawn from May 1st to October 31st. Artificial light disorients Hatchling turtles. Fill holes dug in sand before you leave the beach. If you see any adult sea turtles or hatchlings, call 843-588-2433 to report your sighting.

Strong rip currents are common, so swim with caution. Charleston County Parks and Recreation provides lifeguards at the West End County Park and from 2nd Street East to 3rd Street West beachfront from May through Labor Day. 

Surfing without a leash is prohibited. From May 15th to Sept. 15th, surfing is prohibited between 10 am and 6 pm, from 2nd Street East to 3rd Street West, known as the swimming zone. From September 16th to May 14th, surfing is allowed in any area, except surfing is always prohibited 200′ from the fishing pier.
---
Location of Folly Beach Public Restrooms
---
2nd E and Arctic

3rd W and Ashley

500 Block of E Hudson (Pirates Cove)

5th and W Cooper (Wave Watch)

Folly River Park

The Washout ~1560 E Ashley
---
Current and Upcoming Events
at Folly Beach
---
What: 50 Years of Folly Beach
When: Sept. 22 - Oct. 1, 2023
Time: Varies
Where: Folly Beach
Admission: Varies

Mark your calendars for Folly's biggest event of the decade! We'll be celebrating the 50th Anniversary of Folly Beach becoming a city in grand style from September 22nd – October 1st, 2023. Street closure festivals, shagging and disco on the pier, a classic car show, a prom-themed gala, classic carnival games and rides, and loads more fun for people of all ages. Purchase tickets online. 
---
Hotels Near Folly Beach
---
---
Find top-rated hotels at the lowest prices on Priceline. Check rates now!
---
---
More things to do in Charleston
---
---
---
---
---
Copyright © 2009-2023 visit-historic-charleston.com