---
Hunley Submarine 
---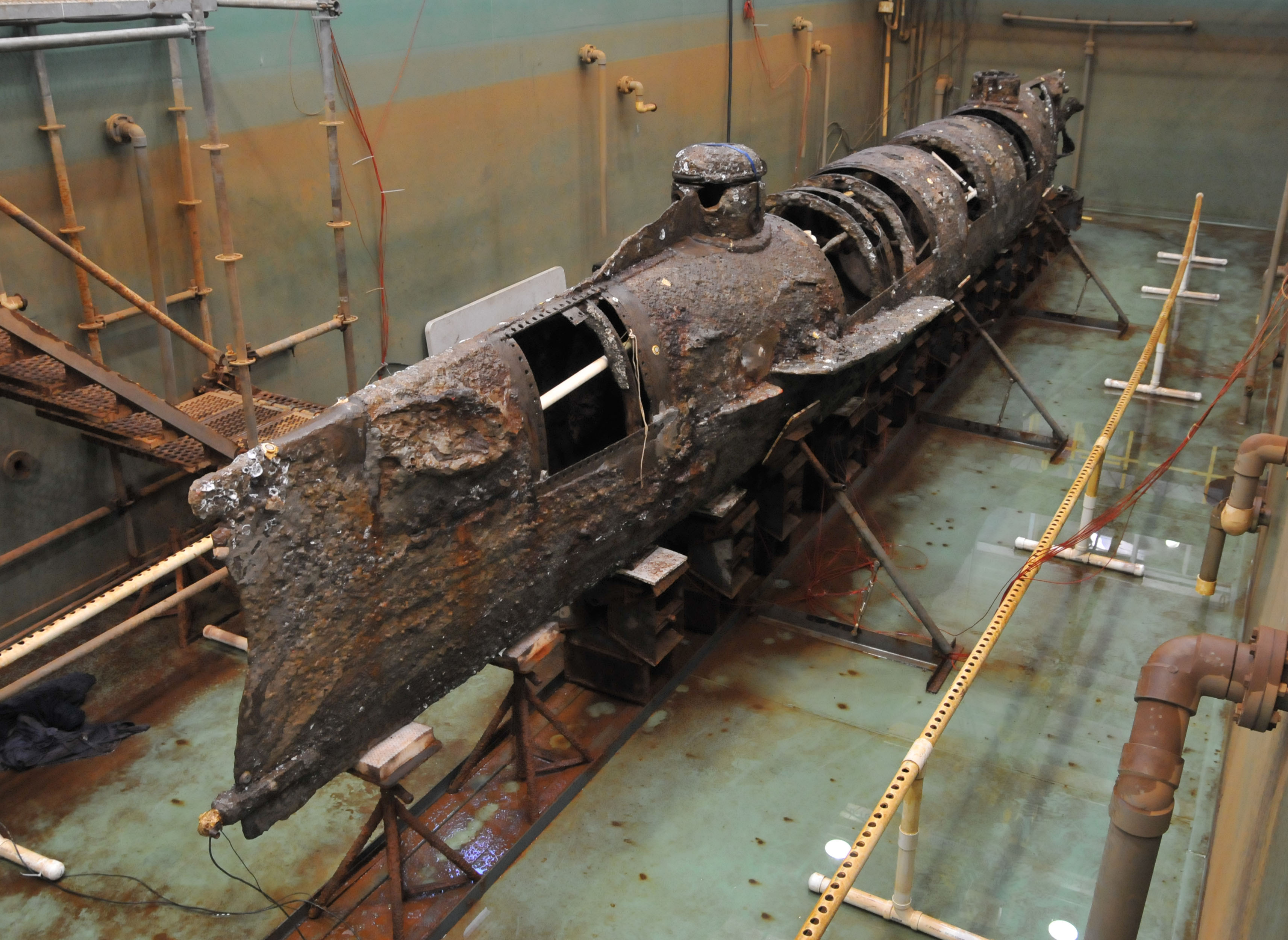 The Hunley Submarine was a Confederate sub and the first to sink a warship. The submarine was on one of its first training missions on August 29, 1863, when it sank, killing five crew members. The submarine was raised and returned to service. It then sank again two months later, killing all eight crew members, including the submarine's inventor Horace Hunley. The sub was recovered and again returned to service. On Feb 17, 1864, the Hunley submarine rammed a spar with an attached torpedo into the USS Housatonic, a Union ship in the Charleston Harbor. The Housatonic sank in about five minutes, killing 5 of its 155 crewmen. Damage from the torpedo explosion also caused damage to the Hunley, causing it to sink, killing all eight crew members on board. This time, the submarine was lost for 136 years until it was recovered in 2000. The remains of the crew were laid to rest in a large ceremony in 2004. 
Tours are only offered on Saturday and Sunday, so scientists can continue to work on preserving the Hunley during the week. Tickets are available at the entrance on a first come first serve basis, but often sell out. Buying tickets online in advance is highly recommended. Free parking is offered on site, and you should allow about an hour and a half to tour everything.   

---
Hunley Submarine Photos
---
---
Hunley Submarine Hours and Admission
---
Hours: 
Saturday 10 am - 3 pm
Sunday 10 am - 3 pm

Admission:
Adults (18+) $18
Students/Youth (6-17) $10
Senior Citizens/Military $15
Children under 5 Free

A visit to the Hunley lab is a combined self-paced and guided tour.  The actual viewing of the submarine in the tank is docent led and lasts approximately 20 minutes.  With a store, interactive exhibits, and activities, most visitors stay at least one hour.

---
Hunley Submarine Address and Map
---
---
Current and Upcoming Events
at the Hunley Submarine
---
No upcoming events scheduled
---
Hotels Near the Hunley Submarine
---
---
Find top-rated hotels at the lowest prices on Priceline. Check rates now!
---
---
More things to do in Charleston
---
---
---
---
Copyright © 2009-2023 visit-historic-charleston.com