---
Isle of Palms Beach
---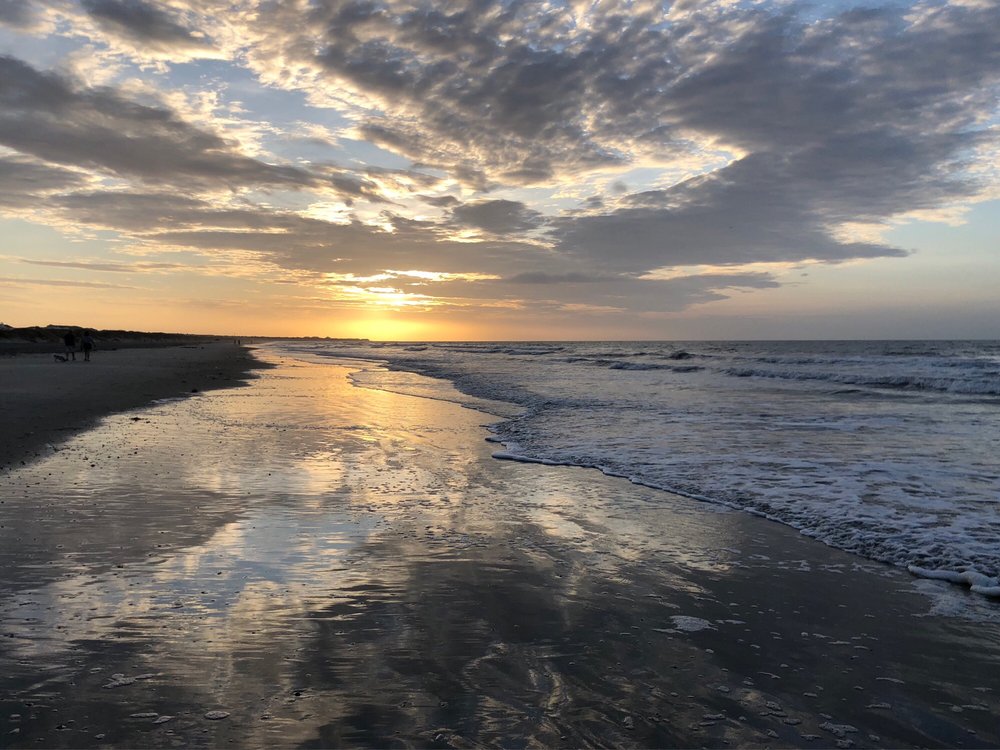 Isle of Palms Beach, located about 25 minutes from downtown, is the most commercialized of the Charleston area beaches. The beach is often popular with families because of the strict "no alcohol" policy, the calm waters, and the cleanliness of the beach. Restaurants, shops and bars are located within walking distance of the beach and there are public restrooms and showers at the Isle of Palm County Park. You will also find a picnic area, grills, a boardwalk and vending machines. During the summer months, the beach has lifeguards, a snack bar, and beach chair/umbrella rentals. Isle of Palms also offers more parking than the other area Charleston beaches. There are two public parking lots near the beach where you can park for a fee. You can also park in metered spaces along Ocean Boulevard or alongside any road unless it is designated "No Parking" with a sign. 
---
Isle of Palms Beach Photos
---
---
Isle of Palms Beach Map
---
---
Isle of Palms Beach Rules and Regulations
---
All four tires must be off the road when parking along the streets

Do not block beach access paths, driveways or mailboxes when parking along the streets

No glass bottles allowed on the beach

Single-use plastic bags, plastic straws, Styrofoam coolers, cups and food containers and balloons are prohibited on the beach




No Alcohol allowed on the beach

No smoking or vaping on the beach

No motorized vehicles on the beach

Fill in any holes you dig in the sand




Fireworks and open fires are prohibited

Golf carts are not allowed on the beach

No overnight sleeping on the beach.  Any beach equipment left unattended on the beach after sunset may be removed and disposed of

Dogs must be on a leash and owners must clean up after their pets. There are dog bag receptacles at most of the public beach access paths. Dogs are only allowed to be off-leash April 1st through September 14th between 5:00 a.m. and 9:00 a.m. and from September 15th through March 31st between the hours of 4:00 p.m. and 10:00 a.m. Click here to read more about dogs on the beach.



---
Current and Upcoming Events
at Isle of Palms Beach
---
What: Fall Market and Movie
When: Thurs. Oct 21, 2021
Time: 4:00 pm - 7:00 pm
Where: Isle of Palms Recreation Center, 24 28th Avenue
Admission: Free

Bring your blankets and chairs and watch Hocus Pocus on the Main Soccer Field.  The movie will begin at 6:45 pm. Enjoy food from Empanada Cuisine. 
Vendors:
Legare Farms Mobile Market
Salley's Farm & Market 
Inari Provisions 
The Look by Lucy 
RD Naturals 
Mike's Chicken Salad
Patagonian Queen Gluten Free
Lowcountry Dog Treats 
Charleston Marsh Designs 
Green Paisley Designs 
Sawdust & Sage Boutique 
Succulents Gone Wild
---
Hotels Near Isle of Palms Beach
---
---
Find top-rated hotels at the lowest prices on TripAdvisor. Check rates now!
---
---
More things to do in Charleston
---
---
---
---
---
Copyright © 2009-2021 visit-historic-charleston.com