---
Isle of Palms Beach
---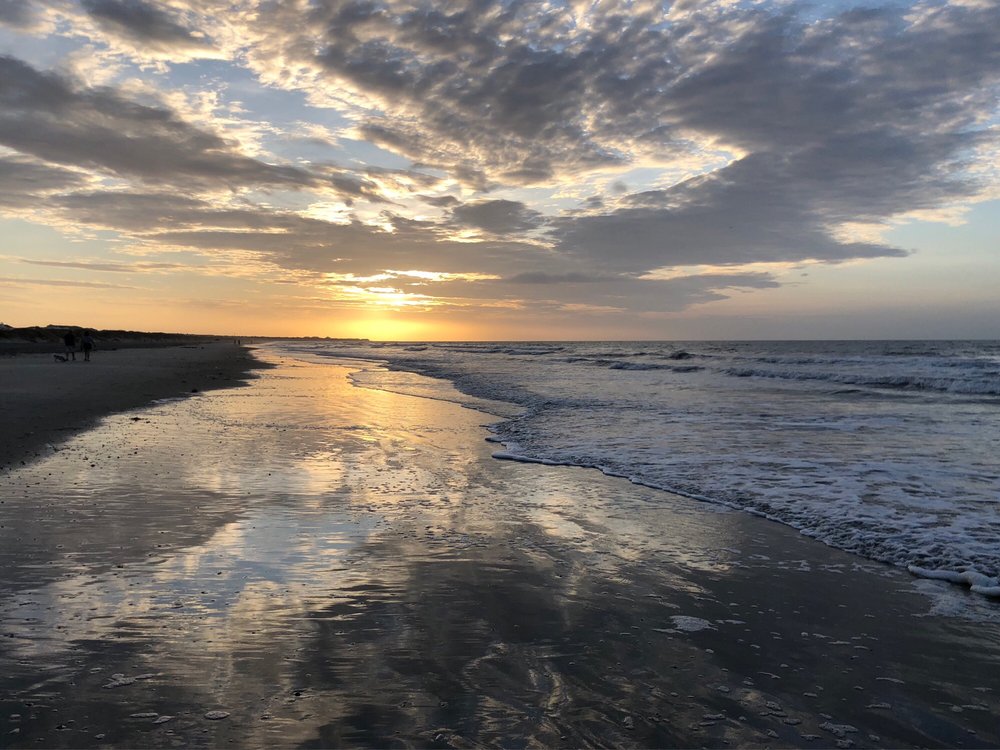 Isle of Palms Beach, located about 25 minutes from downtown, is the most commercialized of the Charleston area beaches. The beach is often popular with families because of the strict "no alcohol" policy, the calm waters, and the cleanliness of the beach. Restaurants, shops and bars are within walking distance of the beach, and there are public restrooms and showers at the Isle of Palm County Park. You will also find a picnic area, grills, a boardwalk and vending machines. During the summer months, the beach has lifeguards, a snack bar, and beach chair/umbrella rentals. Isle of Palms also offers more parking than the other area Charleston beaches. There are two public parking lots near the beach where you can park for a fee. You can also park in metered spaces along Ocean Boulevard or alongside any road, unless it is designated "No Parking" with a sign. 
---
Isle of Palms Beach Photos
---
---
Isle of Palms Beach Map
---
---
Isle of Palms Beach Rules and Regulations
---
All four tires must be off the road when parking along the streets

Do not block beach access paths, driveways or mailboxes when parking along the streets

No glass bottles allowed on the beach

Single-use plastic bags, plastic straws, Styrofoam coolers, cups and food containers and balloons are prohibited on the beach




No Alcohol allowed on the beach

No smoking or vaping on the beach

No motorized vehicles on the beach

Fill in any holes you dig in the sand




Fireworks and open fires are prohibited

Golf carts are not allowed on the beach

No overnight sleeping on the beach.  Any beach equipment left unattended on the beach after sunset may be removed and disposed of

Dogs must be on a leash and owners must clean up after their pets. There are dog bag receptacles at most of the public beach access paths. Dogs are only allowed to be off-leash April 1st through September 14th between 5:00 a.m. and 9:00 a.m. and from September 15th through March 31st between the hours of 4:00 p.m. and 10:00 a.m. Click here to read more about dogs on the beach.



---
Places to Park at Isle of Palms Beach 
---
Municipal Parking Lots on Pavilion Drive
The City lots are operational between 8:00 a.m. and 8:00 p.m. Paid parking is enforced between March 1st and October 31st. Automated parking kiosks manage the Municipal Parking Lots. Parking tickets are available at the automated parking kiosks inside the parking lot. The daily rate is $10 Monday through Friday and $15 Saturday, Sunday and Holidays. After 4:00 p.m., visitors may pay an hourly rate of $2.00. 
Residents with properly credentialed vehicles can park in the Municipal Lots anytime free of charge. A properly credentialed vehicle is one that has a City issued Resident Parking Permit or a Wild Dunes Resident decal.
Front Beach On-Street Parking
Visitors will find metered parking on Ocean Boulevard near Front Beach between 10th and 14th Avenues. Park in any open space, and locate the pay station (kiosk) closest to you. Choose and purchase the appropriate amount of time, and then place the receipt on the dashboard of the vehicle so that it is readable through the windshield. The hourly rate is $2.50.

Charleston County Park on 14th Avenue
Visitors can park at the Isle of Palms County Park for a fee. 
January and February - $5
March & April - $10
May - Labor Day - $15 Monday - Friday and $20 Saturdays, Sundays and holidays
September & October - $10 
November and December - $5
Public Road Right-of-Ways
Visitors can park their vehicles on any road right-of-way within the Beach Parking District, unless it has been designated with a sign as "no parking". Be mindful that all four wheels must be off the road, and that no beach access paths can be blocked. Vehicles parked on the ocean side of Palm Boulevard between 21st and 40th Avenue must be at least 4 feet off the pavement and must park at an angle in the marked spaces on the landside. Please do not block driveways or mailboxes, and be respectful of landscaping.
---
Current and Upcoming Events
at Isle of Palms Beach
---
What: Isle of Palms Farmers Market
When: Every 3rd Thursday of the Month from June to Oct. 
Time: 4 pm - 7 pm
Where: Isle of Palms Recreation Grounds
Admission: Free
The market will feature fresh produce, food vendors, live music and more!
---
What: Holiday Street Festival
When: Dec. 2, 2023 
Time: 2 pm - 7 pm
Where: Front Beach
Admission: Free
Arts & Crafters, Food vendors, children activities and live entertainment.
---
Hotels Near Isle of Palms Beach
---
---
Find top-rated hotels at the lowest prices on Priceline. Check rates now!
---
---
More things to do in Charleston
---
---
---
---
---
Copyright © 2009-2023 visit-historic-charleston.com