---
Old Exchange and Provost Dungeon
---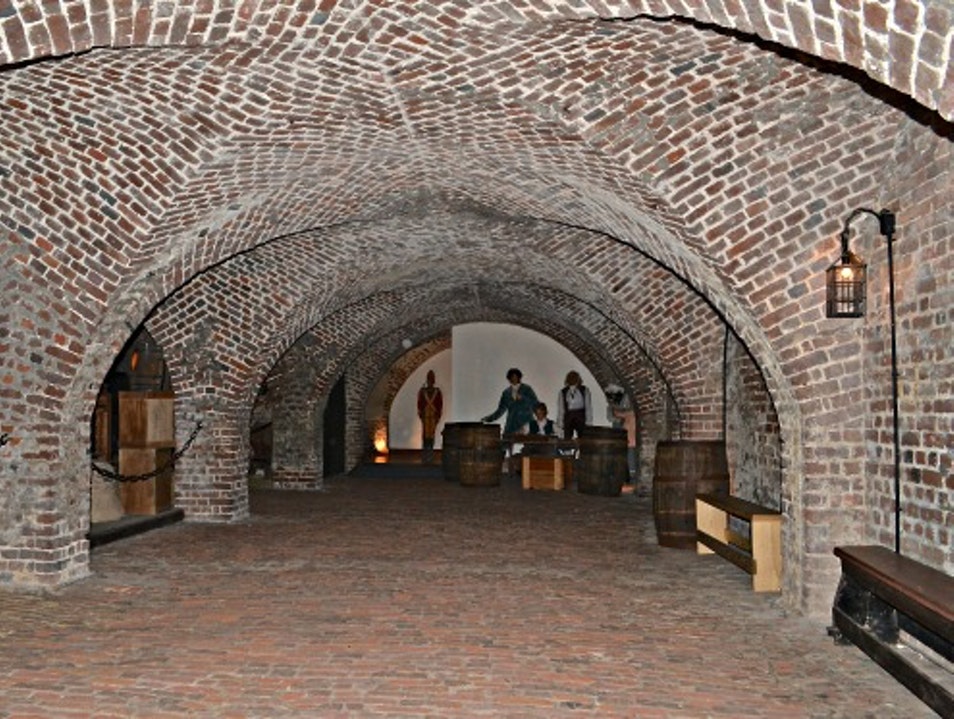 The Old Exchange and Provost Dungeon, built in 1771, reflected the wealth and importance of Charles Town as a bustling and prosperous seaport. The building has been a Charleston landmark for almost 250 years and today is a non-profit historic site focusing on the American Revolution and colonial Charleston.
During the American Revolution, British forces used the basement of the building as a military prison also called Provost or dungeon. This space was used to house American prisoners of war, British soldiers and enslaved individuals. 
In 1788, the Exchange hosted South Carolina leaders as they debated and approved the U. S. Constitution. Today, the Old Exchange Building is one of only four structures remaining where the nation's founding document was originally ratified.

In 1791, George Washington spent a week in Charleston on his southern tour. The Exchange was the site of a series of lavish dinners, concerts and a fancy dress ball attended by Washington. 
Today, visitors to the Exchange and Provost Dungeon can view the Half-Moon Battery which is the only standing portion of the original Charles Town city wall that is open for public viewing.
Admission to the Old Exchange includes a self-guided exhibition on the top two floors of the building and a 25 minute guided tour of the bottom floor cellar, otherwise known as the Provost Dungeon. Most visitors spend between 45 minutes and 1 hour on site, though guests are welcome to take as much or as little time as they like exploring the self-guided exhibition.

---
Old Exchange and Provost Dungeon Photos
---
---
Old Exchange and Provost
Dungeon Hours and Admission
---
Hours: 
Open Daily 9 am - 5 pm
Closed New Year's Day, Thanksgiving Day
and Christmas Day
Dungeon tours begin every half hour from
9:30 am - 5 pm
Admission:
Adults (13+) $10
Child (7-12) $5
Children 6 and under Free

---
Old Exchange and Provost Dungeon
Address and Map
---
---
Current and Upcoming Events at the
Old Exchange and Provost Dungeon
---
What: Revolutionary Charleston Community Days
When: Sat. June 29, 2019
Time: 9:30 am - 12:30 pm
Where: Old Exchange Building, Heyward-Washington House, and the Powder Magazine
Admission: $15 per person

The tea has been dumped in the Cooper and the Battle on Sullivan's Island has passed. It's 1781, and the Redcoats are back in Charlestown. It's up to your family to turn the tide of the war by slipping back in time to British-occupied Charleston. Visit the dungeon where Patriots are kept, converse inside the home of a Declaration signer, and muster with the Continental Army to keep the Revolution alive.
This program is for all ages and includes three historic properties – The Old Exchange Building, The Heyward-Washington House, and The Powder Magazine. The program runs approximately 3 hours and has outdoor segments. This event will begin at The Old Exchange Building, 122 E Bay Street. Wear comfortable clothing and shoes.
---
Hotels Near the Old Exchange
and Provost Dungeon
---
---
More things to do in Charleston
---
---
Home > Things to do in Charleston SC > Charleston SC Museums > Old Exchange and Provost Dungeon
---
---
Copyright © 2009-2019 visit-historic-charleston.com