---
Old Exchange and Provost Dungeon
---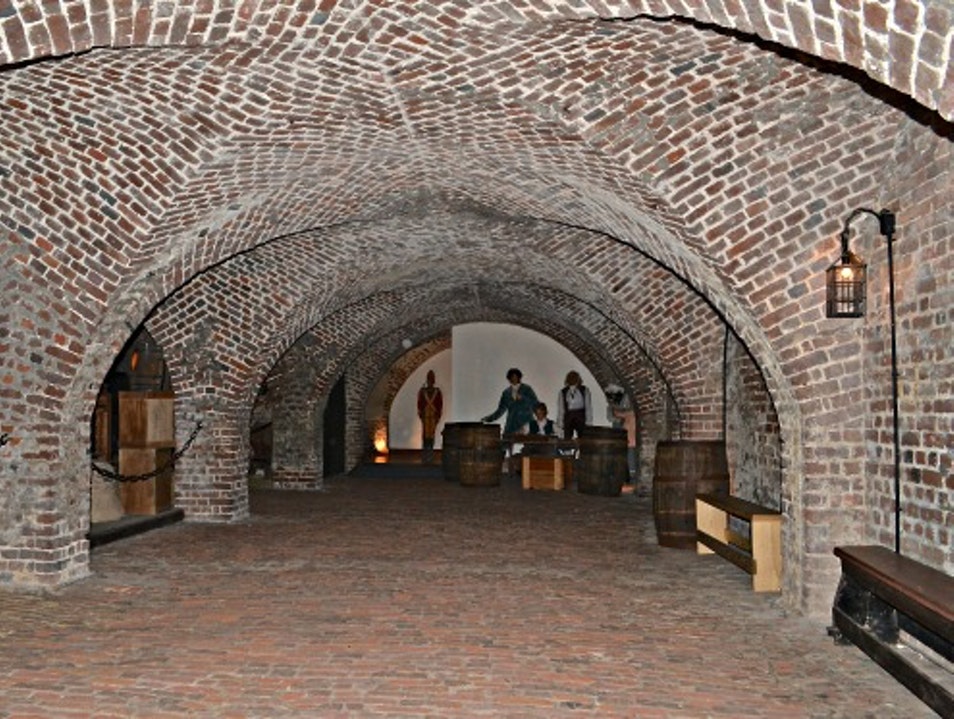 The Old Exchange and Provost Dungeon, built in 1771, reflected the wealth and importance of Charles Towne as a bustling and prosperous seaport. The building has been a Charleston landmark for almost 250 years, and today is a non-profit historic site focusing on the American Revolution and colonial Charleston.

During the American Revolution, British forces used the basement of the building as a military prison, also called Provost or Dungeon. This space was used to house American prisoners of war, British soldiers and enslaved individuals. 
In 1788, the Exchange hosted South Carolina leaders as they debated and approved the U.S. Constitution. Today, the Old Exchange Building is one of only four structures remaining where the nation's founding document was originally ratified.

In 1791, George Washington spent a week in Charleston on his southern tour. The Exchange was the site of lavish dinners, concerts, and a fancy dress ball attended by Washington. 
Today, visitors to the Exchange and Provost Dungeon can view the Half-Moon Battery, the only standing portion of the original Charles Town city wall open for public viewing.
Admission to the Old Exchange includes a self-guided exhibition on the top two floors of the building and a 25 minute guided tour of the bottom floor cellar, otherwise known as the Provost Dungeon. Most visitors spend between 45 minutes and 1 hour on site, though guests are welcome to take as much or as little time as they like exploring the self-guided exhibition.

---
Old Exchange and Provost Dungeon Photos
---
---
Old Exchange and Provost
Dungeon Hours and Admission
---
Hours: 
Open Mon. - Sat. 9 am - 5 pm
Sun. 11 am - 5 pm
Closed New Year's Day, Thanksgiving Day
and Christmas Day
Dungeon tours begin every half hour from
9:30 am - 5 pm
Admission:
Adults (13+) $15
Child (7-12) $8
Children 6 and under Free

---
Old Exchange and Provost Dungeon
Address and Map
---
---
Current and Upcoming Events at the Old Exchange and Provost Dungeon

---
What: Tea and Revolution in Charleston: A Lecture with Dr. James Fichter 
When: Dec. 5, 2023
Time: 6 pm - 7 pm
Where: Old Exchange and Provost Dungeon
Admission: Free / Suggested $20 Donation
Did you know? In 1773 the English East India Company sent 70,000 pounds of tea to Charleston. Despite protests, the tea was not destroyed, as in Boston, but safely stored in the Exchange and in 1776 it was sold and consumed. Mistakenly overlooked, the Charleston tea story has much to tell us about Charleston's unique role in the Revolution and colonists' dueling impulses to boycott OR consume tea.
On December 5, in a program hosted in partnership between the Foundation and The Old Exchange, join us for a talk with Dr. James R. Fichter, an associate professor of European and American studies at the University of Hong Kong. His book, Tea: Consumption, Politics and Revolution, 1773-1776, (on shelves December 15th) focuses heavily on the story of the East India Company tea sent to Charleston in 1773. 
---
Hotels Near the Old Exchange
and Provost Dungeon
---
---
Find top-rated hotels at the lowest prices on Priceline. Check rates now!
---
---
More things to do in Charleston
---
---
Old Exchange and Provost Dungeon
---
---
---
Copyright © 2009-2023 visit-historic-charleston.com