---
Patriots Point 
---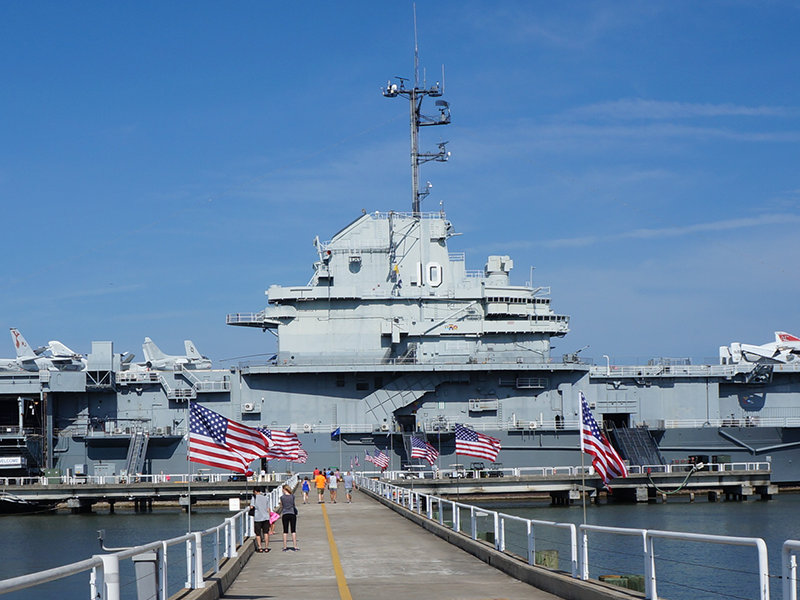 Patriots Point is one of the largest museums of its kind in the world. The museum gives visitors the chance to tour the aircraft carrier, USS Yorktown, along with a destroyer ship and a submarine. Visitors can also visit the Vietnam Experience Exhibit and the Medal of Honor Museum.

The USS Yorktown was the tenth aircraft carrier to serve in the United States Navy. The carrier was commissioned in 1943 and participated significantly in the Pacific offensive, which began in late 1943 and ended with the defeat of Japan in 1945. Yorktown received the Presidential Unit Citation, and earned 11 battle stars for service in World War II. The carrier was later used off Vietnam and recovered the Apollo 8 astronauts and capsule before being decommissioned in 1970.
Just about the entire ship is open to the public. Tour the huge flight deck and then sit in the captain's chair. Pictures and exhibits give a true glimpse into what life was like on the ship. After the tour, enjoy a hot lunch in the aircraft carrier's C.P.O. mess hall or grab something at one of the two snack bars. Expect to spend about 3-4 hours to see everything, and plan to do a lot of walking and climbing steep stairs. 
---
Patriots Point Photos
---
---
Patriots Point Hours and Admission
---
Hours:
Open Daily 9 am - 6:30 pm
Ticket window closes at 5 pm
Closes at 3:30 pm on Christmas Eve and New Years Eve.
Closed Christmas Day and Thanksgiving Day

Admission:
Adults (12+) $27
Child (6-11) $16
Senior (62+) $19
Children under 6 Free
Military in uniform are admitted Free
---
Patriots Point Address and Map
---
---
Current and Upcoming Events at Patriots Point
---
What: Behind the Scenes of Devotion: Movie Screening and Q&A
When: Mar. 18, 2023
Time: 11 am - 3 pm
Where: Patriots Point
Admission: General Admission $27
Advanced tickets required – You're invited for a behind-the-scenes look at the hit Sony Pictures Film, "Devotion," hosted by the Congressional Medal of Honor Society. Join Medal of Honor Recipients and family members of the two Korean War Naval aviators featured in the film for a screening and discussion aboard the USS Yorktown. You will then be welcomed to attend a wreath laying ceremony in commemoration of National Medal of Honor Day.
Movie Summary:
DEVOTION, based on the best-selling book by the same name, tells the inspirational Korean War story of friendship, heroism and sacrifice of two U.S. Navy aviators– Jesse Brown, the first Black aviator in U.S. Navy history, and Medal of Honor Recipient Tom Hudner.
11:30 a.m. Film Screening and Discussion / Screening of the Sony Pictures film DEVOTION
Post-film discussion featuring:
• Leroy Petry, Medal of Honor Recipient and President, Medal of Honor Society
• Thomas J. Hudner, III, son of Medal of Honor Recipient Captain Thomas J. Hudner, Jr.
• Jamal Knight, grandson of Ensign Jesse Brown
2:30 p.m. Wreath LayingMedal of Honor Recipients will lay a wreath in commemoration of National Medal of Honor Day
---
What: Special Behind the Scenes Medal of Honor Storytelling Hours
When: Mar. 25, 2023
Time: All Day
Where: Patriots Point
Admission: General Admission + $15
New ValorTrail.org interactive map installed in Medal of Honor Museum will allow visitors to "walk in the footsteps of heroes." The Medal of Honor Valor Trail is a joint project from the Congressional Medal of Honor Society and American Battlefield Trust.
---
What: Lucy's Boys Reunion
When: Mar. 29, 2023
Time: 7 pm - 9 pm
Where: Patriots Point
Admission: Admission is free but you must RSVP
At 7 p.m. on March 29, Patriots Point will host a free program aboard the USS Yorktown to honor the life and selfless actions of Lucy Caldwell. In March 1966, 56-year-old widow, Mrs. Charles (Lucy) Caldwell, left the comforts of her home in Princeton, NJ, and purchased a one-way ticket to Saigon despite knowing no one in Southeast Asia. Lucy was disturbed by images of war protests, draft card bonfires, and the desecration of the American flag she was seeing on TV. Ultimately, Lucy volunteered with the United Service Organization (USO) to support service members in the Vietnam War. Over the next 34 months, Lucy solicited care packages, hosted dinners, talked with critically wounded men, read to them, and wrote letters home to their families.
Lucy passed away on February 28, 1979. One Marine's daughter, Tara McClary Reeves, is working to ensure her story is told, along with the narratives of those brave men she encouraged. Tara nicknamed them "Lucy's Boys."
The National Vietnam War Veterans Day program will feature the first and second episodes of the PBS documentary series "Lucy Caldwell" and then a fireside chat with as many of "Lucy's Boys" as can be found.
Admission is free but you must RSVP to attend. For tickets, click here.
---
What: Vietnam War Veterans Day
When: Mar. 29, 2023
Time: All Day
Where: Patriots Point
Admission: Free for Veterans
On Vietnam Veterans Day, Wednesday, March 29, Patriots Point Naval & Maritime Museum will offer free admission for Vietnam Veterans and their immediate families. Museum staff will also welcome each veteran home throughout the day by pinning them with a Department of Defense Vietnam War Veteran lapel pin.
At 1 p.m. Patriots Point will host a memorial ceremony inside the Vietnam Experience Exhibit to honor the 896 South Carolinians who did not survive the war.
"We must do everything we can to honor the lives of those who gave the ultimate sacrifice while fighting in Vietnam," said Patriots Point Interim Executive Director Mac Burdette. "We must also extend a hand and welcome home the men and women who survived. Fifty years later, it is more important than ever to remember our Vietnam Veterans and thank them for their service."
---
Hotels Near Patriots Point
---
---
Find top-rated hotels at the lowest prices on TripAdvisor. Check rates now!
---
---
More things to do in Charleston
---
---
---
---
---
Copyright © 2009-2022 visit-historic-charleston.com