---
Powder Magazine Charleston 
---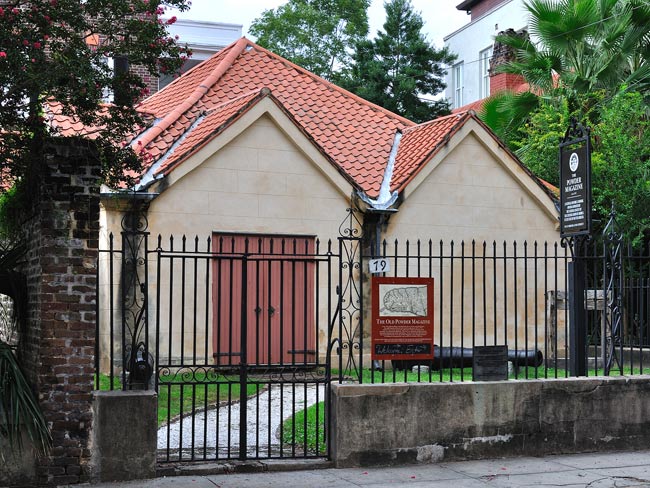 The Powder Magazine in Charleston is the oldest public building in South Carolina. Built in 1713, the building was used as storage for gunpowder during colonial days and the American Revolution. The Powder Magazine is the only standing structure of the original fortification that once surrounded Charleston. The building is now a National Landmark with exhibits that focus on South Carolina's colonial military history. The building is very small but exhibits are informative and well presented by a friendly and helpful staff. Visitors should allow about 30 minutes to tour the museum and visit the gift shop. Parking is available along the street or in one of the nearby parking decks for a fee. The parking decks are located on Cumberland St. and Queen St.
---
Powder Magazine Charleston Photos
---
---
Powder Magazine Charleston
Hours and Admission
---
Hours: 
Mon. - Sat. 10 am - 4 pm
Sun. 1 pm - 4 pm
Closed Thanksgiving Day and Christmas Day
Christmas Eve hours: 9 am - noon

Admission:
Adults $6
Child $3

---
Powder Magazine Charleston Address and Map
---
---
Current and Upcoming Events
at the Powder Magazine Charlotte
---
What: Revolutionary Charleston Community Days
When: Sat. June 29, 2019
Time: 9:30 am - 12:30 pm
Where: Old Exchange Building, Heyward-Washington House, and the Powder Magazine
Admission: $15 per person

The tea has been dumped in the Cooper and the Battle on Sullivan's Island has passed. It's 1781, and the Redcoats are back in Charlestown. It's up to your family to turn the tide of the war by slipping back in time to British-occupied Charleston. Visit the dungeon where Patriots are kept, converse inside the home of a Declaration signer, and muster with the Continental Army to keep the Revolution alive.
This program is for all ages and includes three historic properties – The Old Exchange Building, The Heyward-Washington House, and The Powder Magazine. The program runs approximately 3 hours and has outdoor segments. This event will begin at The Old Exchange Building, 122 E Bay Street. Wear comfortable clothing and shoes.
---
Hotels Near the Powder Magazine Charleston
---
---
More things to do in Charleston 
---
---
Home > Things to do in Charleston SC > Charleston SC Museums > Powder Magazine Charleston
---
---
Copyright © 2009-2019 visit-historic-charleston.com