---
Fort Moultrie
---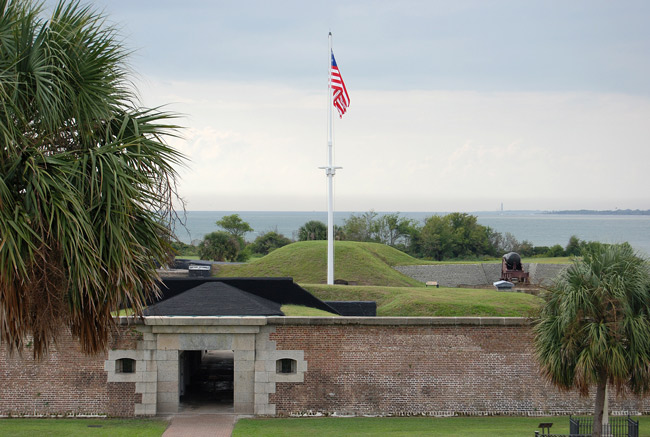 The first Fort Moultrie on Sullivan's Island, constructed of palmetto logs and sand, was built in the 1770's. This fort saved Charlestown from British occupation and was named in honor of its commander Colonel William Moultrie. Four years later, the British captured Charlestown and Fort Moultrie. 

In 1793, war broke out between Great Britain and France. The Congress, seeking to safeguard American shores, authorized a second Fort Moultrie to be built. This fort suffered from neglect and was later destroyed by a hurricane in 1804.
A third Fort Moultrie was built on Sullivan's Island in 1809. From the time it was built until 1860, the fort changed very little. On April 12, 1861 the American Civil War began and Fort Moultrie was severely damaged during the war.

Once the war ended the fort was repaired and modernized but later became obsolete as nuclear weapons and guided missiles started being used. In 1960 the fort was decommissioned and became part of the National Park Service.

The fort has a visitors center that shows a short film and features a small museum detailing Moultrie's history. For a small fee, you can then tour the fort itself as five different sections of Moultrie are preserved to look as they did in five different historical eras. Fort Moultrie is not as popular as Fort Sumter so you will not have to deal with the large crowds. 

---
Fort Moultrie Photos
---
---
Fort Moultrie Hours and Admission
---
Hours:
Open Daily 9 am - 5 pm
Closed New Year's, Thanksgiving and Christmas Days

Admission:
Adults (16 and older) $10
Child (15 and younger) Free

---
Fort Moultrie Address and Map
---
---
Current and Upcoming Events at Fort Moultrie
---
What: Park Day 2020
When: Sat. Apr. 4, 2020
Time: 9:30 am
Where: Fort Moultrie 
Admission: Free
On Saturday, April 4, 2020, history buffs, community leaders, and preservationists will aid in the maintenance and restoration of numerous sites as part of Park Day, the American Battlefield Trust's annual hands-on preservation event. Thousands of volunteers across the country will participate as Park Day celebrates its 24th year.
On Sullivan's Island at Fort Moultrie, the National Park Service will host a Park Day event beginning at 9:30am. Needs include debris clearing, cleaning, and pick up of Fort Moultrie.
Ranger Sobol will also lead a musket firing demonstration at the conclusion of the work project. For more information about Park Day at Fort Sumter and Fort Moultrie National Historical Park, please contact Thomas Sobol by phone at 843.881.5516 or by e-mail at Thomas_sobol@nps.gov
2020 Entrance Fee Free Days for Fort Moultrie

Monday, January 20 - Martin Luther King, Jr. Day

Saturday, April 18 - First Day of National Park Week/National Junior Ranger Day

Saturday, June 27 - Sunday, June 28 - Battle of Sullivan's Island Commemoration*

Tuesday, August 25 - National Park Service Birthday

Saturday, September 26 - National Public Lands Day

Wednesday, November 11 - Veterans Day
---
Hotels Near Fort Moultrie
---
---
Find top-rated hotels at the lowest prices on TripAdvisor. Check rates now!
---
---
More Things to do in Charleston
---
---
Home > Things to do in Charleston SC > Charleston SC Attractions > Fort Moultrie
---
Copyright © 2009-2020 visit-historic-charleston.com